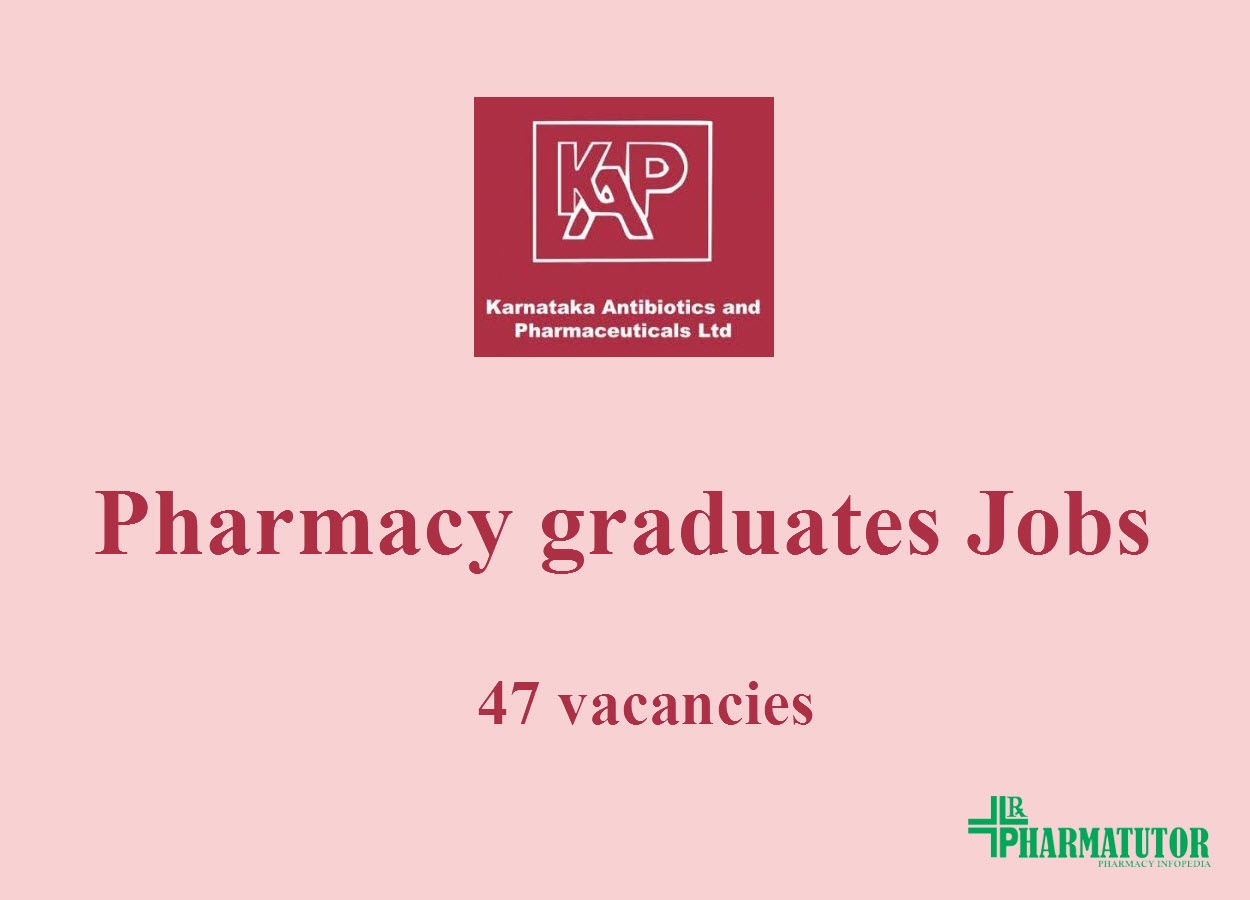 Karnataka Antibiotics & Pharmaceuticals Ltd., (KAPL) Bangalore is a Government Enterprise.  From a modest beginning in 1984, KAPL has grown from strength to strength in the areas of manufacturing and marketing of various life saving and essential drugs. With an ISO accredition from KPMG, Netherlands, KAPL is recognised for its total commitment to quality and services in domestic and international markets. On profit from inception, KAPL facilities are approved by many international clients.
Post : Professional Service Representatives
Professional Service Representatives
Age : Age around 28 years
No. of Post : 40
Andra Pradesh
Kadapa-1
Ongole-1
Tirupathi-1
Vishakapatnam-1
Bihar
Gaya-1
Muzaffurpur-1
Patna-1
Saharsa-1
Sitamarhi-1
Chandigarh-1
Chhattisgarh
Bilaspur-1
Durg-1
Gujarat
Ahmedabad-1
Baroda-1
Jarkhand
Dhanbad-1
Karnataka
Bangalore-04
Mangalore-1
Mysore-1
Kerala
Calicut-1
Kochi-1
Maharashtra
Latur-1
Nagpur-1
Pune-03
Punjab
Ludhiana-1
Rajasthan
Jaipur-1
Jodhpur-1
Tamil Nadu
Chennai-02
Erode-1
Kancheepuram-1
Kumbakonam-1
Telangana
Hyderabad - 02
Nizamabad-1
The candidates should be a graduate in Pharmacy / Science/ Commerce/ Arts and should have minimum two years of experience in selling Pharma Products in any pharmaceutical company. Candidate should be prepared to travel extensively. Age should be around 28 years. The Salary will be around  Rs. 25,000/- (approx.).
Area Manager - Pharma Trade
Age : Age around 35 years
No. of Post :  07
SL.No.

STATE/UT

Headquarters

No. of post

01

Bihar

Bhagalpur
Patna

01
01

02

Madhya Pradhesh

Gwalior

01

03

Maharashtra

Pune

01

04

Punjab

Ludhiana

01

05

Rajasthan

Jaipur

01

06

Tamil Nadu

Chennai

01
The candidates shall  be a Graduate in Science or Commerce . Age should be around 35 years, with a minimum of two years of experience as a front line Manager, in selling  the pharma products and will be responsible for achieving the sales target of Pharma products of his area. The salary will be around Rs. 42,000/- per month (approx) .
Interested candidates who fulfill the requirements for the above posts may send their duly filled-in application along with the relevant testimonials to the GENERAL MANAGER [HRD]. 
The application should reach us on or before 03/07/2020.
The candidates applying for the above post should  write "Application for the post of ..............................." on the top of the envelope.
See All   M.Pharm Alerts   B.Sc Alerts   B.Pharm Alerts   Bengaluru Alerts
See All   Other Jobs in our Database