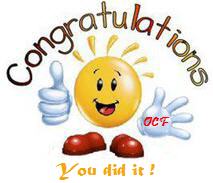 Bravo...
It was double traffic than last exam. In OCF test-3, passing limit was reduced to 40 %. But toppers need not to have any compliments. They make their scores higher than any limits. And passing rate was much higher and it was little satisfactory than last exam. It was a great support from users community. No. of subscribers for OCF test-3 was much much higher than ever have. Contestants was higher than test - 2.
Make it more competative to enhance the level of competition. And this will be only done by you people. Refer OCF to each and every pharmacy students around you. Spread the knowledge as much as possible and help to create stronger pharma community for ever inaugurated.

Those who are in between 40-50 % require just a little work to carry forward. And I am sure that those who ever are scoring above 50 % will going to crack GPAT this year or those from M.Pharm are real master piece in knowledge.

There was a tough competition for TOP 3 spots and have difference of few points. And difficult to left them behind who lagged with few marks. But rules are made to follow and we came with top 3 contestants of the week. And those who appear for more than 1 time, please keep in mind only marks of your 1st attempt is taken in count. Contestants who copied answer from books or from answer copy of other priorly appeared contestant are disqualified.

WINNERS

1st: Winner
Name: Karan Dutt
College: MSIP, janak puri, Delhi
Studying in: 4th year, B.Pharm
About PharmaTutor and OCF: Pharmatutor gives information about exam which is helpful. It is a good platform for pharma student. It help us findig future in higher education.
About Karan: I am a honest and hard working student,trying to get into higher studies.
Pharmatutor is the place for aspirant who are willing to give there best to grt into PG level.It help us know where we stand.
---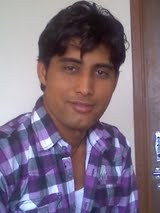 2nd: Winner
Name: Rajesh Choudhri
College: Sri Balaji College of Pharmacy, Jaipur
Studying in: 4th year, B.Pharm
About PharmaTutor and OCF:  thanks for uploading such competitions...
About Rajesh: Myself Rajesh chaudhary a honest and sincere and hard-working man and i like this field very much and i wanna shine in my parents eyes
---
3rd: Winner
Name: Paresh Gandhi
College: VIPER Ale
Studying in: B.Pharm
About PharmaTutor and OCF: this good for the student

GOOD WORK. AGAIN CONGRATULATION WHO PASSED. PLEASE BE PREPARED AND COME. THIS IS A LIFE CHANGING OPPORTUNITY.
QUALIFYING IN SUCH COMPETITIVE EXAMS IS MUCH BIGGER THAN MAKING IN PHARMATUTOR DASHBOARD. BUT IT IS ONLY POSSIBLE WHEN YOU TRY TO SHINE ONE SUCH PLATFORMS.
WHAT OTHER STUDENTS ARE DOING? COME ON GUYS.

REFER THIS OCF TO ALL FELLOW PHARMACISTS AND BATCHMATES. LOOK FOR YOURSELF OR A PERSON AMONGST YOU AND YOUR COLLEGE ON OUR DASHBOARD.
THANK YOU FOR ALL LOVE AND SUPPORT.
             -ADMINISTRATOR
PHARMATUTOR.ORG