A General Overview On: Dentifrices
2) TOOTHPOWDER:
Formulation and  Preparations:The main components of  toothpowders are solid particles of very fine size and the end product is also a very dry powder. Since the main components like abrasives, surface active agent are solid powders, it is required that they all are in very fine particle size, comminuted, if desired, passed through a sieve and mixed in a mortar  in the lab scale and in blenders on an industrial scale. The flavoring oils are added in the end either by spaying on the powder mixture  or first blending with one  of the components and then  mixing this blend to the rest of the mixture by  the method of dilution or geometric progression.
A Typical Toothpowder Formula [1]:
| | |
| --- | --- |
| INGREDIENTS | QUANTITY |
| Hard soap (in fine powder) | 50 gm |
| Precipitated calcium carbonate | 935gm |
| Saccharine sodium | 2 gm |
| Peppermint oil | 4 ml |
| Cinnamon oil | 2 ml |
| Methyl salicylate | 8 ml |
| To make about | 1000 gm |
Some Commercial Brands of Toothpowders:-
*  Colgate
*  Dabur red
*  Vico vajardanti
3) MOUTHWASH:
A mouth wash is an aqueous solution which is most often used for its deodorant, refreshing or antiseptic effect in the oral cavity. Water is the simplest mouthwash, and aqueous saline is the least complex type of mouthwash. A  mouth wash may contain alcohol, glycerin, synthetic sweeteners and surface active, flavouring and colouring agents.
Types of Mouthwashes:-
1. Cosmetic mouthwashes.: contain water, flavour, alcohol, surface active agent.
2. Antiseptic mouthwashes: whose main purpose is to remove or destroy the bacteria normally found in the oral cavity in the large number.
3. Mouthwash concentrates: which are concentrated products labeled to be diluted before use.
4.Buffered mouthwashes: which primarily control the pH, within narrow ranges, in the oral cavity. E.g. alkaline buffered mouthwash.
5. Deodoring mouthwashes: which primarily serve to deodourize the oral cavity, by the antibacterial.
6. Therapeutic mouthwashes: which are specifically formulated for the purpose of relieving infection, preventing dental caries.
7. Liquid mouthwashes: ready to be used without any dilution.[9]
Formulation of Mouthwashes:
Most mouthwashes contain for basic ingredients:
-Alcohol
-Flavours
-Humectants
-Surfactants with water
A Formula For Mouthwash:[1][3]
| | |
| --- | --- |
| INGREDIENTS | % PROPORTION |
| Boric acid | 1.5% |
| Thymol | 0.1% |
| Euclyptol | 0.5% |
| Methyl salicylate | 0.5% |
| Oil of thyme | 0.03% |
| Menthol | 0.1% |
| Alcohol | 30.00% |
| Water | 67.67% |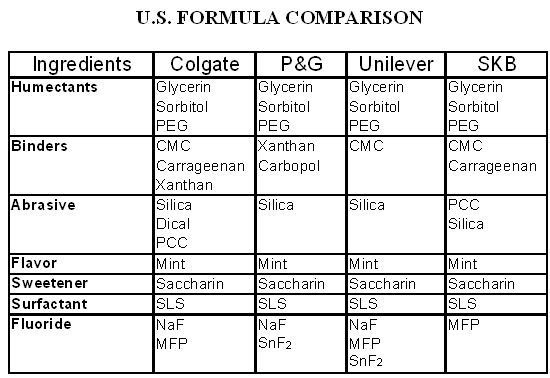 Manufacture of Mouthwashes:
Manufacture of mouthwashes is extremely simple and in principle, it only requires one or more stainless steel tanks, efficient mixture and a storage tank. This is because all ingredients are soluble in water and the finished product  has a viscosity more or less  similar to that of water. Glass lined, non pitted mixing tanks are satisfactory for most of the products. Explosion roof equipment and a bonded storage area is required, and stringent safety precautions and very strict control on bonded ethanol is maintained.
Evaluation of Formulated Mouthwashes:
1.Soft Tissue Examination:- A complete oral tissue examination should be carried out to evaluate the  condition of the oral mucosa of the volunteers.
2.Gingival index:- Can be determined employing Ram fjord teeth.
3.Odour Measurement:- organoleptic measurements can be made by odour judges based on the whole mouth expirates as well as odour assessment from the anterior and posterior of the tongue dorsum.
4.Oral Microbial Levels:- It is generally determined using the oral test, a technique which measures the rate of oxygen depletion in expectorated milk samples.[1][4][10]
NOW YOU CAN ALSO PUBLISH YOUR ARTICLE ONLINE.
SUBMIT YOUR ARTICLE/PROJECT AT articles@pharmatutor.org
Subscribe to PharmaTutor Alerts by Email
FIND OUT MORE ARTICLES AT OUR DATABASE
Pages