INDIAN DRUG REGULATORY SYSTEM: MOVING TO A NEW ERA
About Author:
Priyank Sharma
M. Pharm, Drug Regulatory Affairs
Jaipur National University
Jaipur, Rajasthan
Priyank2k4urwith@gmail.com
Abstract:
The Pharmaceutical industry represents one of the India's strength.  The regulation of pharmaceuticals in India is generally seen to be in need of reform, and has been the subject of many official commissions since 1995. Most commentators agree that the state should intervene to prevent untrammeled market forces leading to citizens' suffering, because adequate information about the costs and benefits of different pharmaceuticals is inaccessible to most users. But in India, a wide range of stakeholders must be considered before changes can be made to the regulatory framework.
Reference Id: PHARMATUTOR-ART-1614
INDIAN Pharmaceutical: an overview
General:
It is often said that the pharma sector has no cyclical factor attached to it. Irrespective of whether the economy is in a downturn or in an upturn, the general belief is that demand for drugs is likely to grow steadily over the long-term.1
The Indian pharmaceutical sector has come a long way, being almost non-existent before 1970 to a prominent provider of healthcare products, meeting almost 95 per cent of the Country's pharmaceuticals needs. The Industry today is in the front rank of India's science-based industries with wide ranging Capabilities in the complex field of drug manufacture and technology. It ranks very high in the third world, in terms of technology, quality and range of medicines manufactured.2
The Indian pharmaceutical industry is the world's second-largest by volume and is likely to lead the manufacturing sector of India. The number of purely Indian pharma companies is fairly low. Indian pharma industry is mainly operated as well as controlled by dominant foreign companies having subsidiaries in India due to availability of cheap labor in India at lowest cost. In 2002, over 20,000 registered drug manufacturers in India sold $9 billion worth of formulations and bulk drugs. 85% of these formulations were sold in India while over 60% of the bulk drugs were exported, mostly to the United States and Russia [25]. Most of the players in the market are small-to-medium enterprises; 250 of the largest companies control 70% of the Indian market3 The government started to encourage the growth of drug manufacturing by Indian companies in the early 1960s, and with the Patents Act in 1970.
Indian Pharmaceutical Market

Indian Pharmaceutical Market- $12 Bn- Growth – 12.14% per year

Export 4.2 Bn

Import 905 m

13th largest in value

3rd Largest in volume

100 US FDA approved manufacture sites

MNC 's contribution to Pharma for domestic use- 20 %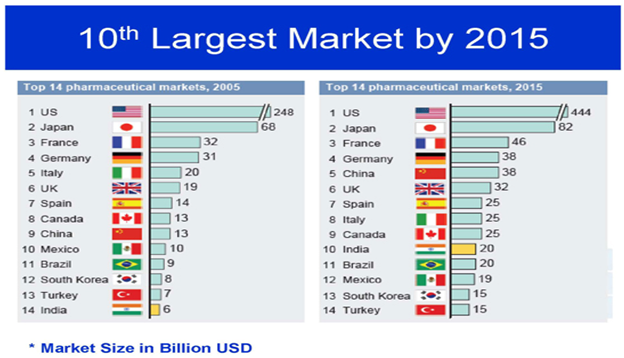 Generic Market:
According to our new report, "Booming Generics Drug Market in India", the Indian generic drugs market has posted an impressive growth pattern over the last few years. Currently, the Indian pharmaceutical market is fully dominated by generic drugs and in the near future, this scenario is likely to remain the same. In FY 2010, the share of generic drugs in the overall pharmaceutical market was estimated to be around 79.2% and by FY 2013, the share is likely to escalate to around 80.5%
We have found that generic drugs developed by India are now distributed and sold in several parts of the globe that, in turn, has augmented the demand for Indian generic drugs. With the key drugs going off-patents in the coming future, which also include blockbusters, there is an immense opportunity for Indian generics manufacturers to strengthen their market share in countries, such as the US, Europe, and Japan.4
Broadly Indian Pharmaceuticals sector is classified into Bulk drugs, Formulation and Contract Research and Manufacturing Services (CRAMS). The drug and pharmaceuticals industry in India meets around 70% of the country's demand for bulk drugs, drug intermediates and formulations. There are about 500 corporate players with more than 20000 players in general and thus fragmented Indian pharmaceutical industry. The bulk drugs and pharmaceuticals manufacturers produce complete range of pharmaceutical formulation and about 350 bulk drugs.5
NOW YOU CAN ALSO PUBLISH YOUR ARTICLE ONLINE.
SUBMIT YOUR ARTICLE/PROJECT AT articles@pharmatutor.org
Subscribe to Pharmatutor Alerts by Email
FIND OUT MORE ARTICLES AT OUR DATABASE
Pages