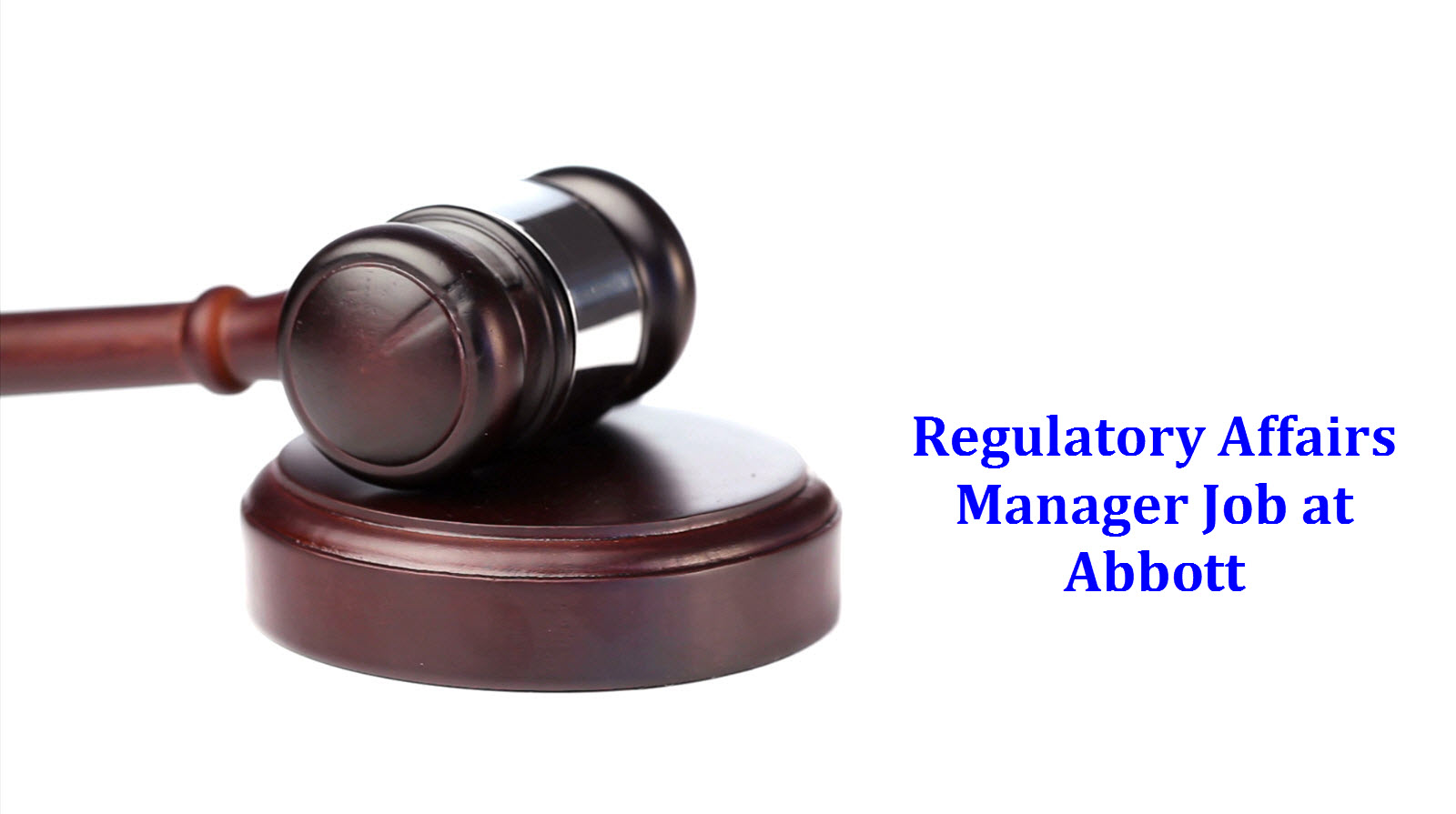 Abbott India Limited is a subsidiary of Abbott Laboratories, USA, a global, iversified health care company devoted to the discovery, development, manufacture and marketing of pharmaceutical, diagnostic, nutritional and hospital products. The company now employs approximately 70,000 people and markets its products in 130 countries worldwide. 
Post : Manager Regulatory Affairs
Primary Job Function:
1. Product registrations / Submissions
- Assists in product registrations by preparing/ requesting documentation needed for complex filings
- Employs project management skills to monitor activities and meet deadlines
- Prepares registration packages for routine filings
- Identifies and collects data needed
- Seeks expert advice and technical support for complex filings
- Prepares responses to deficiency letters
2. Relationships & Cross Functional team work
- May represent Regulatory CMC at relevant project meetings and communicates agreed RA position
- Monitors and communicates actual versus planned regulatory activities and timelines
- Identifies and communicates risks and issues impacting project progression
3. Affiliate Coordination
- Builds and maintains strong working relationships with Regional Product Leads and Affiliate colleagues
4. Compliance across Life-Cycle
- Assesses and approves change requests and updates files accordingly
- Maintains awareness of legislation and current developments within specific area of business
- Works to assure products remain in compliance
5. Strategy
- Participates in the development of Regulatory CMC strategies for assigned products and projects
- Takes steps to identify, communicate, and mitigate Regulatory CMC risks
6. Process Improvement
- Identifies opportunities and suggests improvements
- Provides input into the development of position papers & work aids etc
7. Health Agency Interaction
- Helps to prepare for Health Agency meetings as appropriate
8. Licensing Reviews
- Can provide CMC Regulatory support for due diligence activities
9. Technical competency
- Has general knowledge of technical/scientific principles and some specific knowledge of allocated products
- Has general knowledge of global and regional regulatory requirements
- Starts to develop specialist regulatory knowledge of assigned country or product-class requirements
CORE COMPETENCIES
- Effectively prioritizes short-term (days) to mid-term (weeks) work tasks
- Works with manager to regularly review work commitments and activities
- Reacts quickly to solve problems and issues when they arise
- Takes steps to anticipate, mitigate and avoid problems and issues
- Seeks feedback from manager and team members and adapts behaviour to improve performance
- Develops an intrapreneurial mindset to identify new or unique ways to address work problems or opportunities
- Delivers high quality results.
- Meets agreed deadlines.
- Exhibits honesty and presents complete impartial information.
- Displays consistency between words and actions.
- Acknowledges and responds constructively to failures and mistakes.
- Expresses dissatisfaction constructively, without over-reacting.
- Actively interacts with colleagues to drive completion of team and shared goals
LEADERSHIP COMPETENCIES
- Takes a major role in generating robust Regulatory CMC strategies supporting right-first-time submissions
- Mentors junior team members
- Starts to develop own leadership skills and practices these skills in day to day work
- Complete goals according to agreed deadlines
- Provides input into decision-making within scope of project/product responsibilities
- Provides honest, accurate feedback to colleagues, whether positive or negative
- Not afraid to challenge peers and be challenged
- Openly shares information with peers
Candidate Profile
Bachelor's Degree in Pharmacy, Biology, Chemistry, Pharmacology, or related subject.
A minimum of 8 years of experience in Regulatory Affairs, R&D, Manufacturing or related areas.
Additional Information
Qualification : B.Sc. or B.Pharma
Location : Mumbai
Experience : 8 years
Job ID : 30956762
Functional Area : Regulatory Affairs, R&D, Manufacturing
End Date : 20th August, 2020
See All   M.Pharm Alerts   M.Sc Alerts   B.Pharm Alerts   B.Sc Alerts
See All   Other Jobs  in our Database