Life Sciences Career at Institute for Stem Cell Science and Regenerative Medicine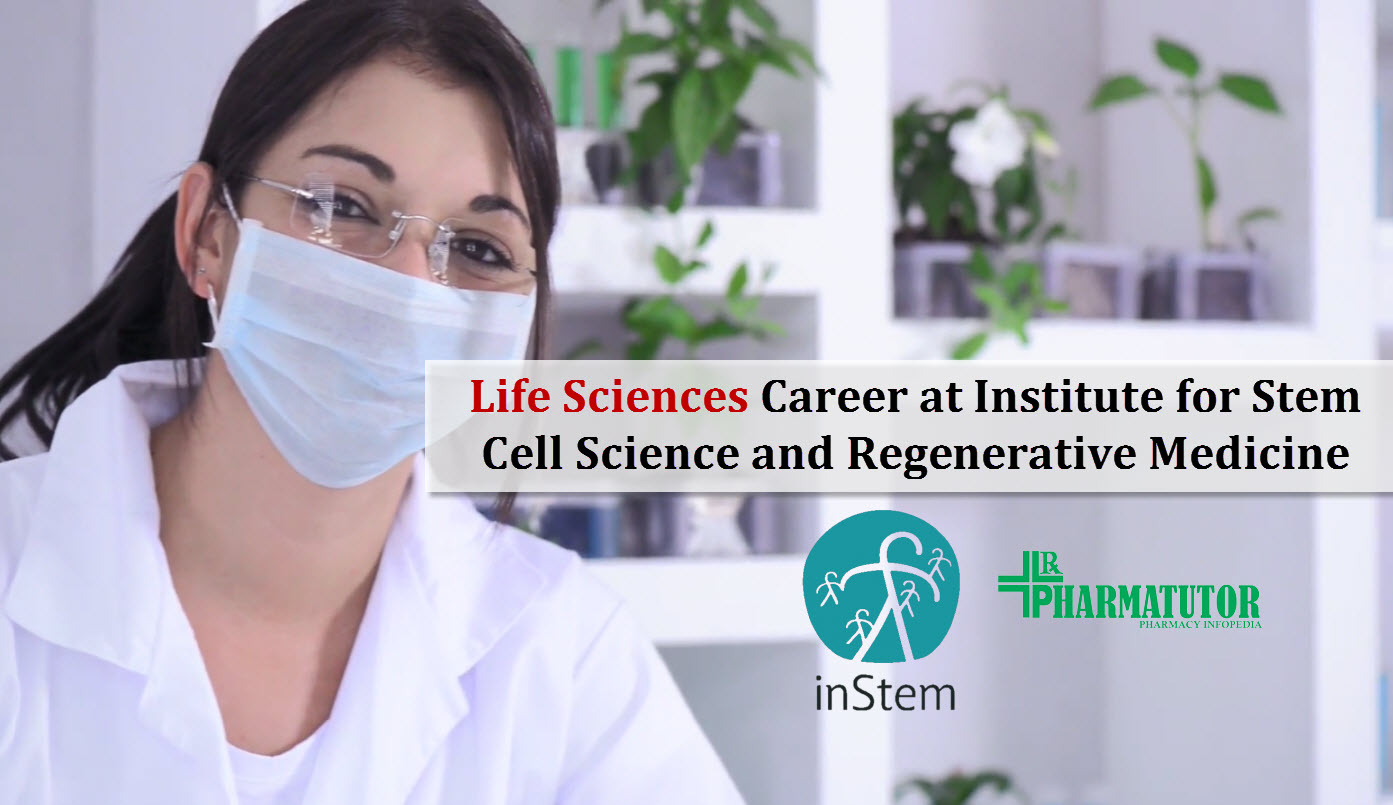 Institute for Stem Cell Science and Regenerative Medicine is an autonomous Research Institute of the Department of Biotechnology, Ministry of Science and Technology, Government of India.
The Institute invites Online Applications from eligible and interested candidates for filling up the following vacancy under Scientific Cadre on Direct Recruitment failing which by Deputation/Absorption.
Post : Fellow-E (Scientist-D)- Head, Stem Cell Facility
Post Code : 9/20
Educational Qualification & Experience Requirements :
Essential Qualification & Experience
Masters in Life Sciences or equivalent with 5 years' experience Desirable: PhD in life sciences or other allied sciences
Experience details: Prior experience in growing/maintaining human embryonic stem cells (hESC)/induced pluripotent stem cell lines (iPSc) and in developing and maintaining collections of biomaterials in academia or industry. Individuals with a proven track record of working with biological systems involving stem cells and experience with management of team-based activities, are encouraged to apply. Familiarity with laboratory administration and financial management is desirable.
Experience for Deputation: Scientists from Central/State Governments, Research Institutes, Autonomous Bodies etc. (i) Holding analogous post on regular basis in parent Department or (ii) With 4 years' service in Level- 11 or equivalent in the parent cadre/ Department and possess the essential qualification & experience as mentioned above.
Note:
1. Candidates must have fulfilled the eligibility criteria as on the last date of submission of online applications.
2. It may be noted that candidature will remain provisional till the veracity of the concerned documents are verified by the Appointing Authority
Age Limit & Relaxation : Not exceeding 45 years for Direct Recruitment/Not exceeding 50 years for Deputation
There would be no upper age limit for all employees being engaged in the work of the institute or department for the last 5 years or more (as on 28th Feb 2020)
About the Post:
The position involves management and coordinating operations of the Stem Cell Facility, which is a core facility for scientists at inStem and the National Centre for Biological Science (NCBS). The Stem Cell Facility comprises state of the art laboratories situated in two major research complexes on campus and provides managed space and training to users from within the campus (and outside), to generate and perform experiments on human iPSCs, ESCs etc. Responsibilities include (but are not limited to): coordinating activities and maintenance of the stem cell laboratories, maintenance and distribution of core human ESC/iPSC lines, providing training in the generation and use of iPSCs, ESC and iPSC-based models of disorders, including genome-editing to users. Organization of training workshops will be a core responsibility. An integral component of this position is the continual updating of standard operating procedures that govern the work carried out in the stem cell facility and ensuring that all users strictly adhere to these policies. Additionally, the incumbent of this position will ensure that the facility meets (if not exceeds) the statutory requirements regulating work with human and mouse stem cells. This position requires that basic reagents and consumables that are provided to users as part of the facility charges are adequately stocked and monitored.
Compensation / Pay Details:
The post carries the pay level-12 in the pay structure of 7th CPC Pay Matrix and other benefits which include Dearness Allowance, House Rent Allowance (in lieu of accommodation), Transport Allowance, Children Education Allowance, Leave Travel Concession, Medical Facilities as per Govt. of India Rules. The selected candidate will be covered under National Pension System (NPS).
Nationality : Candidate must be citizen of India/NRI/OCI/PIO. 
Procedure for Application for Those who are already in Govt. Employment/Psus/Autonomous Bodies Etc
Candidates employed in Government/ Public Sector Undertakings/ State Government/ Autonomous Organisations etc. and Departmental Candidates should produce No Objection Certificate (NOC) from the present employer at the time of Interview, failing which the candidate will not be allowed to appear in the Interview.
Application Fee (Only Online) :
Unreserved & OBC candidates : Rs 500/-
Unreserved & OBC candidates from abroad with OCI Status : USD $ 30
Exemption From Payment of Fee : Women and SC/ST/Person with Disability(PwD) applicants are exempted from payment of application fee as per Govt. of India rules in this regard. Fee is to be paid online through Credit Card/Debit Card/Net Banking. Application Fee paid by the candidates who have not submitted their application or whose application is rejected will not be refunded. All applicable service charges, bank charges etc. shall be borne by the applicants only. 
Selection Process  : The selection will be through Personal Interview
GENERAL CONDITIONS:
1. Candidates must ensure that he/she fulfils the eligibility criteria as stipulated in the advertisement. Incomplete applications shall be summarily rejected and no correspondence in this regard shall be entertained.
2. All candidates applying against unreserved (UR) vacancies will be treated as General candidates.
3 . All eligibility conditions will be determined with reference to the crucial date of eligibility i.e., the closing date of receipt of online applications i.e., 9th August 2020.
4. Any amendment related to this recruitment shall be made available only on the Institute's website instem.res.in
5. In case of any discrepancy in Hindi Language, the English version will be treated as final.
HOW TO APPLY: Interested candidates may log into the link given in inStem website – Careers – Open position to apply for the position  instem.res.in/jobportal
Publication of advertisement in Employment News (E - Edition) and other national dailies : 25th July 2020
Last date for receipt of online application : 9th August 2020
INSTITUTE FOR STEM CELL SCIENCE AND REGENERATIVE MEDICINE
GKVK Campus, Bellary Road,
Bangalore-560065
See All   B.Pharm Alerts   M.Pharm Alerts    Ph.D Alerts   Delhi Alerts
See All   Other Jobs  in our Database
Subscribe to Pharmatutor Job Alerts by Email