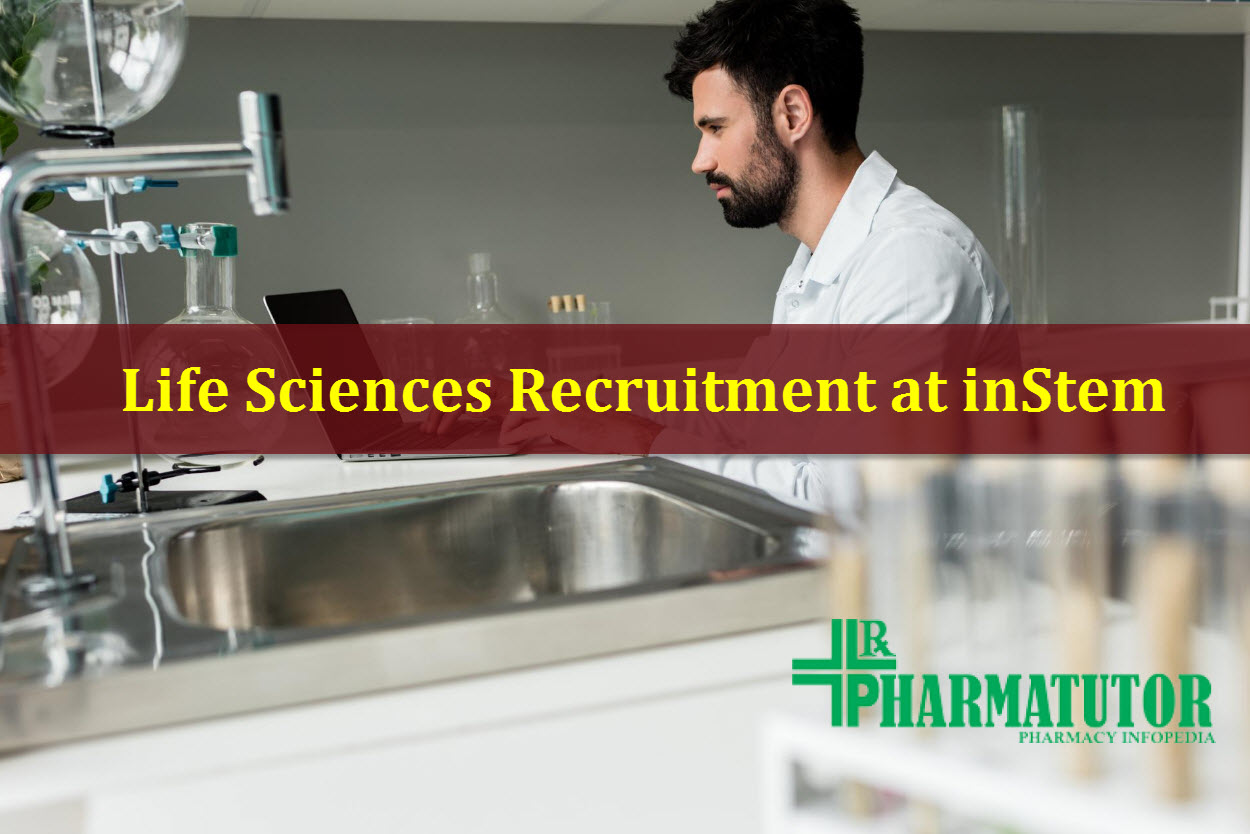 The Institute for Stem Cell Science and Regenerative Medicine (inStem, instem.res.in), an Autonomous Institute of the Department of Biotechnology, Government of India, invites online applications for Fellow-E (Scientist-D) to work in the field of Environmental Health and Safety at Bangalore Life Science Cluster on Direct Recruitment failing which by Deputation/ Absorption.
Post : Fellow-E (Scientist-D)
No of Post : 01 Economically weaker section (EWS)
Level in Pay Matrix (as per 7th CPC) : Level-12
Post Code : 14/20
Essential Qualification & Experience: Masters in Life Sciences / Medicine or equivalent, with 5 years' experience.
Desirable : Ph.D in Life Sciences or other Allied Sciences. Should be an outstanding scientist with a strong and exceptional research record and intentions of collaborative/ thematic research. Should have a strong research record with promise to contribute to the focused research themes at the institute and/or carry out their own discovery driven research experience in the relevant field with ability to foster interactions among basic scientists and clinicians.
Experience for Deputation : Scientists from Central/State Governments, Research Institutes Autonomous Bodies etc.
(i) Holding analogous post on regular basis in parent Department or
(ii) With 4 years' service in Level- 11 or equivalent in the parent cadre/ Department and possess the essential qualification & experience as mentioned above.
Note:
1. The Institute reserves the right to withdraw/cancel the advertisement at any stage of recruitment process and may keep any of the advertised vacancy unfilled.
2. The criteria for Economically weaker section is given in this advertisement
About The Post
The Institute for Stem Cell Science and Regenerative Medicine (inStem) is recruiting Fellow-E (Scientist-D) to work in the field of Environmental Health and Safety. inStem is an integral part of the Bangalore Life Science Cluster (BLiSC) with many shared facilities and infrastructure of other cluster members, namely the National Centre for Biological Sciences (NCBS) and the Centre for Cellular and Molecular Platforms (CCAMP).
The selected candidate would thus serve the safety needs of all institutions on the BLiSC campus. The incumbent is expected to plan, implement, direct and evaluate the campus' environmental, occupational health and safety program. S/he will work in close coordination with the campus Laboratory Support Office and the Biosafety Committee to develop, manage and improve programs in safety and accident prevention, industrial hygiene, hazardous waste, environmental sanitation, fire prevention, biological and chemical safety, emergency preparedness and management services, worker's compensation, accident investigations and providing extensive training to educate students, faculty, and staff on the importance of adhering to campus environmental protection programs.
This position provides consultative assistance and technical guidance to senior management and administrators on campus strategies and objectives and briefs administrators on critical and sensitive issues. This position develops training programs to increase safety awareness among the campus community. This position is responsible for safety and regulatory compliance and maintains records for all EHS safety compliance programs.
Responsibilities include
• Develops, reviews and revises written safety related plans according to regulatory guidelines to International Standards and ensure compliance with National Guidelines. Communicates plans to campus constituents and monitors progress of plans, reporting compliance annually.
• Organize and arrange meetings of institutional Statutory Committees that regulate work on campus including the Institutional Biosafety Committee, Institutional Human Ethics Committee, and coordinate with the Stem Cell Facility for the Institutional Stem Cell Committee and the Animal Facility for the Animal Ethics Committee meetings
• Keep updated records on the status of applications to the different regulatory committees and inform investigators when progress reports or renewal applications are required
• Assist faculty with completion of the application forms to the regulatory committees
• Responsible for the campus environment of care standards for all specialist facilities. Certification and safety compliance of the institutes' dedicated BSL-2/+ and BSL-3 (clean rooms; pathogen labs; insectary; green-houses) laboratories.
• Lead the environment of care inspection process and reports environment of care findings to the campus administration on a monthly basis.
• As appropriate develops action plans and leads workgroups to address environmental care issues.
• Works with the Lab Support office to direct campus hazardous, medical and universal waste disposition in accordance with local, state and federal regulations. Responds to hazardous waste spills and incidents and takes appropriate action. Monitors completion of manifests and required reporting.
• Advise and/or consult on compliance pertaining to environmental health and safety laws, regulations, and performance standards.
• Responds to and investigates employee complaints regarding safety/health concerns.
• Directs campus wide safety inspection/risk analysis services for all campus buildings, facilities, construction sites and laboratories to identify/abate recognized safety hazards/loss exposures. Ensures effective Environmental Health and Safety monitoring is completed and issues are addressed as identified during renovations and new construction. As appropriate collaborates with the safety representative from facilities and inspects worksites to detect potential hazards and assess controls.
• Maintain appropriate records, and reviews environmental health/safety and emergency trends.
• Plan, organize, develop and implement various required occupational safety training (on-line & classroom based).
• Analyze and assesses current operating procedures, materials, and methods; anticipates and implement changes or modifications based on sustainability goals.
• Remain current on new developments and laws on environmental health and safety through participation in professional organizations.
Requirements:
• Safety experience in health care is required. Combination of education and experience will be considered. Certification as a safety professional is desirable.
• Demonstrated knowledge in the areas of: health & safety laws, policies, and procedures as it relates to environmental health.
• Highly developed organizational skills.
• Strong, collaborative, energetic individual with a deep personal commitment to the highest standards of ethics, confidentiality and professionalism
• Strong organizational skills and an appreciation and attention to detail
• Strong communication skills (both written and oral) evidenced by background in preparing comprehensive reports and executive summaries incorporating complex, highly technical information.
• Maintain knowledge and expertise of regulations on chemical storage, emergency procedures, sanitary sewer, air pollution control, and hazardous waste disposal.
• Ability to communicate effectively with diverse stakeholders on campus and external researchers
• A results-oriented individual who demonstrates the ability to work well with people at all levels of an organization, warmly develops relationships with diverse constituencies, and simultaneously employs keen judgment
Compensation/ Pay Details:  The post carries the pay level-12 (Starting Basic Pay Rs. 78,800/-) in the pay structure of 7th CPC Pay Matrix and other benefits which include Dearness Allowance, House Rent Allowance (in lieu of accommodation), Transport Allowance, Children Education Allowance, Leave Travel Concession, Medical Facilities as per Govt. of India Rules. The selected candidate will be covered under National Pension System (NPS).
IMPORTANT NOTE : Only online applications will be accepted. Applications received through any other mode shall stand rejected automatically.
Age : Not exceeding 45 years for Direct Recruitment / Not exceeding 50 years for Deputation
Nationality :  Candidate must be citizen of India/NRI/OCI/PIO.
PROCEDURE FOR APPLICATION FOR THOSE WHO ARE ALREADY IN GOVT. EMPLOYMENT/PSUs/AUTONOMOUS BODIES ETC: Candidates employed in Government/ Public Sector Undertakings/ State Government/ Autonomous Organizations etc. and Departmental Candidates should produce No Objection Certificate (NOC) from the present employer at the time of Interview, failing which the candidate will not be allowed to appear in the Interview.
APPLICATION FEE (Only Online) :
Unreserved & OBC candidates  : Rs 500/-
Unreserved & OBC candidates from abroad with OCI Status USD : $ 30
PAYMENT OF APPLICATION FEE:
The payment of Application fee is to be remitted online to the bank account as detailed below:
Account Name: Institute for Stem Cell Science and Regenerative Medicine
Bank Name: IDBI Bank
Branch Name: R T Nagar Branch
A/c. No.: 0363104000180849
IFSC Code: IBKL0000363
After remitting the application fees to the above bank account, the payment reference number is to be mentioned in the online application form. Fee is to be paid online through Credit Card/Debit Card/Net Banking. Application Fee paid by the candidates who have not submitted their application or whose application is rejected will not be refunded. Applicable service charges, bank charges etc. shall be borne by the applicants only. Without deposit of application fees, the application would not be processed.
EXEMPTION FROM PAYMENT OF APPLICATION FEE: Women and SC/ST/Person with Disability(PwD) applicants are exempted from payment of application fee as per Govt. of India rules in this regard.
SELECTION PROCESS - The selection will be through Personal Interview.
GENERAL CONDITIONS:
1. Candidates must ensure that he/she fulfils the eligibility criteria as stipulated in the advertisement.
2. Incomplete applications shall be summarily rejected and no correspondence in this regard shall be entertained.
3. All eligibility conditions will be determined with reference to the crucial date of eligibility i.e., the closing date of receipt of online applications i.e., 31st Dec 2020.
IMPORTANT DATES:
Publication of advertisement in National dailies : 10th December 2020
Employment News (E -Edition) : 19th December 2020
Last date for receipt of online application : 31st December 2020
See All   Bangalore Alerts   B.Pharm Alerts   M.Pharm Alerts   M.Sc Alerts
See All   Other Jobs  in our Database