Vacancy for Junior Research Fellow at IIT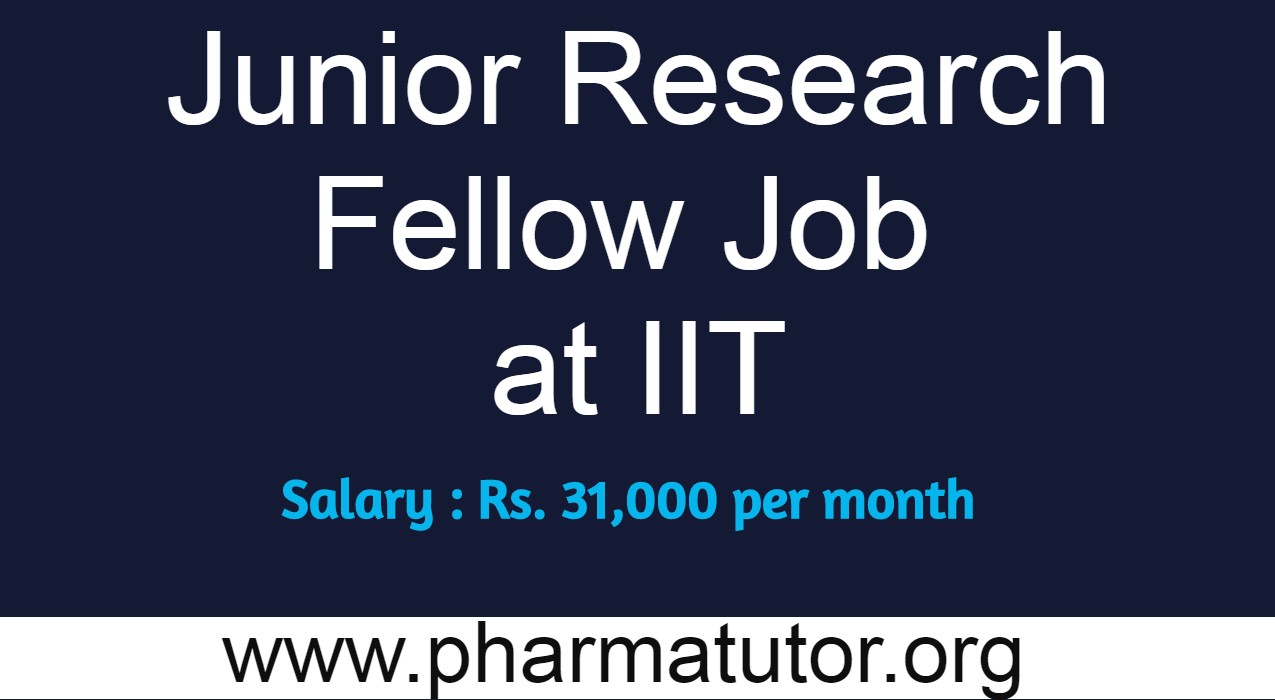 Indian Institute of Technology (IIT) Bhilai was established in the state of Chhattisgarh by Ministry of Human Resource and Development in the year 2016.  IIT Bhilai is presently housed in its transit campus at Government Engineering College (GEC) Raipur, Chhattisgarh.  IIT Bhilai offers Bachelor of Technology (BTech), Master of Technology (MTech), Master of Science (MSc) and Doctoral programs (PhD) in various departments. IIT Bhilai has established a 3-D Printing Lab that constitutes an integral part of 3-D Modeling and Design course, a fabrication lab, an electrical lab, a computer lab and a library in a short duration.
Post : Junior Research Fellow
Title of the project : Glucose-responsive DNA capsule for insulin delivery.
Essential qualifications : MSc (Chemistry / Biochemistry / Nanotechnology / Biotechnology) OR MTech / MS (Biotechnology/ Nanotechnology / Biomedical Engineering / Materials Science and Engg.) from a recognized institute / university or statutory body OR equivalent degree with a minimum of 60% aggregate score (6.5 grade points on a scale of 10); For SC/ST category, the candidate must have secured a minimum of 55% aggregate score (6.0 grade points on a scale of 10).
Desirable : Preference will be given to candidates NET/GATE/BET qualified candidates and having work experience relevant to the project.
Candidates with expertise in the followings are strongly encouraged to apply:
1) Organic and nanomaterials synthesis and characterizations.
2) Expertise in analytical techniques such as NMR, IR, UV-Visible, fluorescence spectroscopy.
3) Fluorescence microscope, AFM, TEM, SEM.
4) Advanced molecular biology and biochemistry.
5) Good communication skill and problem solving capability.
Age limit : 28 years
Salary : Rs. 31,000 + 16% HRA per month
Duration : Two years or up to the termination of the project, subject to annual performance review.
Principal Investigator : Dr. Suchetan Pal, Assistant Professor, Room 306, Department of Chemistry, IIT Bhilai, GEC Campus, Sejbahar, Raipur, Chhattisgarh- 492015 email: suchetanp@iitbhilai.ac.in
How to apply : Interested candidates must apply on the application form attached with this advertisement. Duly completed application form along with candidate's detailed CV must be emailed to the PI, Dr. Suchetan Pal at suchetanp@iitbhilai.ac.in by Monday, 18th May 2020. Subject of the email should read Application for Project Assistant – Applicant's Name. Applications without application form will not be shortlisted. Only shortlisted candidates will be called for interview and no TA/DA will be paid for attending the interview. Candidates should make their own arrangements for stay. The positions are available immediately.
Last date : Monday, 18th May. (on or before 5.00 pm) via email.
Conditions:
• No TA/DA or accommodation will be provided to the candidates called for the interview. 
• The PI shall not be responsible for email delay, if any, or any other reason for non-receipt of the document at the specified time and will result in disqualification/rejection of the application.
• If the number of applications for the position is large, the selection committee may decide an appropriate shortlisting criteria over and above the essential qualification required to restrict the number of candidates for the interview to a reasonable limit. 
• The decision of the selection committee will be final.
Indian Institute of Technology Bhilai
GEC Campus, Sejbahar, Raipur – 492015
Chhattisgarh, India
See All  B.Pharm Alerts   M.Pharm Alerts   M.Sc Alerts  Chhattisgarh Alerts
See All   Other Jobs  in our Database
Subscribe to Pharmatutor Job Alerts by Email