Vertigo Management – Mapping prevalence and treatment. Understanding once a day preparation usage and place in therapy.

About Authors:
Indraneel sinha*, Mr. Sanjay sahai, Mr. Sunil jajoo, Mr. Abhijeet bhatkar
Post graduate diploma in pharmaceutical management,
Indian institute of health management research,
jaipur
*indraneel.sinha.999@gmail.com
COMPANY PROFILE
Sun Pharmaceuticals was set up in 1983 and the company started off with only 5 products to cure psychiatric illness.  Sun Pharma is best known worldwide as the manufacture of specialty Active Pharmaceuticals Ingredients (API) and formulations.
However, the company is also concerned with chronic treatments such as cardiology, psychiatry, neurology, gastroenterology, diabetology and   respiratory ailments. Active Pharmaceuticals Ingredients (API) includes peptides, steroids, hormones, and anti?cancer drugs and their quality is internationally approved. Mr. Dilip S. Shanghvi is the Executive Chairman and Managing Director of Sun Pharma and Mr. Kamalesh H. Shah is the secretary.
In 1983, when Sun Pharma was set up, it only dealt with two states in India – West Bengal and Bihar. In 1985, it started trading nationally and by 2000, Sun Pharmaceuticals made its way to the international market. Products used  in cardiology were manufactured in 1987 and at that time, Monotrate was one of the first products that was launched and went on to become a best-seller. In 1993, Sun Pharmaceuticals Industries set up their own research institute and named it SPARC (Sun Pharmaceutical Advanced Research Centre). In 1994, Sun Pharma enrolled itself in the main stock exchanges in India. Subsequently  in 1995, the first API manufacturing plant was established at Panoli to capture the international market.
Sun Pharma shifted its headquarters in Mumbai as it is the center of Indian commercial trade. Sun Pharma's speedy  activity is one of its best attributes that has made it gain an international status across the world. Quality remains the prime concern and is maintained by the team.
In the US, which is the company`s largest market, Sun Pharma has built a strong pipeline of generics, directly and through its subsidiaries Caraco and Sun Pharmaceutical Inc. Taro adds strong dermatology range to this portfolio.
Sun holds no. 1 with the specialties as per CMARC which is at the same position as last year, and gained  market  share in psychiatry, neurology, gastroenterology, diabetology, ophthalmology and orthopedics. Sun pharma now holds 4.3% market share in highly competitive Indian market.
2010-11 was a good year for Sun Pharma, as were the preceding years. Sun's financial performance was strong, they completed a significant acquisition, enriched the portfolio of products they offer in the US, strengthened their speciality rankings in India and rest of world markets, added to their intellectual capital, and yet again reaffirmed their commitment to high standards of corporate governance and stakeholder transparency.
Today SPIL, is the largest Indian company in the US generics space,& the largest pharma company in India in chronic therapies, and an emerging force in the rest of the world markets.
Reference Id: PHARMATUTOR-ART-1409
SunPharma's product portfolio consists of 4 maincategoriesof products:
1.IndiaBrandedGenerics
2.USGenerics
3.InternationalBrandedGenerics
4.ActivePharmaceuticalIngredients(API)
The company is engaged in manufacturing of product in the following therapy areas:
· CNS disorders
· Cardiology
· Diabetes and Metabolic disorders
· Gastroenterology
· Ophthalmology
· Oncology
· Pain
· Allergy, Asthma and Inflammation
· Gynaecology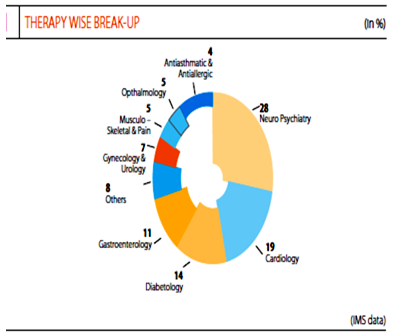 | | |
| --- | --- |
| Speciality | Marketing Division |
| Psychiatry | Synergy, Symbiosis and Sirius |
| Neurology | Synergy, Symbiosis and Sirius |
| Diabetology | Arian, Azura Life Sciences and Avior |
| Cardiology | Arian, Azura Life Sciences and Avior |
| Ophthalmology | Avesta and Milmet |
| Gastroenterology and Others | Sun and Solares |
| Asthma (Chest) and COPD | Radiant |
| Orthopedics | Sun and Ortus |
| Gynecology | Spectra and Inca Life Sciences |
| Fertility | Inca Life Sciences |
| Urology | Inca Life Sciences |
| Dermatology | Ortus |
| Oncology | Sun Oncology A and B |
| Interventional Cardiology | Azura Critical Care |
| Anesthesia and ICU | Sun Speciality Care |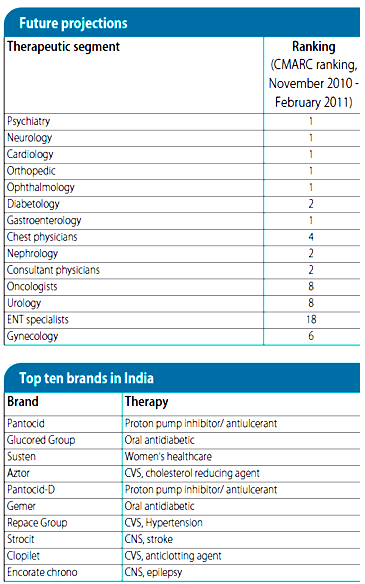 Other group companies:
Caraco Pharmaceutical Laboratories-
Based in Detroit, Michigan, Caraco develops, manufactures, market and distributes generic and private label pharmaceuticals and markets them throughout the United States.
Sun Pharmaceutical Industries Inc. (SPI)-
Sun Pharmaceutical Industries Inc is a Michigan Corporation and a wholly owned subsidiary of Sun Pharmaceutical Industries Lt India. A plant spread over 35,000 sq ft, in Bryan, Ohio, manufactures liquids, creams, and ointments. This plant was purchased from Valeant Pharma.
Sun Pharmaceutical (Bangladesh)- 
Sun Pharmaceutical (Bangladesh) is a private limited company incorporated in March 2001 under the Companies Act 1994. This company was formed jointly with Sun Pharma, City Overseas Ltd, a company incorporated in Bangladesh and Sun Pharma Global Inc, a company incorporated under the laws of the British Virgin Islands. The company began commercial operations in October 2004. The company owns and operates a pharmaceutical factory and makes pharmaceutical products that are sold in the local market.
Alkaloida Chemical Company Exclusive Group Ltd.-
 ICN Hungary, purchased from Valeant Pharmaceuticals in 2005, is one of the few units worldwide, authorized to make controlled substances. ICN Hungary has now been renamed Alkaloida Chemical Company.
Solares division:
This division markets brands in the respiratory therapy area , products for gastroenterology as well as pain management. An indigenously synthesized Terlipressin, Terlyz and a novel delivery based pancreatic enzyme, Panlipase, have been launched recently.
Therapy area coverage:
Ø  Gastroenterology
Ø  Respiratory
Ø  Pain Management Products
Top 5 brands:
Ø  Sompraz
Ø  Lesuride
Ø  Betavert
Ø  Predmet
Ø  Febutaz
EXECUTIVE SUMMARY
OVERALL SAMPLE OF DOCTORS (SAMPLE SIZE = 165)
·         The objective of the study was to: "Map the prevalence and treatment strategies used in effective Vertigo Management. Determining the usage & place in therapy of once a day preparation was also to be determined."
·         To accomplish the set objectives, 165 doctors were taken into the sample set. Out of which 40 were Neurologists, 65 Consulting Physicians, 35 E.N.T doctors, 20 Cardiologists and 10 Diabetologists.
·         Amongst the sampled doctors, 38.79% observed 10-15% patients requiring anti-vertigo medications.
·         The % of female patients who seek anti-vertigo medications were found to be on the higher side amongst sampled doctors.
·         A 40:60 (Male:Female) ratio is observed most by 60% doctors in their practice.
·         40-50 years was the prevalent category of the patients amongst 61.54% sampled doctors.
·         65.45% of sampled doctors observed Vertigo patients with Secondary to pre-existing ailment.
·         Diabetes Mellitus (51.24%) is the most common secondary to pre-existing ailment, followed by Hypertension & Cardiac problems (28.86%) amongst the Sampled doctors.
·         BPPV is the most common cause of Vertigo, followed by Vestibular Neuronitis and Labyrinthitis amongst the sampled Sampled doctors.
·         53.12% Sampled doctors resort to Pharmacological therapy for treating patients of Vertigo.
·         Betahistine is the most preferred drug of choice for treating vertigo amongst 80.5% sampled doctors.
·         40.61% of the Sampled doctors prefer to treat with 8mg TID dose of Betahistine for patients of vertigo.
·         1-2 weeks is the most preferred duration of therapy with Betahistine amongst 71.52% Sampled doctors.
·         Dosage titration was found to be prominent amongst 90.3% of the sampled doctors.
·         With the usual approach being tapering down the dosage in patients where symptoms are relieved and do not recur, and then putting it off. But in some recurrent cases of vertigo the dosage is increased.
·         Betahistine O.D awareness was found amongst 95.15% doctors. Only 4.85% Sampled doctors were still unaware of Betahistine O.D formulation.
·         Out of all the sampled doctors 54.55% did not use Betahistine O.D formulation, they reportedly used the conventional doses.
·         Amongst all sampled doctors those who use Betahistine once a day preparation, 70.67% mostly prescribe 24mg C.R, while 29.33% use 48mg C.R formulation.
·         The duration for which 24mg C.R is prescribed the most is 1 week by 54.71% Sampled doctors, followed by 2 weeks amongst 43.33% Sampled doctors.
·         60.61% of the sampled doctors prefer to use O.D formulation as a start up dose, while the rest (39.39%) preferred to use it as a maintenance dose only.
·         O.D formulation was not found to be used specifically against any indication amongst 90.3% sampled doctors.
·         Amongst the sampled doctors, 84.24% do not use two Anti-Vertigo molecules together.
·         42.42% of the sampled doctors have not tried this combination, but 44.85% said it to be a potent and viable combination.
·         They were further aided by 7.27% of doctors who felt it maybe a fruitful combination.
Note: The figures in bracket are indicative of the percentage of responses given by doctors.
NOW YOU CAN ALSO PUBLISH YOUR ARTICLE ONLINE.
SUBMIT YOUR ARTICLE/PROJECT AT articles@pharmatutor.org
Subscribe to PharmaTutor Alerts by Email
FIND OUT MORE ARTICLES AT OUR DATABASE
Pages