ELECTRONIC TRANSITION IN UV VISIBLE SPECTROSCOPY

About Authors:
Tarun Patel , Prof. Dr. Vipin Kukkar, Nilesh Sovasia
Seth G.L. Bihani S.D. College of Technical Education,
Institute of Pharmaceutical Sciences and Drug Research,
Sri Ganganagar, Rajasthan, INDIA
INTRODUCTION
When we speak of a molecule as being raised to a higher electronic level we mean that an electron has been changed from one orbital to another orbital of higher energy. This electron can be of any kinds we have encountered –a σelectron, a π electron or an n electron. In Ultraviolet region we are confined only to the excitation of the comparatively loosely held n and πelectrons.2
Reference Id: PHARMATUTOR-ART-1249
IMPORTANT IN THIS ARTICLE:

* CONCEPT OF MOLECULAR ORBITALS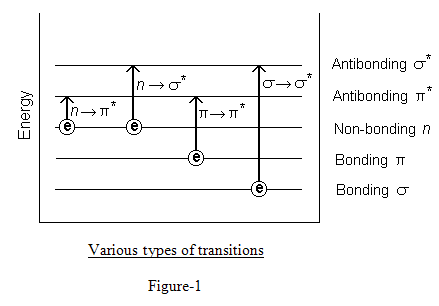 Out of the above mentioned transitions only n→ π* and π→ π* are of use to the analytical chemist working on the ultraviolet spectrophotometer.

When light – either visible or ultraviolet – is absorbed by valence (outer) electrons. These Electrons are promoted from their normal (ground) states to higher energy (excited) states .The energies of the orbitals involved in electronic transitions have fixed values. Because energy is quantised, It seems safe to assume that absorption peaks in a UV/visible spectrum will be sharp peaks. However, this is rarely, if ever, observed. Instead the spectrum has broad peaks .This is because there are also vibrational and rotational energy levels available to absorbing materials.
Ultraviolet- visible spectroscopyor ultraviolet - visible spectrophotometery (UV-Vis or UV/Vis) involves the spectroscopy of photons in the UV-visible region.
There is an interaction between UV visible light and sample which is in solution form. As a result of this interaction some photons (photons of UV-Vis EMR) are absorbed and this absorption of UV visible is measured by an instrument named UV visible spectrophotometer.
UV visible is low energy EMR hence generally no ionization is take place but electronic transition of lone pair and π electron take place (200-800 nm).6
QUANTUM MECHANICS
Quantum mechanics (QM) is a set of scientific principles describing the known behavior of energy and matter that predominate at the atomic and subatomic scales. QM gets its name from the notion of a quantum, and that quantum value is the Planck constant. The wave–particle duality of energy and matter at the atomic scale provides a unified view of the behavior of particles such as photons and electrons. While the notion of the photon as a quantum of light energy is commonly understood as a particle of light that has an energy value governed by the Planck constant, what is quantized for an electron is the angular momentum it can have as it is bound in an atomic orbital.Electrons have certain properties of particles and certain properties of waves. Electrons have mass and charge like particles. Because they are so small and are moving so fast, electrons have no defined position. Their location is best described by wave mechanics (i.e. a three dimensional wave) and a wave equation called the Schrödinger equation. Solutions of the Schrödinger equation are called wave functions and are represented by the Greek letter psi. Each wave function describes a different orbital. There are many solutions to the Schrödinger equation for a given atom.
Atomic orbitals:- The region in space where an electron is likely to be found called an orbital. There are different kinds of orbitals, which have different sizes and different shapes, and which are disposed about the nucleus in specific ways. The particular kind of orbital that an electron occupies depends upon the energy of the electron.5
NOW YOU CAN ALSO PUBLISH YOUR ARTICLE ONLINE.
SUBMIT YOUR ARTICLE/PROJECT AT articles@pharmatutor.org
Subscribe to Pharmatutor Job Alerts by Email
FIND OUT MORE ARTICLES AT OUR DATABASE
Pages