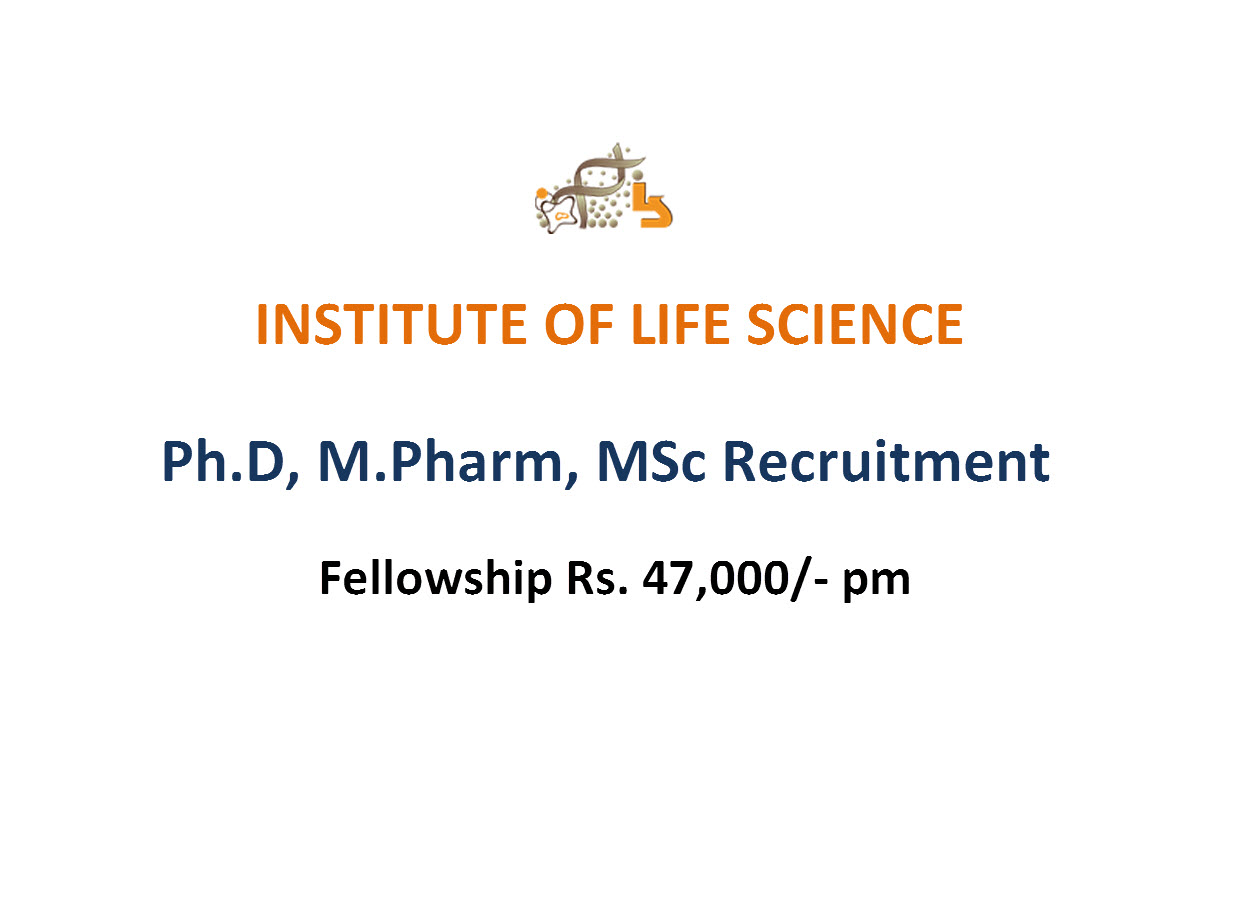 Institute of Life Sciences (ILS), Bhubaneswar is a leading national institute in India and is a multidisciplinary institute engaged in advanced research in area of Infectious Disease Biology, Cancer Biology, Genetic & Autoimmune Diseases, and Plant & Microbial Biotechnology. Institute of Life Sciences (ILS), Bhubaneswar, an autonomous institute of the Department of Biotechnology, Ministry of Science & Technology, Government of India invites applications from Indian Nationals to join in the following position.
Research Associate- Malaria Parasite Biology (01 position)
Project: Evaluation of Safety and Efficacy of Curcumin (Biocurcumax capsule) as an Adjunct Drug to Standard Therapy [(Artesunate) + (Sulfadoxine-Pyrimethamine) tablet] for Treatment of Uncomplicated P. falciparum Malaria
Fellowship: Rs. 47,000/- + @16% HRA per month
Eligibility: Candidates with Ph.D./MD/MS/MDS or equivalent degree or 3 years of research, teaching and design and development experience after MVSc/M.Pharma/ME/M.Tech in Life Sciences with at least one research paper in Science Citation Indexed (SCI) Journal. (Ref: OM No. SR/S9/Z-08/2018 dated 30.01.2019).
Candidates with expertise in the field of malaria parasite biology/ immunology/ molecular parasitology/ molecular biology/ biotechnology will be preferred. Candidates who have completed final Ph.D. defense can also apply.
Research Associate- Bioinformatics/NGS analysis (01 position)
Project: Analysis of the impact of mRNA-mRNA/circ RNA interactions in pancreatic β-cell physiology" (Funded by Wellcome Trust/DBT India Alliance)
Fellowship : Rs. 47,000/- + @16% HRA per month
Eligibility: Ph. D. in Bioinformatics/Biotechnology/related area. Candidates who have submitted Ph.D. thesis and are waiting for viva voce may also apply (For such candidates, fellowship amount will be that of an SRF until he/she defends Ph.D. thesis). Candidate should be well versed with next-generation sequencing (NGS) data analysis and/or molecular modeling as evidenced by first-author peer-reviewed publications. In addition to bioinformatics, candidate with experience in molecular biology techniques will be given preference.
Selection will be carried out through application screening, followed by an interview process.
Interested/eligible candidates may download the application form and apply along with self-attested copies of mark sheets and certificates, as well as copies of publications and Ph.D. thesis synopsis to "The Director, Institute of Life Sciences, Nalco Square, Bhubaneswar-751023". Superscribe the envelope with "Advt. no. / Date & Application for the position of ……………………" No TA/DA will be paid for attending the interview. The decision of the Director regarding the selection of candidates will be final and no further correspondence will be entertained in this regard.
1. Last date for receiving an application: 25.09.2020
2. Date of display of shortlisted candidates in ILS website: 29.09.2020
3. Date & time of interview: will be notified on the website
Note: All communication will be through e-mail. No separate call letter will be issued to the candidates.
See All   Ph.D Alerts   M.Pharm Alerts   B.Pharm Alerts  Bhubaneswar Alerts
See All   Other Jobs in our Database