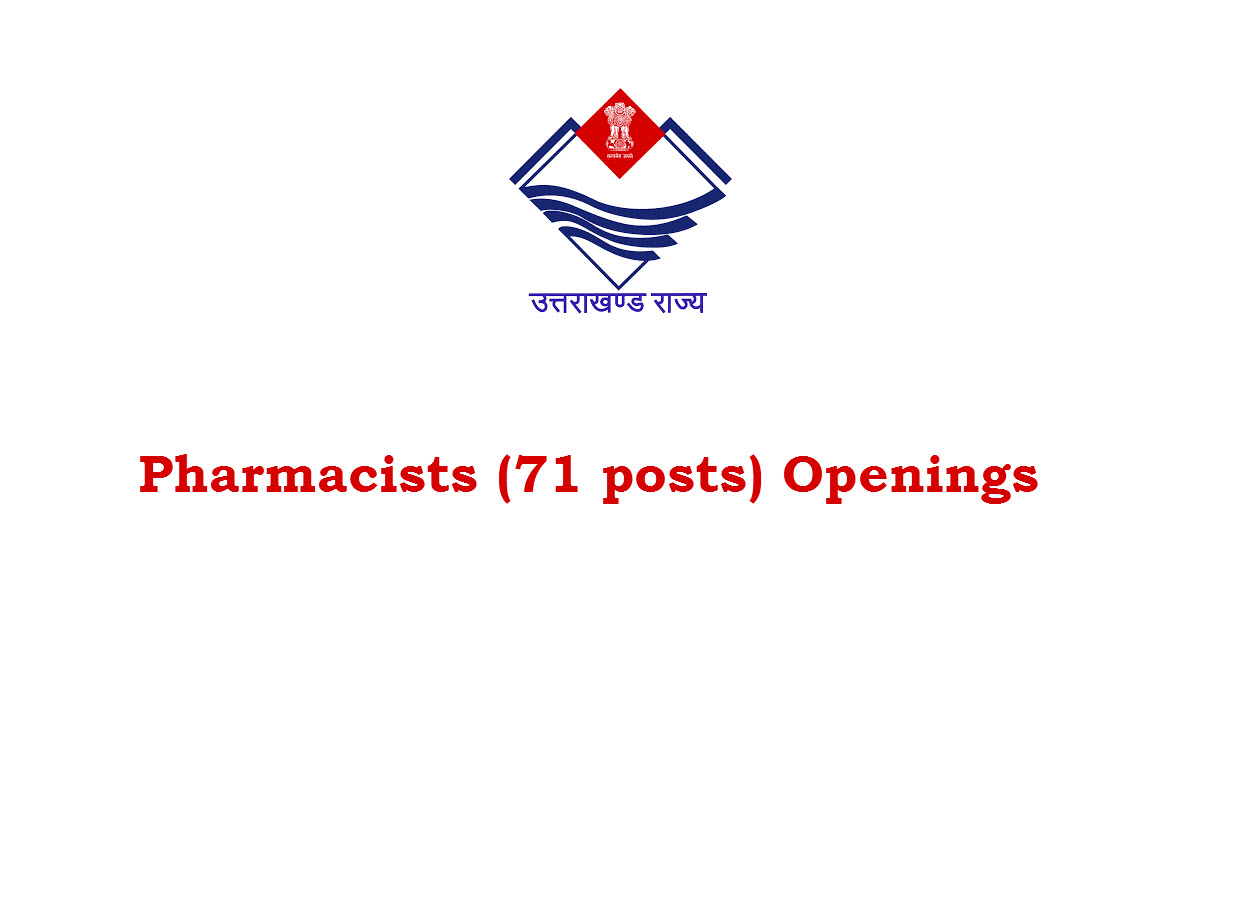 Uttarakhand Ayurvedic has issued a latest notification for Ayurvedic Pharmacist recruitment.
Post : Ayurvedic Pharmacist
No of Posts : 71 posts
Reservation : Reservation will be allowed according to the mandates issued by the Uttarakhand government from time to time. 
Qualifications : (Compulsory qualifications)
(a) Must have passed (Biology Group) examination or any examination recognized by the Government as equivalent from Uttarakhand School Education and Examination Council / Uttar Pradesh Secondary Education Council. 
(b) Have obtained a two-year diploma of Ayurvedic or Unani Bhashajik (Pharmacist) from an institution recognized by the Government of Uttarakhand and registered in the Medical Council of India, Uttarakhand.  (Preferential qualification)
(i) Must have served at least two years in the territorial service or
(ii) Obtained "B" certificate of National Cadet Corps or
(iii) Obtained "C" certificate of National Employment  . 
Registration in any employment office in Uttarakhand state is required.
Age : - On 01 July 2020, the age of the candidate should not be less than 18 years and not more than 42 years.  In the case of candidates belonging to Scheduled Castes, Scheduled Tribes, Other Backward Classes and other such categories of Uttarakhand State, who may be notified by the Government from time to time, relaxation in the maximum age limit will be permissible as per government rules. 
Fee : - Bank Challan Accountant 0210 of Rs. 150 / - to general and backward class candidates with application form - Medical and Public Health, 01 Urban Health Services, 800 - Other receipts, 10 - Other miscellaneous receipts of Ayurvedic  The title will be submitted, it is necessary to attach the original copy of the challan along with the application form.  The application will be rejected on receipt of the application without bank driving. 
Selection process : - issued by the government, "Uttarakhand Ayurvedic and Unani Pharmaceutical (Pharmacist) Services Rules 2009 * and Uttarakhand Government AYUSH & AYUSH EDUCATION SECTION NOTIFICATION NO.  According to the provisions contained in the promulgated Uttarakhand Ayurvedic and Unani Bhashajik (Pharmacist) (Amendment) Service Rules 2010, the selection will be made through the Selection Committee as per the merit less (year wise) of passing the Diplom.
Date of Submission of application form : - Application form filled in the prescribed format will be received in the office of 'Director Ayurvedic and Unani Services Uttarakhand, Danda Lakhand, Sahastradhara Road, Near IT Park, Dehradun till 5:00 pm on 20.10.2020. Application forms will be accepted from the registered post / speed post. Applications received after the due date and time, due to delay in postal delivery or for any reason, will not be accepted.
Candidates are also required to attach the attested photocopies of the following certificates with the application.
1. Reservation related certificate (issued by the competent authority).  
2. High - School / Intermediate certificate and mark sheet.  
3. Certificate of Pharmacist training and mark sheet.  
4. Registration certificate in Medical Council of India, Uttarakhand.  
5. Original - Residence / Permanent Residence Certificate.  
6. Registration certificate in the employment / employment office of Uttarakhand state.  
7.  Character Certificate-2 (provided by Gazetted Officers).  
8. Fixed Charge Bank Challan in original.  
9. Two envelopes of self written address 23X10 cm with registered postage stamps.  
10. other qualification certificate, if any.
See All   M.Pharm Alerts   M.Sc Alerts   B.Pharm Alerts   Government Jobs
See All   Other Jobs  in our Database