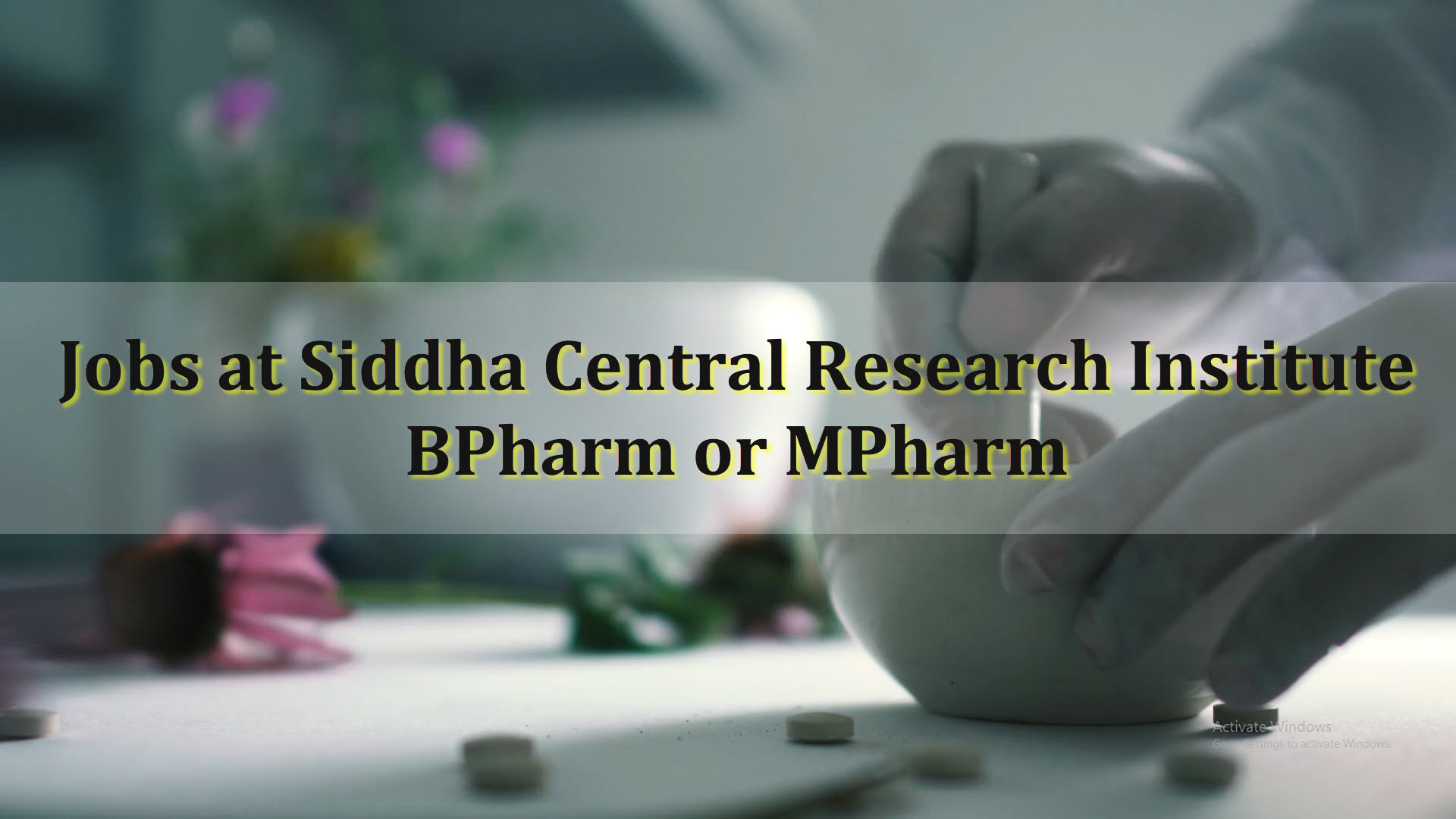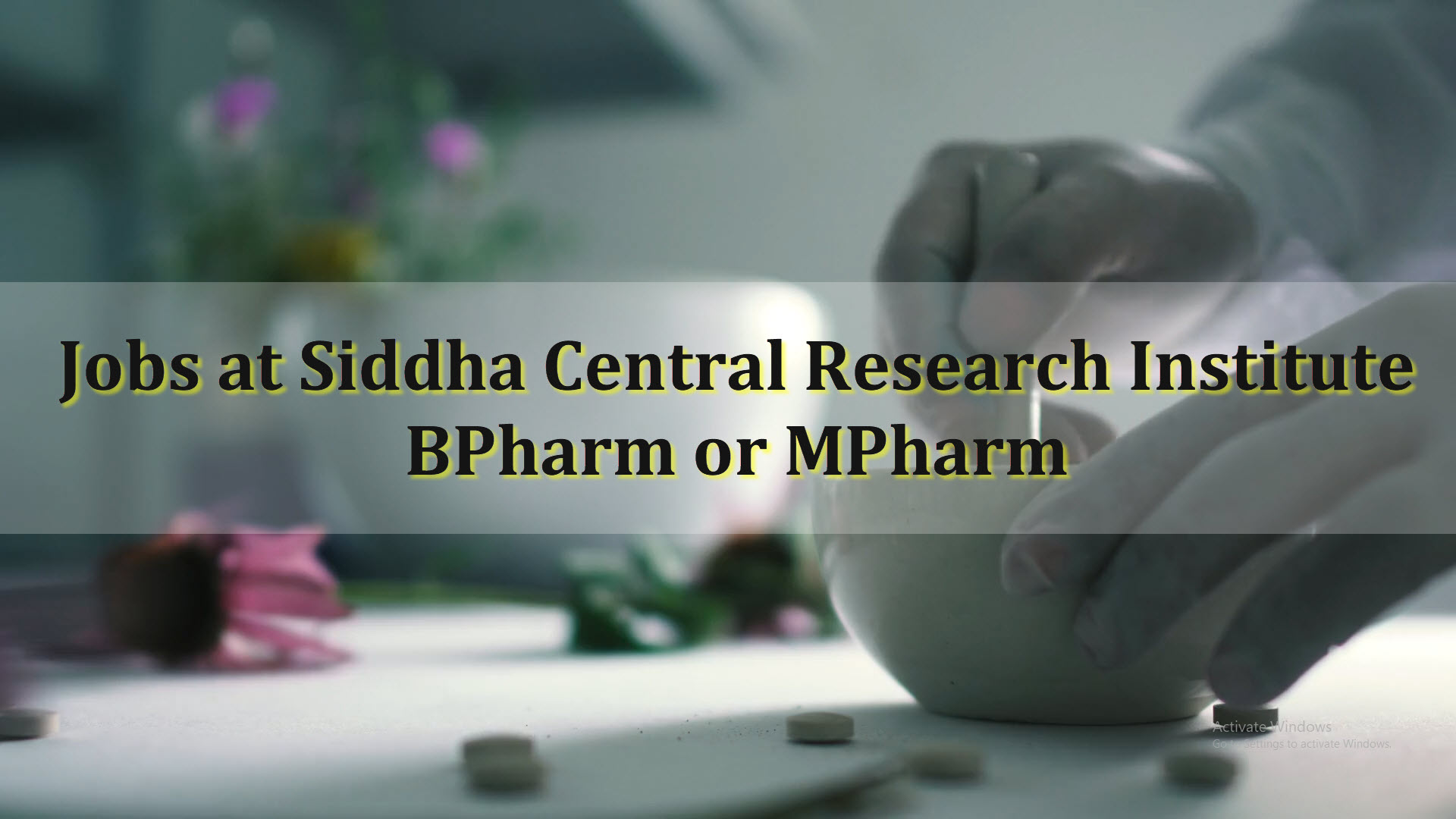 Siddha Central Research Institute (SCRI) is developing as a centre of excellence for Clinical research and methodology. This Institute is located in the campus of Arignar Anna Government Hospital of Indian Systems of medicine at Arumbakkam, Chennai. Central Research Institute for Siddha was established in the year 1971. It is the pioneer institute for Siddha Research. It has all the infrastructures for preclinical and clinical studies. Pharmacognosy, phytochemistry, pharmacology, literary research and clinical research and pharmacy are the various departments functioning under Central Research Institute for Siddha.
Junior Research Fellow(Pharmacology)
No.of Post :1
Project Name:"Toxicity studies of Nathaichoori Chooranam"
Qualification:
MPharm/ M.V.Sc. with specialization of Pharmacology from a recognized University.
Or
BPharm/ B.V.Sc.  from a recognized University with Two years research experience in animal studies.
DesirableQualification:
(i) SET/NET/GATE
(ii) Experience in handling of Laboratory animals.
Age: Not exceeding 28 years as on date of Walk-in Interview (Age relaxation shall be applicable as per GOI rules.
Fellowship: Rs. 31,000/-+ 24 % HRA
Period of the project: 1 year.
Last date of submission of application: 26.10.2020 up to 5:00 PM.
Mode of receipt of application: Through email (Application form alongwith all supporting documents)
Email . ID: crisiddha@gmail.com
Place of Posting: SCRI, Chennai
How to Apply:
Filled Application form along with supporting documents should be submitted through online to email id crisiddha@gmail.com on or before closing date 26.10.2020up to 05:00 p.m.
Instructions to the candidates:
1) The application should be in the prescribed format.
2) Candidates should enclose photocopies of educational qualification and experience and other testimonials duly self –attested along with filled application.
3) The crucial date for determining the age limit shall be the closing date for receipt of application.
4) Experience certificate should clearly state the nature of work done during the period of employment.
5) All posts are contractual for the duration offered. The appointment may be renewed after every specific period of time subject to satisfactory performance and project requirement.
6) The incumbents selected will have no claim for regular appointments under SCRI/ CCRS or continuation of his/her services in any other project.
7) Candidates are advised to check CCRS/ SCRI website regularly for further information, changes, which will be updated from time to time.
8) Date, Time and place/mode of interview will be intimated by email separately to the eligible candidates.
9) Incomplete applications without relevant enclosures will be out rightly rejected
See All   Chennai Alerts    B.Pharm Alerts   D.Pharm Alerts   M.Pharm Alerts
See All   Other Jobs in our Database