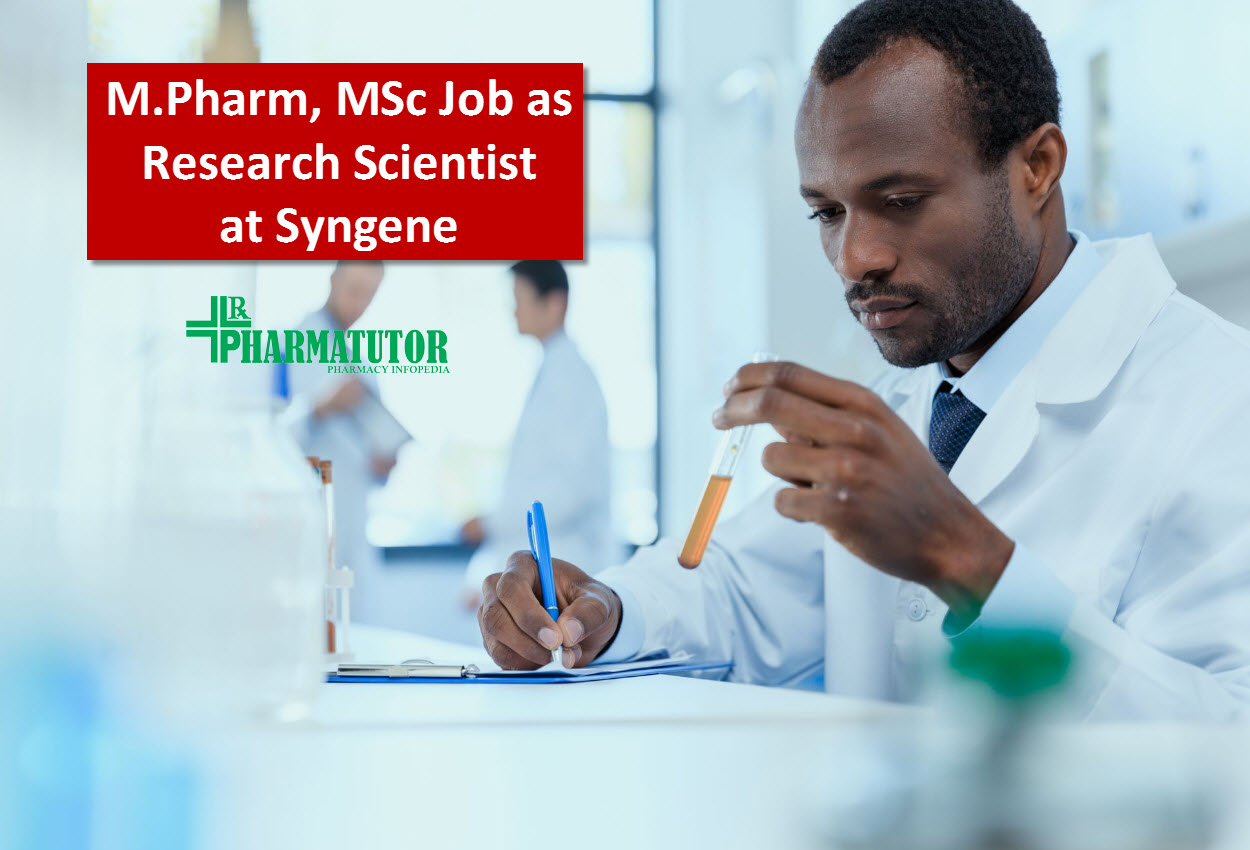 Syngene International Ltd. is an innovation-focused global discovery, development and manufacturing organization providing integrated scientific services to the pharmaceutical, biotechnology, nutrition, animal health, consumer goods and specialty chemical industries around the world. Syngene' s clientele includes world leaders such as Bristol-Myers Squibb, Baxter, Amgen, GSK, Merck KGaA and Herbalife. Its innovative culture is driven by the passion of its 4240- strong team of scientists who work with clients from around the world to solve their scientific problems, improve R&D productivity, speed up time to market and lower the cost of innovation.
Post : Research Scientist
Job Description
• To support method development and analysis of in-process samples, isolated samples from BBRC CDAS projects.
• Strong working experience in chromatography (liquid and gas) is required.
• Practical experience in LC method development is required.
• A good understanding of organic chemistry (process) is preferred.
• Hands-on experience with mass spectrometers, spectrophotometers, auto titrators is preferred.
• Analysis of in-process samples and isolated samples using different analytical techniques.
• Summarize data and communicate results.
• Experience in the execution of method validations/qualifications.
• Sufficient knowledge of cGMP, ICH, and other regulatory requirements.
• Knowledge of calibration and troubleshooting of analytical instruments.
• Basic exposure to internal/external audits.
• Passion to publish in scientific journals; Present in internal or external scientific forums.
Candidate Profile
• M.Sc or M.Pharm (Analytical Chemistry/Organic Chemistry/Pharmaceutical Analysis)
• Necessary computer skills and experience in using electronic notebooks and LIMS.
• Ability to excel in a cross-functional working environment and the ability to multi-task, prioritize, and handle multiple projects at once.
• Embrace teamwork and spirit of collaboration within team members
• Excellent interpersonal, communication, and presentation skills.
• 8 – 10 years of experience
• Strong interpersonal skills
• Strong communication skills
• Seek broader input / ask questions to understand bigger picture
• Active listening
• Offer help to solve team members' work
Additional Information
Job ID : 17468
Experience : 8 to 10 years
Qualification : M.Sc or M.Pharm
Location : Bengaluru, Karnataka
Industry Type : Pharma / Healthcare / Clinical research
Functional Area : Analytical Research and Development
End Date : 30th November, 2020
See All    Bangalore Alerts   B.Pharm Alerts   M.Pharm Alerts  Mohali Alerts
See All   Other Jobs in our Database