Work as Clinic Subject Care Coordinator at Teva | M.Pharm, B.Pharm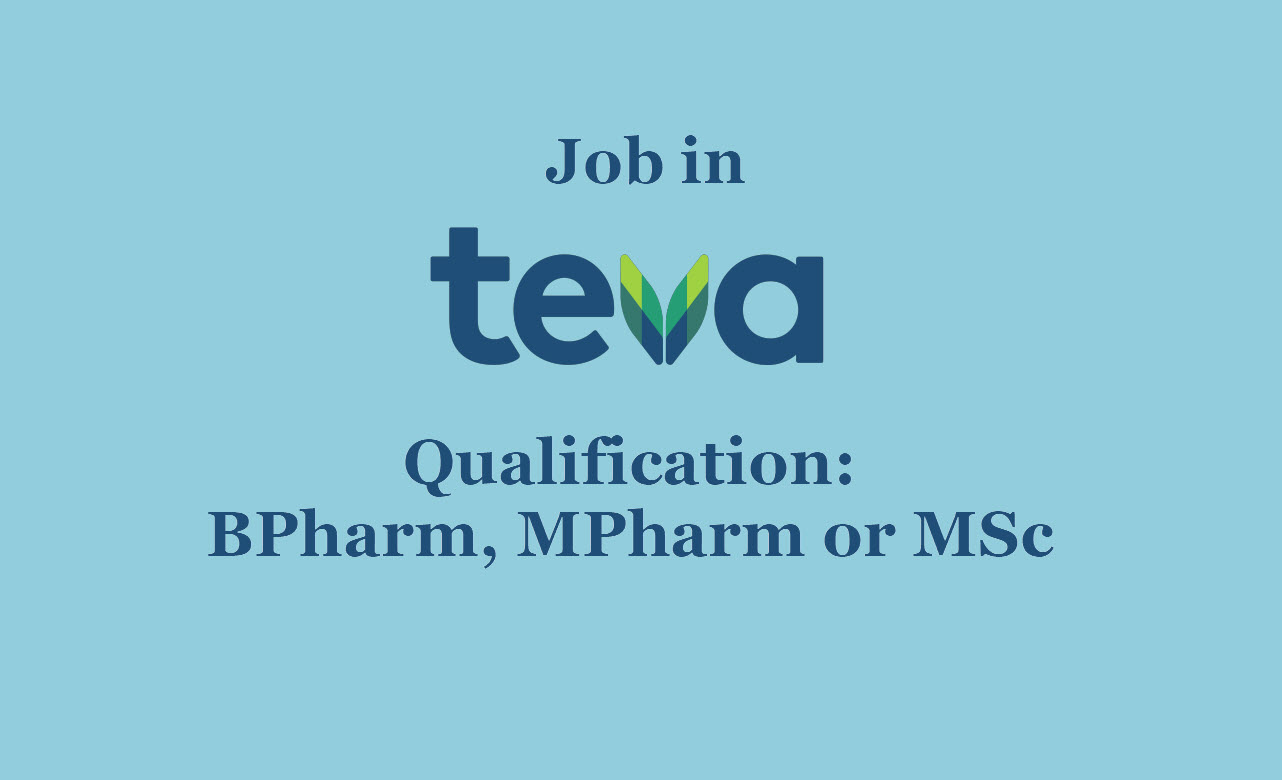 Teva is a global pharmaceutical leader and the world's largest generic medicines producer, committed to improving health and increasing access to quality health solutions worldwide. Our employees are at the core of our success, with colleagues in over 80 countries delivering the world's largest medicine cabinet to 200 million people every day. We offer a uniquely diverse portfolio of products and solutions for patients and we've built a promising pipeline centered around our core therapeutic areas.
Post :  Clinic Subject Care Coordinator I
Job Description
• To monitor and perform Quality Check of all study activities from check-in, dosing, sample collection, processing, segregation, transfer and till checkout.
• Co-ordinate with Project management Group (PMG) for compliance with the sponsor requirements and timelines.Provide periodic review on status of study files up to archival of files.
• Co-ordinate with Report Writing Group for the movement of files to the concerned department and ensuring to maintain timelines.Compilation of study data and review of clinical reports.
• Coordinate with the Ethics Committee for submission of protocol and other study related documents.To perform QC of ICF, compensation chart and review of CRF (versus Protocol), other study related documents prior to EC submission.
• To ensure that all the activities are performed by the delegated staff personnel in compliance with the EC approved protocol, GCP and relevant SOP's and applicable regulatory requirement.
• Handling of monitor's visits, maintaining of site visit log, resolution of all queries raised by the monitor/sponsor during his/ her site visit.To carry out other responsibilities as and when assigned by the management.
• Retrospective review of study documents to ensure adherence to required SOPs and regulatory requirements. To ensure all appropriate entries after documentation.
• Any discrepencies/ Deviations to be informed to Team Leader and Manager (if Required).
• Ensuring quality by reviewing all study related documents like Regulatory binder, Raw data binders, Case Report Form binders, Study close out report, Sample Case record form, Study updates, screening examination record.
• Full participation in internal and external audits by sponsors and other oversight entities such as FDA, EU, ANVISA.Review of SDTM & Clinic tables data with the source document. To verify the calibration and verification of instruments/equipment.
• To review the execution of Qualification Protocol & Qualification Summary Report. To prepare & review standard operating procedures as delegated by PI or HOD or Manager.
• Ensuring quality by reviewing all study related documents like Study Protocol and amendments, Informed consent form, Clinical Study Report, Electronic Trial master file, Study synopsis.
Candidate Profile :
BPharm, MPharm or MSc (Clinical Research) with 4-6 yrs expereince in Clinical Quality Control in reputed BA/BE center.
Additional Information
Qualification : B. Pharm, M. Pharm or M.Sc
Location : Navi Mumbai
Industry Type : Pharma / Healthcare / Clinical research
Functional Area : Clinic Subject Care
End Date : 10th July, 2020
See All   Ph.D Alerts   M.Pharm Alerts   B.Pharm Alerts   MBA Alerts
See All   Other Jobs in our Database
Subscribe to Pharmatutor Job Alerts by Email