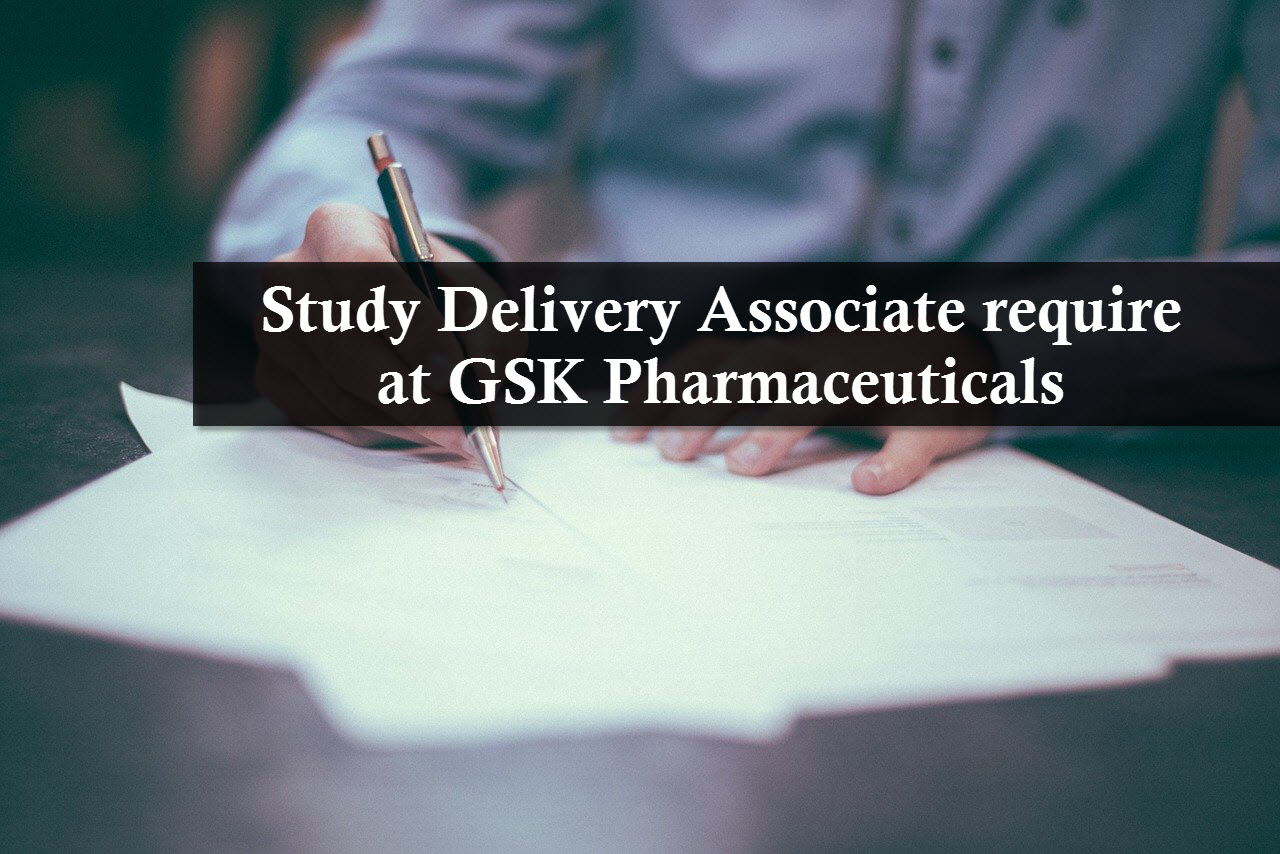 GlaxoSmithKline Pharmaceuticals Ltd. (GSK Rx India) is one of the oldest pharmaceuticals company and employs over 5000+ people. Globally, we are a £ 27.4 billion, leading, research-based healthcare and pharmaceutical company. In India, we are one of the market leaders.
Post : Study Delivery Associate
Job description
• Systems data accuracy:
- Ensure high quality and up-to-date information in planning and tracking tools for project and study level data (e.g. SAP, eTrack, MicroSoft Project, Planisware, …)
- Ensure consistency of the information for agreed study and project level information between the Clinical Project Tracking and other relevant databases (e.g. MSP, SAP) using available reports (e.g. Active Portfolio report, eTrack Compliance report).
- Follow-up with study team members (SDL, Local Delivery Lead (LDL) …) to resolve discrepancies as needed and escalate any issue to SDL/PDL.
- Under the direction of the SDL/PDL: assist in preparing study/project report and status, assist in compiling data in preparation of study/project presentations and updates related to time/budget/quality.
· Support for budget:
- Coordinate Study Budget Breakdown (SBB) process and track SBB status from start to end (approval), including encoding SBB in SAP and ensure consistency between SBB-SAP and ICTA.
- Review Budget Actuals vs. Forecasts, monitor expenses (invoices and cross-charges) on regular basis and support to monthly studies budget review meeting preparation and any cost management plan maintenance
- Provide support in resolution of deviations/issues in actual expenses and escalate if required to SDL/PDL.
• Support for contract: Provide support on contract development (Intercompany Clinical Trial Agreements (ICTAs), Services Agreements…) as appropriate.
• Support for quality: Support SDL and PDL for quality assessment/controls and inspections/audits as required (including providing support to TMF completeness and quality assessment).
• Support for operational activities
- Support the SDL/PDL for study and project coordination (e.g. providing the team with studyrelated reports, actions follow up, etc.), as appropriate.
- Provide support for preparation and/or customization of the templates of study documents (via eTMF) according to study requirements.
- Creation/review of study specific documents and/or listings according to study requirements.
- Provide support to ensure documents needed for submission are available (eTMF or appropriate system) for the country. October , 2015 Page 2 of 3
- Collect central study essential documents and conduct Level 1 QC (as agreed per process) and keep an overview of local study essential documents (via TCS).
- Provide an overview of the Financial Disclosure activities in collaboration with TCS (when appropriate) and cascade to study team as appropriate.
- File and archive central study essential documents and provide support (when required) for filing and archiving of local study essential documents.
- Maintain team sites as relevant (project, study, RCA,…)
- Provide support for the preparation of operational meetings (e.g. Monitors meetings) as appropriate.
- Participate in study specific meetings (including meeting minutes, preparation, dissemination, follow-up to/with team members and archiving)
- Support process improvements.
- Interact with other team members to share best practices, lessons learned and implementation of improvements.
• Appointment scheduling for study related meetings.
• Support process improvement initiatives and shares best practices and lessons learned within study delivery and beyond.
Candidate Profile
Graduate or Bachelor level with relevant working experience in pharmaceutical / scientific environment. Scientific background and knowledge of clinical trials (including ICHGCP) is an asset. Experience in project management is an asset. Finance experience is a plus.
Additional Information
Location : Karnataka - Bangalore
Qualification : B.Pharm
Req ID :  256447
Industry Type : Pharma / Healthcare / Clinical research
End Date : 20th July, 2020
See All   B.Pharm Alerts   M.Pharm Alerts    Ph.D Alerts   Bangalore Alerts
See All   Other Jobs  in our Database