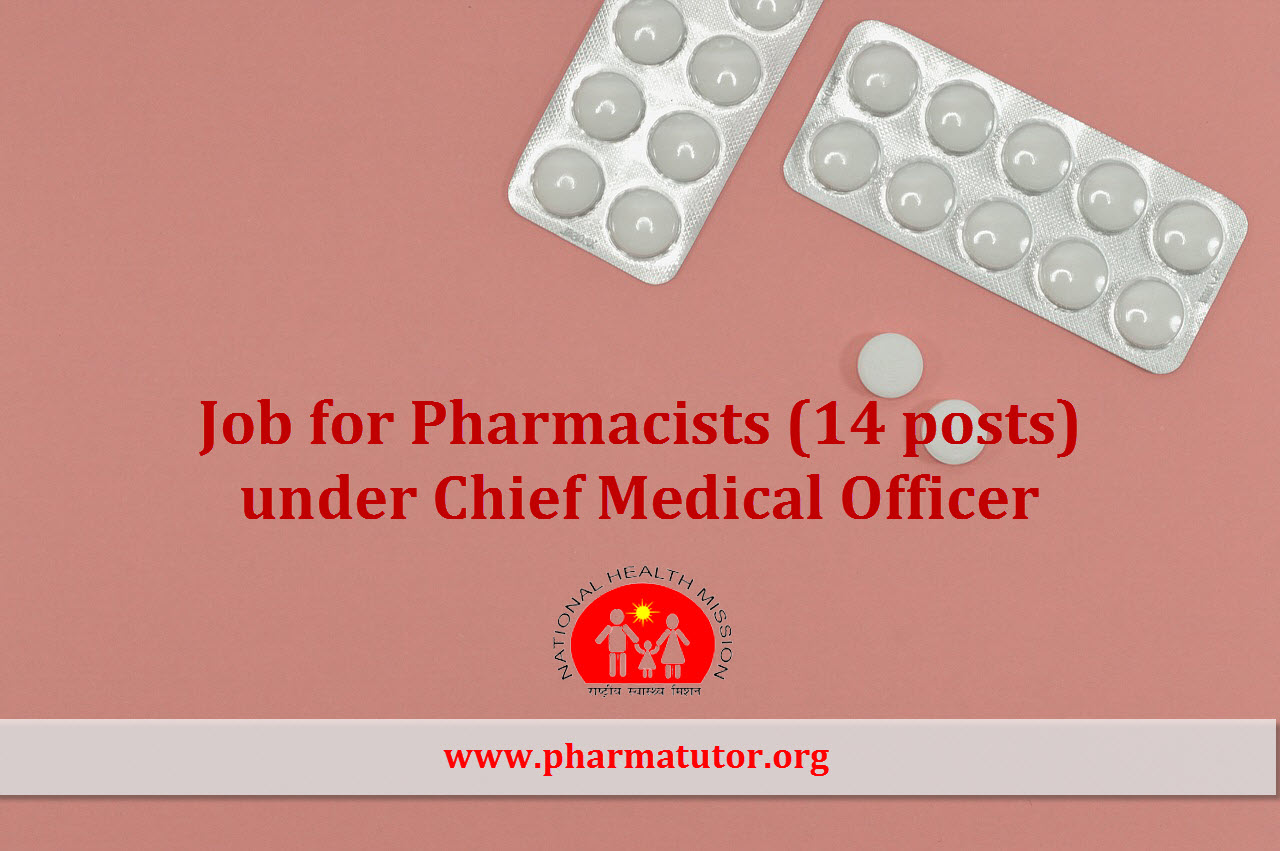 National Health Mission, Department of Health and Family Welfare Invites applications for Post of Pharmacist.
Rashtriya Bal Surksha Karyakram (RBSK) 
Post: Pharmacist
No of post: 13 (Gen. - 07, BC I - 02, BCII-01, SC-02, ST-01)
Job Description:
• Diploma in Pharmacy from a Recognized institute.
• Should have registered under Jharkhand State Pharmacy Council.
• Computer Proficiency (MS office) & Internet.
Salary: Rs. 11550/-
National Urabn Health Mission (NUHM)
Post: Pharmacist
No of post: 01 (BC 1-01)
Job Description:
• Diploma in Pharmacy from a Recognized institute.
• Should have registred under Jharkhand State Pharmacy Council.
• Computer Proficiency (MS office) & Internet.
Salary: Rs. 10,450/-
Age
Minimum Age (in Years) : 21  Gen., OBC, Female Unreserved, ST/ST
Maximum Age (in Years) :  Gen.- 45, OBC-47, Female Unreserved-48, ST/ST-50
General Institutions
1. There will be no employment of employees on the basis of  contract, rather they will be contracted to work against the accepted honorarium. 
2. District level reservation roster will be approximate in all the above posts.
3. The contract will be valid for one year.  It can be extended on the basis of Annual Performance Appraisal once in a year as per requirement. 
4. The contract can be terminated by giving one month notice or one month honorarium to the contracted persons on contract basis.  Candidates who are presenting CGPA score card for educational qualification will also submit the CGPA Conversion Chart along with the marksheet. 
5. For applications for more than one position, it will be mandatory for the applicant to apply separately.  With the application, it is mandatory to give the latest resident certificate issued from the level of Subdivisional Officer / Deputy Commissioner of Deoghar district. 
6. In this appointment, the Local Policy applicable from the Department of Personnel and Administrative Reforms and Official Language Department, Government of Jharkhand, No. 14 / Localization Policy - 47-01 / 2015-598 dated 14.07.2016 will be followed.  According to the districts mentioned in this resolution, only the local residents of Deoghar district are recruited for the vacancies arising in the third category and class IV posts of the district cadre in various departments of the respective district for a period of 10 years from the date of issue of this notification.
7. Short Listed candidates will be included in the further selection process by the committee as per the qualification advertised. 
8. The decision of the committee in the appointment process will be maximum and binding. 
9. The terms of the advertisement can be amended as required by the committee.  No personal correspondence / contact regarding appointment will be entertained. 
10. Application fee through Bank Demand Draft payable in the name of District Rural Health Society, Deoghar
General : 400.00
BC I & BC II : 400.00
SC/ ST : 200.00
Selection Procedure
• Candidates will be selected on the basis of marks obtained in the academic and technical examinations / Written Test / Skill Test / Interview one or more as applicable. 
• All the candidates will ensure to send the application form only by registered post / speed post. 
• The merit list will be published for a week in the office of the Civil Surgeon / Deputy Commissioner.  Information about publication of the Megha list on the notice board will be done through the website of Deoghar district deoghar.nic.in / Civil Surgeon, Deoghar. 
• The selection related list of candidates will be prepared in two parts.  Name of post in Part A, roster point, vacancy. 
• The names, scores and qualifications of qualified candidates will be the serial number.  Second part B will be considered as waiting list. 
• The waiting list will be valid for one year.  This list will also be prepared according to merit and the number of candidates will be made as many posts will be predictable for the said category.  In case of non-contribution of selected candidates from Part A list, selection of candidates from the merit program will be done automatically from the list of Roster wise points from Part B list. 
Attached self-attested photocopies of all academic and technical qualification certificates and experience certificates along with the application form filled in clear letters, through the post / speed post, "Office, Civil Surgeon-cum-Chief Medical Officer, Rajkumari  Kushtashram Campus, Deoghar "will be received by 05:00 PM on 30.06.2020.
See All   Jharkhand Alerts   B.Pharm Alerts   B.Sc Alerts   M.Pharm Alerts
See All   Other Jobs in our Database