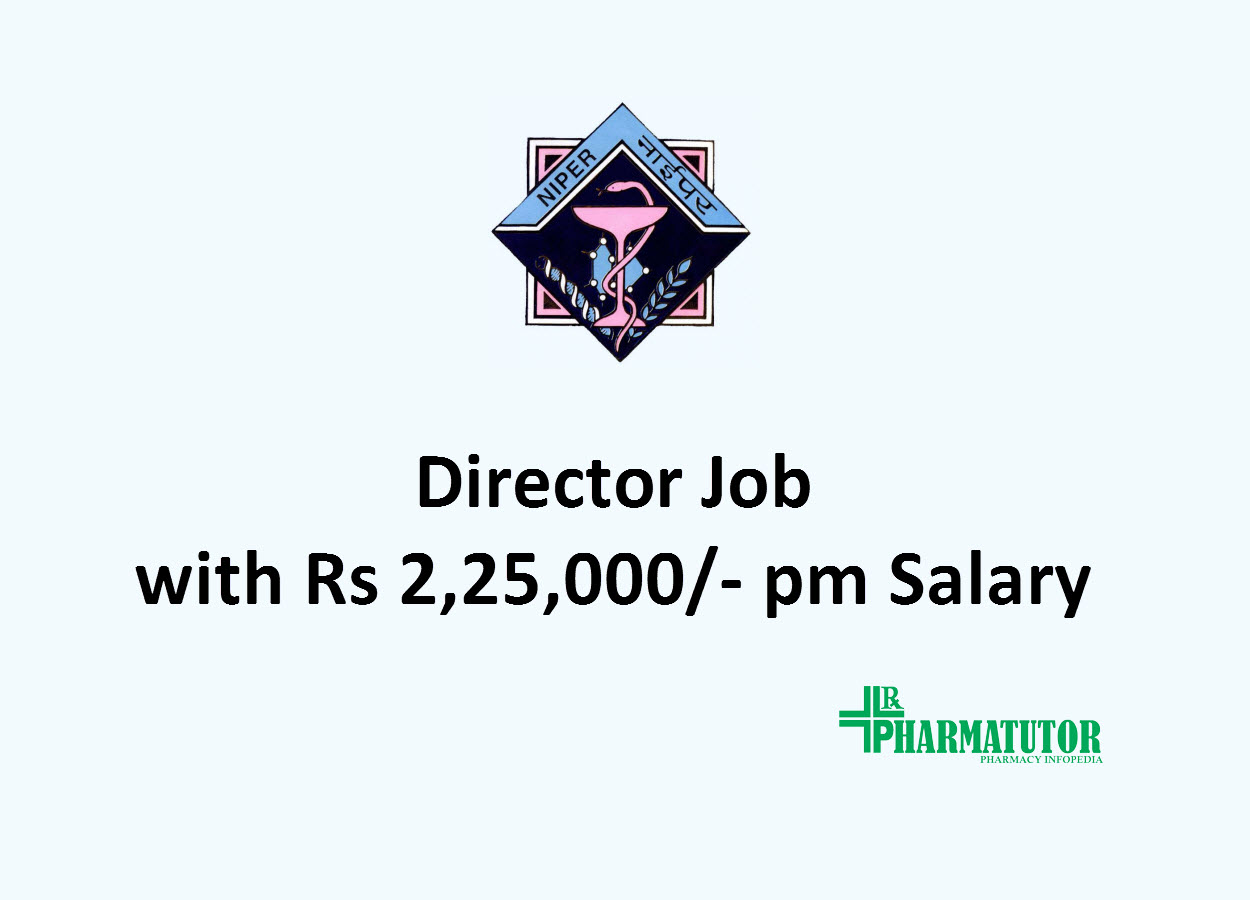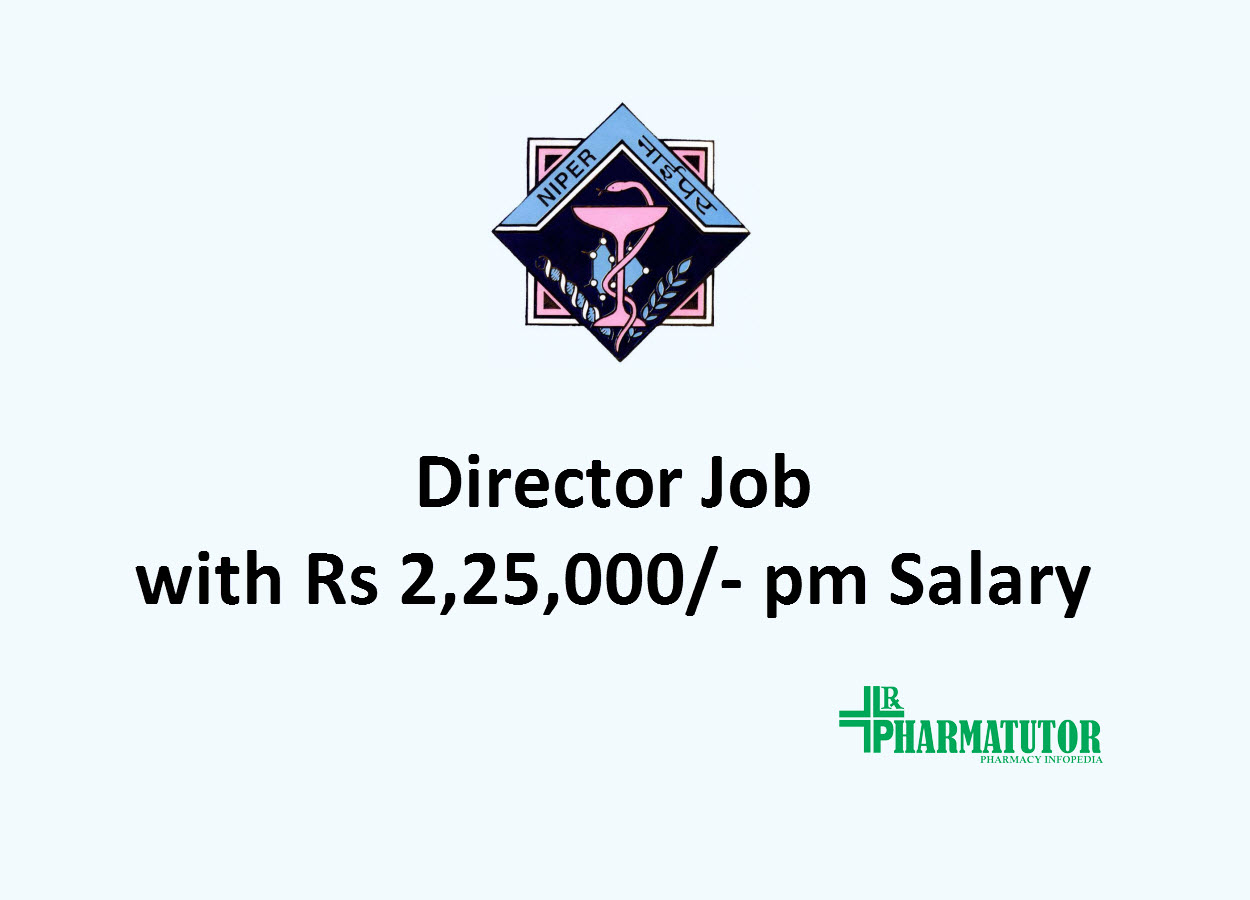 National Institute of Pharmaceutical Education and Research (NIPER), SAS Nagar (Mohali) under the aegis of Ministry of Chemicals and Fertilizers (Department of Pharmaceuticals), Govt. of India, is an autonomous institute of National Importance created by an Act of Parliament devoted to the promotion of pharmaceutical education and research. The Institute is located at SAS Nagar, adjoining the beautiful city of Chandigarh. It is ideally placed for intellectual interaction with the several medical, scientific and technological centers. The Institute has a pleasing campus with fully equipped laboratories and instructional facilities and necessary housing provision.
Post : Director, NIPER – SAS Nagar (Mohali)
Duration :  A period of five years subject to maximum of 65 years of age.
Expectation : The Director as institutional head will be responsible for the Institution building of the NIPER towards achieving the mandate/ functions outlined in NIPER Act, 1998 including imparting education at PG level, Doctoral and post-doctoral, R&D, and other professional works of the institution. Takes accountability for the delivery of results expected under NIPER Act, 1998.
Salary/ remuneration : Fixed salary of Rs 2,25,000 in Level 17 per month. Other benefits and allowances at par with the Central Government employees.
Eligibility :
Education : Ph.D and Masters in Pharmaceuticals related areas of Science and Technology
Professional experience :
At least 20 years research experience including teaching and published work in journals of repute. Should have worked for at least 10 years as Professor either in India or abroad or Scientist at Research Institutes of repute [Scientist G, (PB-4, Rs 37400- 67000+ GP Rs. 10000), as per 6th CPC / Level-14 (Rs.1,44,000 to Rs.2,18,200), as per 7th CPC or holding a proven leadership position at Pharmaceutical Industry in R&D.
Administrative experience : Proven Leadership/ administrative experience.
Personality
• An innovative thinker who can critically assess the NIPER's current position and offer a compelling vision for the future to build an innovation ecosystem. The candidate should be energetic with futuristic outlook. An intense focus on institutional building in a holistic sense is a desired attribute;
• Communication : Encourages and contributes to clear and open communication;
Partnering and Advocating: Promotes ideas and develops partnerships to advance the Organization's work; active engagement with the academic, research, student, industry, government and citizen bodies;
• Knowledge sharing and continuous improvement: Continually seeks to improve the knowledge, skills and work processes of oneself and team.
• Strategic thinking : Makes informed and coherent decisions aligned with broader goals and strategies.
• An open-minded individual who has a strong record of promoting diversity and connecting with people of different backgrounds and beliefs
Age : Not more than 60 years of age as on closing date of application.
Application format & mode
Application comprises of
1. Forwarding application showing interest.
2. CV (format is hosted on Department of Pharmaceuticalspharmaceuticals.gov.in and NIPER website – niper.gov.in).
3. Self-attested supporting documents to support the claims of educational, professional & administrative eligibility qualifications and achievements (in hard copy).
4. Two notes on (i) Vision on NIPERs & (ii) Justification of candidature provided in CV.
The application in the prescribed format should reach on or before the last date by hard copy by speed/ registered post and electronically to the email id: registrar@niper.ac.in.
Email copy is mandatory. Postal copies are to be sent to:
The Registrar,
National Institute of Pharmaceutical Education and Research (NIPER),
Sector 67, S.A.S. Nagar (Mohali), Punjab -160062
In service candidates :  In-service candidates have to route their application through proper channel, with vigilance clearance certificate from the competent authority. Advance copy should reach before the date of closing.
Nominations : Present and past Directors of CSIR, DBT, DST Institutions and Chancellors/ Vice-Chancellors of Central Universities and National Institutions having pharmaceutical science discipline may forward nominations addressed to the Chairperson, Search cum Selection Committee at email id: registrar@niper.ac.in with a caption: Nomination of candidate for the post of Director NIPER SAS Nagar (Mohali)
Selection Procedure : The Search cum Selection Committee will consider applications received in response to this advertisement as well as nominations in prescribed procedure (receive, scrutiny, shortlist and interview). The Committee will recommend a panel of not more than 3 names in order of merit. The Director will be appointed with the approval of the Visitor as per NIPER Act.
* No TA shall be paid to the short-listed candidates for attending the interview.
* Appointment will be subject to outcome of pending writ petition before the High Court of Punjab and Haryana.
Last date to receive application : 17th of August 2020 till 5.30 PM
See All  M.Sc Alerts   B.Pharm Alerts   M.Pharm Alerts   Mohali Alerts
See All   Other Jobs in our Database