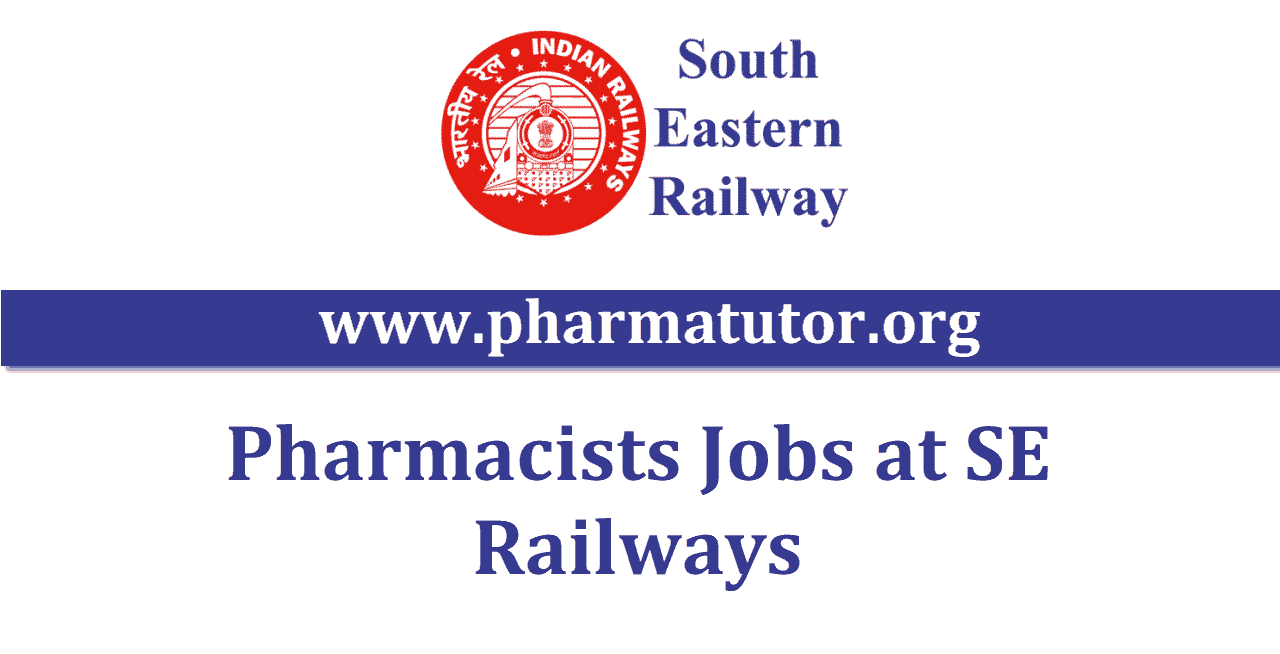 In view of Public Health Emergency due to COVID-19 pandemic and Railway Board's instructions issued vide letter No.2020/E(GR)/II/COVIDF-10/WHF/1 dated 28.03.2020 & 31/3/2020, Chakradharpur Division of South Eastern Railway invites applications through e-mail, for filling up of the following posts on contractual basis in Medical Department of Ckakradharpur Division for a period of 03 (Three) months.
Post : Pharmacist
No. of Posts : 13
Monthly Remuneration : Rs 41,610/-
Age as on 1/4/2020 : 20 to 30 yrs
Educational Qualification and Age as on 01/4/2020 : 10+2 (Science) or equivalent with 02 years diploma in pharmacy with registration with Pharmacy council of India/State Pharmacy Council.
N.B :
1. Retired Railway / Govt. employees in respective fields will be given 1st priority.
2. The candidates with experience will be given preference. Previous service rendered on Indian Railways (including on contract) may be indicated.
**Remuneration for Retired employees of Central/state Government: Monthly remuneration will be paid by reducing his/her pension from Last Pay Drawn (i.e., Basic Pay + DA), (Pay plus pension should not be more than the last pay drawn).
Age limit for Retired Employees of Central/State Government: The Ex. employee should not have completed more than 64 ½ years of age as on 01/04/2020. Age Relaxation (Other than Retired employees) will be given as per extant rules
Place of working:-
1. Divisional Railway Hospital/Chakradharpur , S.E.Railway.
2. Covid Train Hospital at TATA / S.E.Railway .
How to apply and appear for Interview:-
Due to severe restrictions placed on the movement due to enforcement of Lock-Down due to outbreak of COVID -19, the following process shall be adopted:- The interested Retd. Railway employees and candidates from "Open Market" may submit scanned and signed copy of their application along with bio-data duly filled/signed in the enclosed format along with requisite documents/certificates as mentioned in the application through e-mail on the email address apockp@gmail.com on or before 20.00 hrs of 06 .04.2020 (closing date and time). They should also inform through SMS/whatsapp on the Mobile No. 9771482500 / 9771482605 regarding sending of their application.
The interview of eligible Retired Government Employees/candidates from "Open Market" shall be conducted through Whatsapp Video Call as per the details below.
Date : 08/04/2020
Time : 11.00 Hrs onwards
Online Walk in interview thorough Whatsapp call from 9771482500.
*Please note that the Video Call shall be made from this side. The Candidate need not call unless specifically asked to do so
** It is mandatory to give details of your Whatsapp No. in the Application. In the event of interview process not being completed all vacancies not being filled up on the above days, the interview process will continue on subsequent days.
Terms & Conditions:-
The Engagement would be on contract basis initially for a period of 3 (three) months. However services can be terminated even before the expiry of the said period after giving 2 days notice on either side. Railway administration reserves the right to terminate the contract at any time during the contract by giving 02 days notice or payment of 02 days remuneration without assigning any reason whatsoever. It will also not confer upon them any right for regularization or permanent absorption in the Railways. Candidates shall not have any claim or right for his/her continuity in service or automatic extension of the term of contract.
See All   D.Pharm Alerts   M.Sc Alerts   B.Pharm Alerts   Government Jobs
See All   Other Jobs  in our Database