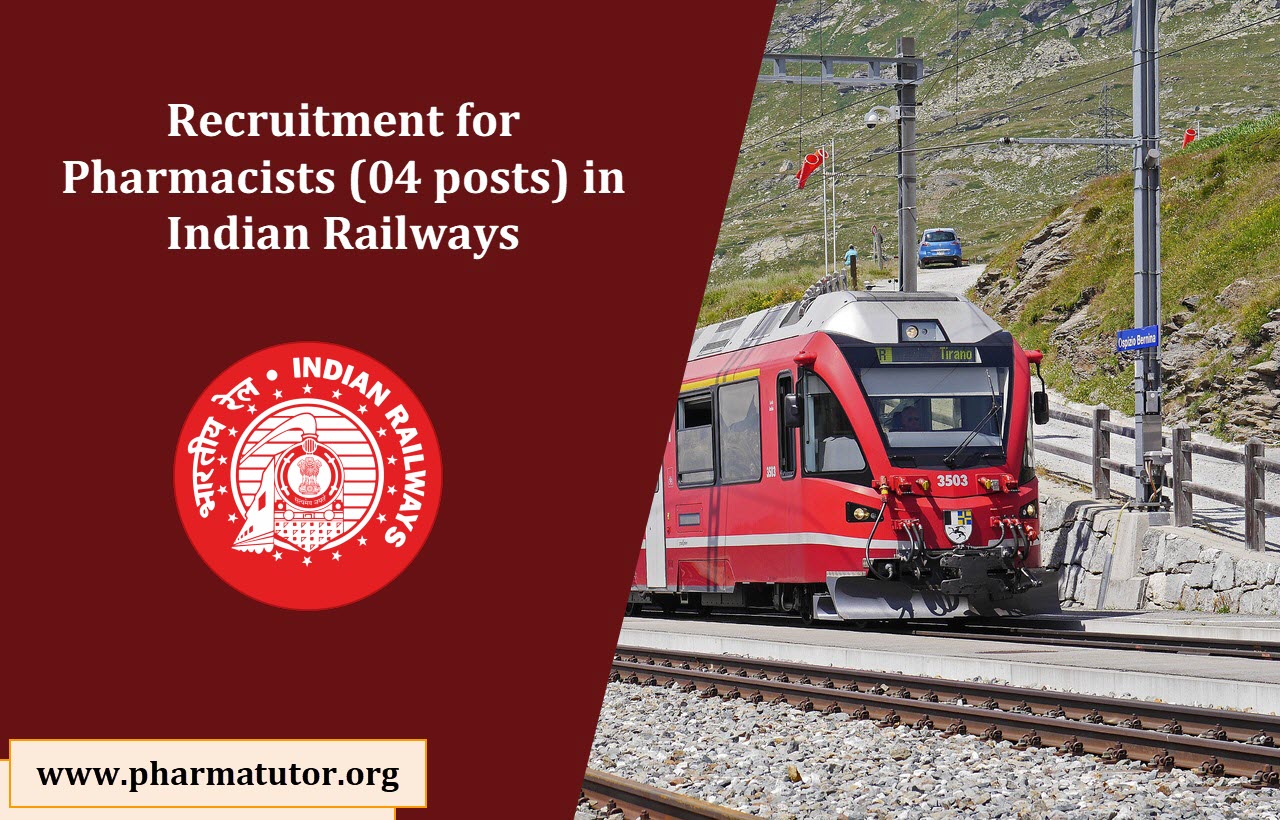 East Coast Railway – one of the blue chip zones of Indian Railways came into existence in its present form with effect from 1st April 2003. Since then, the new zonal railway headquarter has been functioning at Bhubaneswar, the capital city in the state of Orissa. The geographical jurisdiction of the railway is however extended over three states encompassing almost all parts of Orissa alongwith parts of Srikakulam, Vizainagaram & Visakhapatnam districts of North Eastern Andhra Pradesh, and Bastar & Dantewada districts of Chhatisgarh State. As such, these regions with a long coastal line are rich in mineral and other natural resources, and are on the threshold of an industrial upsurge.
Post : Pharmacist
In view of the exigencies related with the COVID-19 pandemic and in view of adequate preparedness, it has been decided to engage paramedical staff for the post as mentioned below on contract basis, for Central Hospital, East Coast Railway, Bhubaneswar.
No of posts : 04
Age (in Years) : 20-35 years
Minimum Educational/Professional/Technical Qualification required : 10+2 in Science or its equivalent, with 2 years diploma in Pharmacy and registration with Pharmacy Council of India or registration with State Pharmacy Council. OR Bachelor degree in Pharmacy (B.Pharma) from a recognized University or equivalent and Registered as a Pharmacist under the Pharmacy Act, 1948
Vision Standard : C-2
Monthly remuneration : Basic Pay, DA, HRA, Transport Allowance, HPA etc. (if admissible). Rs. 29200/- in Level-5 of 7th CPC plus admissible allowances.
Period of contract : The above mentioned engagement is purely on temporary measure for a period of one month from the date of engagement, unless extended by further orders.
NB
a) Since the posts are over and above the sanctioned cadre due to the exigencies on temporary measure, no prescribed community distribution (SC/ST/QBC/EWS etc.) is applicable. However age relaxation will be given to candidates belonging to SC/ST/OBC/PwBD etc category as per ' extant rules. Age will be reckoned as on the date of notification.
b)  The vacancy is provisional and may increase or decrease as per administrative necessity. There may be 'wait-listed/stand-by' candidates against the notified panel/select list who may be engaged as per necessity.
Eligible candidates having the following qualifications, age, experience and fulfilling other terms and conditions may appear before the Board for walk-in-interview along with duly filled in application form in the given format as per Annexure-1 with all relevant certificates/testimonials in original and self-attested copies of each.
Walk in Interview
Place : Office of the Principal Chief Personnel Officer, 2nd Floor, Rail Sadan, Chandrasekharpur, Bhubaneswar
Date : 06.04.2020 (MONDAY)
Time : 10. 00 Hrs.
Candidates are advised to report to the venue by 09.30 hrs. for registration.
• The detailed instructions with regard to the duties while in contract engagement in Railways shall be given to the contractual paramedical staff concerned in the event of selection along with the offer of engagement.
• Appearance in the interview will not vest any right upon the candidates to be engaged as paramedical staff and no reasons will be cited or communication, shall be made with the offer of engagement.
See All   M.Pharm Alerts   M.Sc Alerts   B.Pharm Alerts   Government Jobs
See All   Other Jobs  in our Database