Peptic Ulcer Disease and its Screening
About Author: Ram Ashwin
Peptic Ulcer Disease and its  screening
Condition characterized by Erosion of GI mucosa resulting from digestive action of HCl and pepsin or A peptic ulcer is erosion in the lining of the stomach or the first part of the small intestine, an area called the duodenum.
• Ulcer development
• Lower esophagus(esophageal ulcer)
• Stomach(gastric ulcer)
• Duodenum(duodenal ulcer)
Reference ID: PHARMATUTOR-ART-1102
Types
• Acute
• Superficial erosion
• Minimal erosion
• Chronic
• Muscular wall erosion with formation of fibrous tissue
• Present continuously for many months or intermittently
Peptic Ulcer Disease Etiology and Pathophysiology
• Develop only in presence of acid environment
• Excess of gastric acid not necessary for ulcer development
• Person with a gastric ulcer has normal to less than normal gastric acidity compared with person with a duodenal ulcer
• Some intraluminal acid does seem to be essential for a gastric ulcer to occur
• Pepsinogen is activated to pepsin in presence of HCl and a pH of 2 to 3
• Secretion of HCl by parietal cells has a pH of 0.8
• pH reaches 2 to 3 after mixing with stomach contents
• At pH level 3.5 or more, stomach acid is neutralized
• Pepsin has little or no proteolytic activity
• Surface mucosa of stomach is renewed about every 3 days
• Mucosa can continually repair itself except in extreme instances
• Mucosal barrier prevents back diffusion of acid from gastric lumen through mucosal layers to underlying tissue
• Mucosal barrier can be impaired and back diffusion can occur
PHYSIOLOGY OF ACID SECRETION
The parietal cell contains receptors for gastrin, histamine (H2), and acetylcholine (muscarinic, M3)
When acetylcholine or gastrin bind to the parietal cell receptors, they cause an increase in cytosolic calcium, which in turn stimulates protein kinases that stimulate acid secretion from a H+/K+ ATPase (the proton pump) on the canalicular surface.
In close proximity to the parietal cells are gut endocrine cells called enterochromaffin-like (ECL) cells. ECL cells have receptors for gastrin and acetylcholine and are the major source for histamine release. Histamine binds to the H2 receptor on the parietal cell, resulting in activation of adenylyl cyclase, which increases intracellular cyclic adenosine monophosphate (cAMP). cAMP activates protein kinases that stimulate acid secretion by the H+/K+ ATPase. In humans, it is believed that the major effect of gastrin upon acid secretion is mediated indirectly through the release of histamine from ECL cells rather than through direct parietal cell stimulation.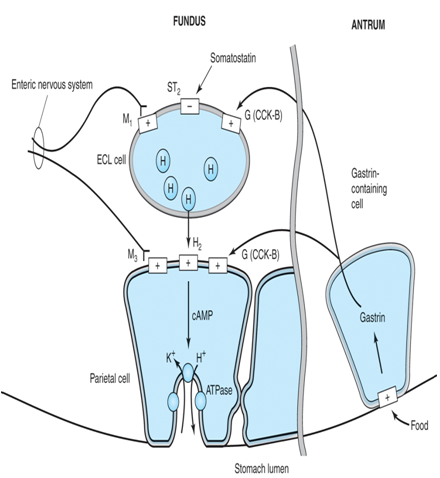 Schematic diagram of one model of the physiologic control of hydrogen ion secretion by the gastric parietal cell. ECL cell, enterochromaffin-like cell; G(CCK-B), gastrin-cholecystokinin-B receptor; H, histamine; H2, histamine H2 receptor; M1, M3, muscarinic receptors; ST2, somatostatin-2 receptor; ATPase, H+/K+ ATPase proton pump.
Back Diffusion of Acids Fig.
Peptic Ulcer Disease Etiology and Pathophysiology
• HCl freely enters mucosa when barrier is broken
• Injury to tissue occurs
• Result: cellular destruction and inflammation
• Histamine is released
• Vasodilation, ↑ capillary permeability
• Further secretion of acid and pepsin
• Ulcerogenic drugs inhibit synthesis of prostaglandins and cause abnormal permeability
• Corticosteroids ↓ rate of mucosal cell renewal thereby ↓ protective effects
• When mucosal barrier is disrupted, there is a compensatory ↑ in blood flow
• Prostaglandin-like substances, histamines act as vasodilators
• Hydrogen ions are rapidly removed
• Buffers are delivered
• Nutrients arrive
• Mucosal cell replication
• When blood flow is not sufficient, tissue injury results
NOW YOU CAN ALSO PUBLISH YOUR ARTICLE ONLINE.
SUBMIT YOUR ARTICLE/PROJECT AT articles@pharmatutor.org
Subscribe to Pharmatutor Job Alerts by Email
FIND OUT MORE ARTICLES AT OUR DATABASE
Pages