TECHNOLOGY TRANSFER PROCESS IN PHARMACEUTICAL INDUSTRY: AN OVERVIEW
About Authors:
YASWANTH ALLAMNENI*, P DAYANANDA CHARY, S CHAITANYA KUMAR, VENKATA BALAKRISHNA RAO N
Research and Development Department,
Natco Pharma Limited,
Kothur, Mahaboobnagar,
Andhra Pradesh – 509228.
Abstract:
The main objective of this study is to provide the clear procedure for technology transfer process in pharmaceutical industry. Technology transfer is a process to transfer information and technologies necessary to manufacture quality drug product consistently or technology transfer is the process of taking an invention from its inception in a laboratory to a commercialized product.  Investment in R&D is a necessary but not a sufficient condition for economic growth. Productivity gains only result from the natural diffusion of innovation to the marketplace (technology transfer). Responsible departments for successful technology transfer of a product in pharmaceutical industry are R&D, Production, Engineering, QC and QA.  
Reference ID: PHARMATUTOR-ART-1252
Introduction:
In the pharmaceutical industry, "technology transfer" refers to the processes that are needed for successful progress from drug discovery to product development to clinical trials to full-scale commercialization or it is the process by which a developer of technology makes its technology available to commercial partner that will exploit the technology.
The importances of technology transfer are:
*  To elucidate necessary information to transfer technology from R&D to actual manufacturing by sorting out various information obtained during R&D.
*  To elucidate necessary information to transfer technology of existing products between various manufacturing places.
*  To exemplify specific procedures and points of concern for the two types of technology transfer in the above to contribute to smooth technology transfer. This is applicable to the technology transfer through R&D and production of drug (chemically synthesized drug substances and drug products) and the technology transfer related to post-marketing changes in manufacturing places.
      Various stages of formulation development were as follows
Preformulation studies.

Bench scale - (1/1000th of X)
Lab scale – (1/100th of X)
Scale up- (1/10th of X or 0.1M whichever is maximum)

Commercial (X)
Where X is the final commercial scale batch size.
Technology Transfer Process:
Technology transfer is both integral and critical to the drug discovery and development process for new medicinal products. The decision to transfer products between manufacturing sites is frequently driven by economics. Key stages of the process include data collection, data review, regulatory impact with particular emphasis on any change approvals, analytical validation, pilot or full-scale process batch, stability set down (if required). Typical technology transfer process was described in Fig. 1.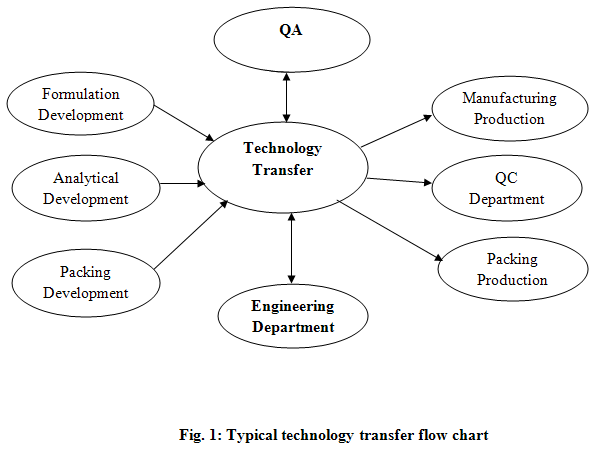 For a typical research-based pharmaceutical company, drug discovery and development can be broken down into distinct stages which were clearly described in Fig. 2.
Fig. 2: Typical process development work flow in pharmaceutical industry.
1. Research phase.
a. Quality Design.
2. Development phase.
a. Research for Factory Production.
b.Consistency between Quality and Specification.
c.Assurance of consistency through development and manufacturing.
d.Technology Transfer from R&D to Production.
3. Production phase.
a.Validation & Production.
b.Feedback from Production and Technology Transfer of Marketed Products.
NOW YOU CAN ALSO PUBLISH YOUR ARTICLE ONLINE.
SUBMIT YOUR ARTICLE/PROJECT AT articles@pharmatutor.org
Subscribe to Pharmatutor Job Alerts by Email
FIND OUT MORE ARTICLES AT OUR DATABASE
Pages