Needle Free Injection Technology
SeroJet
The SeroJet(Figure 7) is a needle-free injection system for delivering Serostim recombinant human growth hormone for treatment of HIV-associated wasting in adults.
HIV-associated wasting is a metabolic condition in which people infected with HIV lose body weight. If not treated, this could result in increased morbidity and mortality.
Serono developed Serostim to treat this condition by utilizing the natural properties of growth hormone in increasing lean body mass. SeroJet is a customized version of Bioject's Vitajet needle-free injection system. The system includes customized dosage features to accurately deliver variable doses of Serostim. The SeroJet received FDA market clearance for delivering subcutaneous injections of Serostim in March 2001.
Iject
Bioject has developed a second-generation gas-powered injector known as the Iject (Figure 8), which is based on the design and performance of the B2000 and is intended to serve as a single-use pre-filled device. The pressure profile of the Iject has been documented by in vitro testing to be virtually the same as that of the B2000, and injection performance of the two devices is therefore predicted to be equivalent.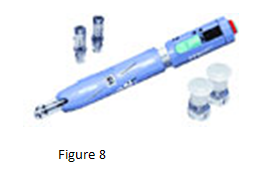 The Iject is a pre-filled single-use disposable injection device configured to administer 0.5 to 1.00 ml subcutaneous or intramuscular injections. The device is distributed "ready to use." Thus, it requires no additional parts or modifications for function.
The device is primed by rotating the trigger sleeve 180 degrees, and an injection is administered by advancing the trigger sleeve while the nozzle is held against the injection site. The Iject needle-free injection system is an investigational device, subject to the US Food and Drug Administration clearance for commercial distribution.
Non-invasive DDS: Untapped potential
Aradigm Corporation has recently acquired the Intraject technology, initially developed in the UK by Weston Medical. It is the only pre-filled and disposable needle-free device in late-stage development, with commercial scale-up in process. Aradigm's Intraject collaborators include Roche for the delivery of pegylated interferon alpha (Pegasys) and GlaxoSmithKline for Imitrex.
The Intraject device is about the size of a fountain pen. The drug capsule is glass, a material that has demonstrated excellent stability profiles for liquid protein formulations. The energy to drive the actuator forward to deliver the 0.5-ml formulation is provided by compressed nitrogen. The delivery process is completed in less than 60 milliseconds with less bruising and discomfort than may be encountered with syringes, pens or other devices.
Biovalve's Mini-Ject technology
The Mini-Ject represents the next generation in needle-free injection systems by combining the features of accuracy reliability, a variety of pre-filled options, comfortable administration, and full disposability, all within a patient friendly easy-to-use design. The Mini-Ject can deliver a wide range of drugs, ranging from small molecules to large proteins, fragile antibodies, and vaccines. Delivery can be targeted to intradermal, subcutaneous or intramuscular depending on the clinical need. No other single-use needle-free delivery technology provides the same level of performance as the Mini-Ject technology with the ability to target specific tissue layers over such a broad range of drug volumes (0.1 mL to 1.3 mL) and viscosities.[7]
SOME NEEDLE FREE INJECTORS AVAILABLE IN THE MARKET
Technology/product  name

Company name

Description

Implaject

Caretek Medical

Simple, hand-held needle free injection device. Can be configured to be reusable with disposable cartridges.[8]

PowderJect

PowderMed

It painlessly delivers DNA vaccines to the skin in a dry formulation.[9]

Zoma-jet 2 Vision

Antares Pharma

Customized version ofMedi-jector vision licensed to Ferring for administration of their human growth hormone, Zomacton for distribution in Europe.[10]

Valeo (MJ8)

Antares Pharma

Next generation pen-style, spring-powered device. Designed for use with drugs in cartridge containers, rather than vials.[11]

Injex 30

Injex (HNS International)

Spring-powered hand-held device with disposable ampoules that delivers 0.05-0.3 ml. Focused on insulin delivery.[12]

 Intraject

Weston
medical

 

Applicable
to drugs including proteins, peptides, monoclonal antibodies, small molecules
and vaccines.[13]

Medi-Jector vision

 

Antares Pharma, lnc

 

It
uses pressure to create a micro thin stream of insulin that penetrates the
skin.[14]

Penjet

Penjet Corporation

A pre
filled and disposable needle free injector.[15]

Med-
E- jet

 

Evans
enterprise

Needle
free injection.[16]

Crossject

Crossject

Prefilled, single use disposable NFI. Uses chemical reaction to generate propellant at the time of administration.[17]
Advantages
Needle Phobia", "Needle-stick injuries and contamination", "Patient Care", "Self administered injectables" and "Emergency situations" are important public health issues where needle free devices can bring significant improvements.
·         In improving patients' health: Better comfort of administration, better acceptance of heavy chronic treatments and consequently better treatments compliance
·         In avoiding mistakes for patients and healthcare workers: Drug, dosage, depth of injection
·         In allowing self-administration
o   Increases patients independence and reduces the risk of missed or incorrect injections or drug discontinuation due to unreliable injection assistance
o   Reduces health-care cost
·         In eliminating needle-stick injuries and associated contamination and the consequent dramatic social, psychological and economic consequences
·         In allowing -in emergency situations- quick, efficient and non-traumatizing injections.
·         In avoiding the risks and the costs associated to the elimination of contaminated sharps.
·         In offering the pharmaceutical and biotech companies a unique opportunity of differentiation in a context of "life cycle management" of their products.
·         Patients can easily administer their treatment chronically and from home or at work if needed.
·         The medical staff has the guaranty of safe and quick delivery of the right treatment at the right dose in the right place.
·         Pharmaceutical companies offer patients and practitioners a unique and convenient way of administering their products and a way to differentiate.
·         Avoiding needle stick injury.
·         Reduced sharps disposal: Disposal of sharp medical waste requires costly sharps disposal services. PharmaJet's needle-free syringe can be disposed in the same way a used Band-aid is disposed - thus making it simple and inexpensive.[18],[19]
CONCLUSION
The principles which were the basis of the use of the drugs to penetrate the skin, whether the drug is in solid, and liquid or in powder form have been established for many years. Needle free injection technology offers effective injectors for a wide range of drugs & bioequivalent to needles and syringes. Needle free devices have demonstrated consistent delivery to the epidermis, the dermis, the subcutaneous and the intramuscular space. They offer less pain, avoid needle stick injuries and contamination, allows self administration and results in no needle phobia and are thus strongly preferred by the patients. Some of them are ideally suited to chronic injections of varying doses of insulin, proteins and monoclonal antibodies.
REFRENCES
1. Vivek Ranjan Sinha, Aman Trehan, Pramil Tiwari:"Needle Free Injection Technology":Express Healthcare Management (1st-15th July 2005) expresshealthcaremgmt.com/20050715/pharma01.shtml
2. Henry, C. "Special Delivery." Chemical & Engineering News (September 18, 2000): 49-65.
3. Potera, C. "Making Needles Needless." Technology Review (September/October 1998): 67-70.
4. Potera, C. "No-Needle Vaccine Techniques." Genetic Engineering News (August 1998): 19.
5. Seppa, N. "Edible Vaccine Spawns Antibodies to Virus." Science News (July 22, 2000): 54.
6. iptonline /articles/public/page78nonprint.pdf
7. Vivek Ranjan Sinha, Aman Trehan, Pramil Tiwari:"Needle Free Injection Technology":Express Healthcare Management (1st-15th july 2005) expresshealthcaremgmt.com/20050715/pharma01.shtml
8.glidepharma.com/lead-drug-candidate-for-implaject.html    
9. in-pharmatechnologist.com/Materials-Formulation/PowderJect-renewed-in-Chiron-spin-out  
10. antarespharma.com/products/          
11. wikinvest.com/stock/Antares_Pharma_(AIS)/Development_Efforts_Mj8_Valeo_Needle-free_Injection_Systems
12. injex.org/?q=node/6       
13. iptonline.com/articles/public/IPTFIVE100NP.pdf
14. mediject.com/about/overview.htm-            
15. penjet.com/pages/pr_degas.html
16. cdc.gov/nip/dev/N¬3draft0007
17. crossject.com/    
18. American Nurses Association; "2008 Study of Nurses' Views on Workplace Safety and Needlestick Injuries"; Summer 2008
19. World Health Organization; "(GIVS) Global Immunization Vision and Strategy 2006-2015"; October 2005; page 44.
NOW YOU CAN ALSO PUBLISH YOUR ARTICLE ONLINE.
SUBMIT YOUR ARTICLE/PROJECT AT articles@pharmatutor.org
Subscribe to Pharmatutor Job Alerts by Email
FIND OUT MORE ARTICLES AT OUR DATABASE
Pages