A MAJOR APPROACH- 2-CHLOROPYRIDINE-5-TRIFLUOROMETHYL DERIVATIVE AS ANTIAMNESIC AGENTS
About Author:
Ravindra Singh Tomar
M.Pharm (Medicinal & Pharmaceutical Chemistry),
B R Nahta College of Pharmacy, Mandsaur (M.P)
ravindratomar16@gmail.com

ABSTRACT-
Here a scheme has been designed for synthesis of 2-chloropyridine-5-trifluoromethyl derivatives. The probability of being antiamnesic agent has been checked by pass prediction. All compound shows antiamnesic activity as result of pass prediction. By Lipinski rule of five all compounds shows drug like activity. Also a method for pharmacological evaluation & Biochemical evaluation is described under. All synthetic procedure has been designed & described under-

Reference Id: PHARMATUTOR-ART-1599

1. INTRODUCTION
1.1 Alzheimer's Disease- Alzheimer's disease is the most common form of dementia, a group of disorders that impairs mental functioning. (Dementia literally means loss of mentation, or thinking.) At the moment, Alzheimer's is progressive and irreversible. Abnormal changes in the brain worsen over time, eventually interfering with many aspects of brain function1. Memory loss is one of the earliest symptoms, along with a gradual decline of other intellectual and thinking abilities, called cognitive functions, and changes in personality or behavior.

Alzheimer's advances in stages, progressing from mild forgetfulness and cognitive impairment to widespread loss of mental abilities. In advanced Alzheimer's, people become dependent on others for every aspect of their care. The time course of the disease varies by individual, ranging from five to 20 years. The most common cause of death is infection.

It is an age-related neurodegenerative process characterized by a progressive loss of cognitive abilities, such as memory, language skills, disorientation, attention, and depression2.

Although the etiology of AD is still poorly understood, several factors such as-
*  amyloid-β (Aβ) deposits,
*  s-protein aggregation,
*  oxidative stress or
*  Low levels of acetylcholine play significant roles in the pathology of the disease.

In spite of the enormous research effort, an efficient strategy for designing new drugs for the treatment of AD is still lacking.

1.2 Causes of Alzheimer's Disease-
The causes of Alzheimer's disease are not yet fully understood. This is one of the most exciting and most important areas of research, because understanding the causes should lead to more targeted treatments and ways to prevent the disease.

It is the result of a combination of inter-related factors, including genetic factors, which are passed along family lines of inheritance, and environmental influences, which range from previous head trauma to educational level to one's experiences early in life.

Figure 1: Comparison of a normal aged brain (left) and an Alzheimer's patient's brain (right).

1.3 Drugs approved for Alzheimer's disease:
FDA-approved drugs
| Drug Name | Brand name | Approved For | FDA Approved |
| --- | --- | --- | --- |
| 1. donepezil | Aricept | All stages | 1996 |
| 2. galantamine | Razadyne | Mild to moderate | 2001 |
| 3. memantine | Namenda | Moderate to severe | 2003 |
| 4. rivastigmine | Exelon | Mild to moderate | 2000 |
| 5. tacrine | Cognex | Mild to moderate | 1993 |
Table 1:  FDA approved drug for Alzheimer

1.4. Mechanism of action-
In the brain, neurons connect and communicate at synapses, where tiny bursts of chemicals called neurotransmitters carry information from one cell to another. Alzheimer's disrupts this process, and eventually destroys synapses and kills neurons, damaging the brain's communication network.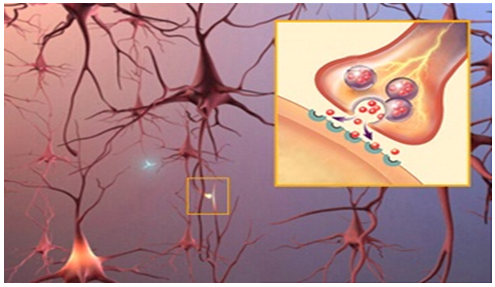 Mechanism of action

NOW YOU CAN ALSO PUBLISH YOUR ARTICLE ONLINE.
SUBMIT YOUR ARTICLE/PROJECT AT articles@pharmatutor.org
Subscribe to Pharmatutor Alerts by Email
FIND OUT MORE ARTICLES AT OUR DATABASE
Pages