About Author:
Priyank Sharma
M. Pharm, Drug Regulatory Affairs
Jaipur National University
Jaipur, Rajasthan
Priyank2k4urwith@gmail.com
Abstract:
The Pharmaceutical industry represents one of the India's strength.  The regulation of pharmaceuticals in India is generally seen to be in need of reform, and has been the subject of many official commissions since 1995. Most commentators agree that the state should intervene to prevent untrammeled market forces leading to citizens' suffering, because adequate information about the costs and benefits of different pharmaceuticals is inaccessible to most users. But in India, a wide range of stakeholders must be considered before changes can be made to the regulatory framework.
Reference Id: PHARMATUTOR-ART-1614
INDIAN Pharmaceutical: an overview
General:
It is often said that the pharma sector has no cyclical factor attached to it. Irrespective of whether the economy is in a downturn or in an upturn, the general belief is that demand for drugs is likely to grow steadily over the long-term.1
The Indian pharmaceutical sector has come a long way, being almost non-existent before 1970 to a prominent provider of healthcare products, meeting almost 95 per cent of the Country's pharmaceuticals needs. The Industry today is in the front rank of India's science-based industries with wide ranging Capabilities in the complex field of drug manufacture and technology. It ranks very high in the third world, in terms of technology, quality and range of medicines manufactured.2
The Indian pharmaceutical industry is the world's second-largest by volume and is likely to lead the manufacturing sector of India. The number of purely Indian pharma companies is fairly low. Indian pharma industry is mainly operated as well as controlled by dominant foreign companies having subsidiaries in India due to availability of cheap labor in India at lowest cost. In 2002, over 20,000 registered drug manufacturers in India sold $9 billion worth of formulations and bulk drugs. 85% of these formulations were sold in India while over 60% of the bulk drugs were exported, mostly to the United States and Russia [25]. Most of the players in the market are small-to-medium enterprises; 250 of the largest companies control 70% of the Indian market3 The government started to encourage the growth of drug manufacturing by Indian companies in the early 1960s, and with the Patents Act in 1970.
Indian Pharmaceutical Market

Indian Pharmaceutical Market- $12 Bn- Growth – 12.14% per year

Export 4.2 Bn

Import 905 m

13th largest in value

3rd Largest in volume

100 US FDA approved manufacture sites

MNC 's contribution to Pharma for domestic use- 20 %
Generic Market:
According to our new report, "Booming Generics Drug Market in India", the Indian generic drugs market has posted an impressive growth pattern over the last few years. Currently, the Indian pharmaceutical market is fully dominated by generic drugs and in the near future, this scenario is likely to remain the same. In FY 2010, the share of generic drugs in the overall pharmaceutical market was estimated to be around 79.2% and by FY 2013, the share is likely to escalate to around 80.5%
We have found that generic drugs developed by India are now distributed and sold in several parts of the globe that, in turn, has augmented the demand for Indian generic drugs. With the key drugs going off-patents in the coming future, which also include blockbusters, there is an immense opportunity for Indian generics manufacturers to strengthen their market share in countries, such as the US, Europe, and Japan.4
Broadly Indian Pharmaceuticals sector is classified into Bulk drugs, Formulation and Contract Research and Manufacturing Services (CRAMS). The drug and pharmaceuticals industry in India meets around 70% of the country's demand for bulk drugs, drug intermediates and formulations. There are about 500 corporate players with more than 20000 players in general and thus fragmented Indian pharmaceutical industry. The bulk drugs and pharmaceuticals manufacturers produce complete range of pharmaceutical formulation and about 350 bulk drugs.5
NOW YOU CAN ALSO PUBLISH YOUR ARTICLE ONLINE.
SUBMIT YOUR ARTICLE/PROJECT AT articles@pharmatutor.org
Subscribe to Pharmatutor Alerts by Email
FIND OUT MORE ARTICLES AT OUR DATABASE
Factors contributing to the growth of the Pharmaceutical Market:
India today has the distinction of producing high quality generic medicines that are sold around the world. Further, India is poised to be one of the fastest growing pharmaceutical markets in the world. The following factors have fuelled the growth for the drugs and pharmaceutical market:
· The growing population of over a billion;
· A huge patient base;
· Increasing incomes;
· Improving healthcare infrastructure;
· An increase in lifestyle-related diseases such as diabetes, cardiovascular diseases, and central nervous system;
· Penetration of health insurance;
· Adoption of patented products;
· Patent expiries and aging population in the US, Europe, and Japan.6
| | |
| --- | --- |
| Country | Generics market |
| Worldwide | 10% |
| Japan | 4.8% |
| Rest of America | 9.7% |
| Western Europe | 10.5% |
| US | 11.8% |
| Others | 9.3% |
The following are the top pharmaceutical companies of the country:
·         Ranbaxy Laboratories
·         Sun Pharmaceuticals
·         Dr. Reddy's Laboratories
·         Cipla
·         Ashwin Dalvi India
·         Aurobindo Pharma
·         Nicholas Piramal
·         GlaxoSmithKline
·         Lupin Laboratories
·        Cadila Healthcare 9
Drug Regulation in India:
Indiahas a federal form of government and the medical regulatory structure is divided between national and state authorities.10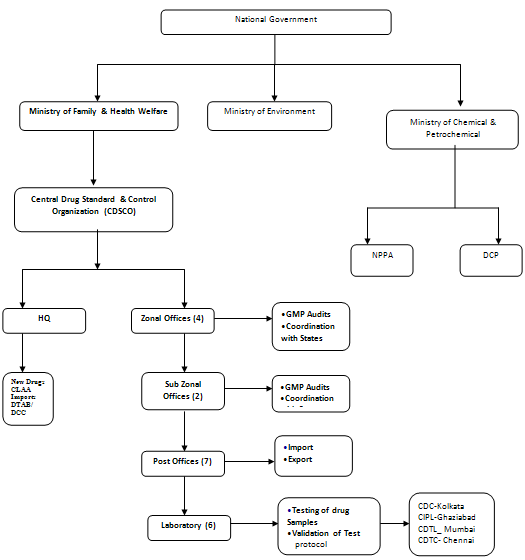 Medicines in India are regulated by CDSCO - Central Drugs Standard Control Organization under Ministry of Health and Family Welfare. Headed by Directorate General of Health Services CDSCO regulates the Pharmaceutical Products through DCGI - Drugs Controller General of India at Chair.
Under Retail and Distribution: - Drugs classified under 5 heads
1. Schedule X drugs – Narcotics
2. Schedule H and L – Injectables, Antibiotics, Antibacterial
3. Schedule C and C1- Biological Products-example Serums and Vaccines
Under Manufacturing Practice
1. Schedule N List of the equipment for the efficient running of manufacturing wing, qualified personnel
2. Schedule M11
The DCGI registers all imported drugs, new drugs, and drugs in selected categories. It also has responsibility for clinical trials and quality standards. The state FDA's register all other products, accredit manufacturing plants, and conduct the bulk of quality monitoring and inspections. The Indian cabinet has approved a plan that would bring all drugs under a new Central Drugs Authority, modeled on the US FDA. This may be approved by Parliament in a legislative session during the summer of 2007, but if so it will be phased in over time.
The DCGI has a shortage of reviewers, often relying on outside experts to provide opinions. To pursue regulatory approvals effectively, a company must use a regulatory professional with significant experience in applications for foreign companies. This professional must also be in a position to spend a significant amount of time in New Delhi (where the DCGI is located) following up on applications.
Most of India's pharmaceutical product policy is governed by the Drugs and Cosmetics Act (DCA). The DCA was first enacted in 1940 and has been amended many times since then.12
All regulatory aspects related to import, manufacture, sale and advertisements of drugs in India are covered under three separate enactments, namely, Drugs & Cosmetics Act 1940 and the Drugs & Cosmetics Rules 1945, The Pharmacy Act 1948 and the Drugs & Magic Remedies (Objectionable Advertisements) Act 1954.13
Under the current Indian legal and regulatory regime, the manufacture, sale, import, exports and clinical research of drugs and cosmetics is governed by the following laws:-
The Drugs and Cosmetics Act, 1940
The Pharmacy Act, 1948
The Drugs and Magic Remedies (Objectionable Advertisement) Act, 1954
The Narcotic Drugs and Psychotropic Substances Act, 1985
The Medicinal and Toilet Preparations (Excise Duties) Act, 1956
The Drugs (Prices Control) Order 1995 (under the Essential Commodities Act.14
Drug & Cosmetic Act
1940 to 1945: India's parliament, under British rule, passed the Drug & Cosmetic Act of 1940, which led to the Drugs & Cosmetics Rules of 1945, the central legislation that regulates India's drug and cosmetic import, manufacture, distribution and sale. This established the Central Drugs Standard Control Organization (CDSCO), and the office of its leader, the Drugs Controller General (India)(DCG (I).15
Pharmacy Act 1948
Pharmacy Act was enacted for the regulation of the profession and practice of pharmacy in the country. The Act has led to the formation of the Pharmacy Council of India (PCI) which regulates the functioning of pharmacy education institutions through state pharmacy councils. PCI is also the statutory body to register pharmacy graduates, thereby turning them eligible for practicing as community pharmacists.16
Drugs & Magic Remedies (Objectionable Advertisements) Act 1954
Drugs and Magic Remedies Act talks about controlling the advertisement of drugs in certain cases, to prohibit the advertisement for certain purposes of remedies alleged to possess magic qualities and to provide for matters connected therewith. State drug regulators are the enforcement agencies of D &MR Act.17
SOME OTHER LAWS
There are some other laws which have a bearing on pharmaceutical manufacture, distribution and sale in India. The important ones being:
The Industries (Development and Regulation) Act, 1951

The Trade and Merchandise Marks Act, 1958

The Indian Patent and Design Act, 1970

Factories Act
The main functions of the Central and State Government are:18
| | |
| --- | --- |
| Central Government | State Governments |
| Statutory Functions | Statutory Functions |
| Laying down standards of drugs, cosmetics, diagnostics and devices. | Licensing of drug manufacturing and sales establishments |
| Laying down regulatory measures, amendments to Acts and Rules. | Licensing of drug testing laboratories |
| To regulate market authorization of new drugs | Approval of drug formulations for manufacture |
| To regulate clinical research in India | Monitoring of quality of Drugs & Cosmetics, manufactured by respective state units and those marketed in the state |
| To approve licenses to manufacture certain categories of drugs as Central License Approving Authority i.e. for Blood Banks, Large Volume Parenterals and Vaccines & Sera. | Investigation and prosecution in respect of contravention of legal provisions |
| To regulate the standards of imported drugs. | Administrative actions |
| Work relating to the Drugs Technical Advisory Board(DTAB) and Drugs Consultative Committee (DCC) | Pre- and post- licensing inspection. |
| Testing of drugs by Central Drugs Labs. | Recall of sub-standard drugs |
| Publication of Indian Pharmacopoeia. |   |
Functions of CDSCO:
1.      Approval of new drugs and clinical trials
2.      Import Registration and Licensing
3.      Licensing of Blood Banks, LVP's, Vaccines, r-DNA products & some Medical Devices
4.      Amendment to D &C Act and Rules
5.      Banning of drugs and cosmetics
6.      Grant of Test License,
7.      Personal License,
8.      NOCs for Export
9.      Testing of Drugs
NOW YOU CAN ALSO PUBLISH YOUR ARTICLE ONLINE.
SUBMIT YOUR ARTICLE/PROJECT AT articles@pharmatutor.org
Subscribe to Pharmatutor Alerts by Email
FIND OUT MORE ARTICLES AT OUR DATABASE
ZONAL OFFICES OF CENTRAL DRUGS STANDARD CONTROL ORGANISATION (CDSCO):
EAST ZONE
Andaman and Nicobar Island, Arunachal Pradesh, Assam, Bihar, Jharkhand, Manipur, Meghalaya, Mizoram, Nagaland, Orissa, Sikkim, Tripura & West Bengal. 
WEST ZONE
Chhattisgarh, Goa, Daman & Diu, Gujarat, Madhya Pradesh and Maharashtra
NORTH ZONE
Haryana, Himachal Pradesh, Jammu & Kashmir, Punjab, Rajasthan, Uttaranchal, Uttar Pradesh, N.C.T. of Delhi & Union Territory of Chandigarh.
SOUTH ZONE
Andhra Pradesh, Karnataka, Kerala, Pondicherry and Tamil Nadu.
Central Drugs Laboratory (CDL)
The functions of the Laboratory include:
Statutory Functions:
1.      Analytical quality control of majority of the imported Drug available in Indian market.
2.      Analytical quality control of drug and cosmetics manufactured within the country on behalf of the Central and State Drug Controller Administrations.
3.      Acting as an Appellate authority in matters of disputes relating to quality of Drug. 
Other Functions:
1.      Collection, storage and distribution of International Standard International Reference Preparations of Drug and Pharmaceutical Substances.
2.      Preparation of National Reference Standards and maintenance of such Standards. Maintenance of microbial cultures useful in drug analysis Distribution of Standards and cultures to State Quality Control Laboratories and drug manufacturing establishments.
3.      Training of Drug Analysts deputed by State Drug Control Laboratories and other Institutions.
4.      Training of World Health Organization Fellows from abroad on modern methods of Drug Analysis.
5.      To advise the Central Drug Control Administration in respect of quality and toxicity of drug waiting license.
6.      To work out analytical specifications for preparation of Monographs for the Indian Pharmacopoeia and the Homoeopathic Pharmacopoeia of India.
7.      To undertake analytical research on standardization and methodology of Drug and cosmetics.
8.      Analysis of Cosmetics received as survey samples from Central Drug Standard Control Organization.
9.      Quick analysis of life saving Drug on an All-India basis received under National Survey of Quality of Essential Drug Programme from Zonal Offices of Central Drug Standard Control Organization.
Central Drugs Testing Laboratory (CDTL) Chennai, Tamil Nadu
Central Drugs Testing Laboratory (CDTL) Hyderabad, AP 
Central Drugs Testing Laboratory (CDTL) Mumbai 
Regional Drugs Testing Laboratory (RDTL) Guwahati
Regional Drugs Testing Laboratory (RDTL) Chandigarh
Central Drug Laboratory, CRI Kasauli
Indian Pharmacopoeial Commission (IPC):
Indian Pharmacopoeial Commission is an Autonomous Institution under the Ministry of Health & Family Welfare, Govt. of India dedicated for setting of standards for drugs, pharmaceuticals and healthcare devices/ technologies etc besides providing Reference Substances and Training.
Drug Regulation in India:
Generic Drug Approval:
The Drug & Cosmetic act 1940 classified drugs in different categories like,
Schedule X drugs – Narcotics
Schedule H and L – Injectables, Antibiotics, Antibacterial
Schedule C and C1- Biological Products-example Serums and Vaccines
But there is no specific category is available for the term "Generics". Any pharmaceutical firm that bearing the Manufacturing License can sale or distribute its generic drug product in the Indian market.
New Drug Approval:
·         Medicinal products count as 'new drugs' in India if they fall into one of the following categories:
·         Drugs not previously available on the market in India l
·         Drugs with new therapeutic indications or dosages that have not been marketed in India l
·         New fixed-dose combinations of two or more drugs
·         Any drug which was first approved in India less than four years ago, unless it is included in the Indian Pharmacopoeia
·         All vaccines are treated as new drugs, unless notified otherwise by the DCGI.19
Guidance document on Common Submission Format for Import and Registration of bulk drugs and finished formulations in India:
In India import, manufacturing, sale and distribution of drug is regulated under Drugs and Cosmetics Act 1940 and Drugs and Cosmetic Rules 1945 (hereinafter refer as Act) made there under.  To provide guidance for submission of application in Form 40 to CDSCO for Registration Certificate and issuing License for import of drugs into India  with CDCSO authority India, for import of drugs into India. 20
INVESTIGATIONAL NEW DRUG APPLICATION
TYPES OF IND APPLICATION IN INDIA
CATEGORY- A
These includes clinical trials whose protocols have been approved by USA, UK, Switzerland, MEA, Japan, Australia, Canada, Germany, South Africa. These are also known as Abbreviated INDs. Category-A applications are approved within 3-4 weeks of filling.
CATEGORY- B
All other clinical trials not Covered under category-A will fall under Category-B, and will be reviewed normally defined earlier. Most phase-1 clinical trials are reviewed as Category-B applications. Category-B applications are approved within 8-12 weeks.21
CLINICAL TRIAL REQUIREMENTS
For new drugs discovered in India, clinical trials should be carried out right from Phase-1 to Phase-3.
Phase-1 trials are not allowed for the new drugs discovered in other countries until of special relevance to health in India. The data related to safety and efficacy of the drug can be accepted from other countries if the drug is applicable in treating serious diseases.
For drugs indicated in life threatening/serious diseases or disease of special relevance to the Indian health scenario, the toxicological and clinical data requirements may be abbreviated, deferred or omitted.
REGULATION & APPROVAL OF CLINICAL TRIALS
No new drug clinical trial can be carried out without the permission of the DCGI, and the approval obtained from the respective ethics committee(s). Trial sites and the protocol must be approved by independent ethics committee (s). Important regulations are-
SCHEDULE-Y Amended Version 2005.

GCP Guidelines as per CDSCO.

ICMR Guidelines, 2006. (Revised)

GLP Guidelines as per CDSCO.

BIOAVAILABILTY & BIOEQUIVALANCE Guidance.

National Pharmacovigilance Programme, 2004.
PHASES OF CLINICAL TRIALS
PHASE-1 TRIALS (Human Pharmacology)- To determine safety and tolerability of a drug. Common objectives are to determine MTD, ADME and MOA of the drug.
PHASE-2 TRIALS (Therapeutic Explanatory Trials)- To determine the effectiveness and safety of the drug for a particular indication.

PHASE-3 TRIALS (Therapeutic Confirmatory Trials)- To confirm the therapeutic benefits of the drug. The results must support the prescribing information.

PHASE-4 TRIALS (Post Marketing Trials)- To compare the risk and benefits of the drug in wider population after the approval of the drug.
CONTENTS OF REGISTRATION DOSSIER IN INDIA
The New Drug Application can be submitted as per international guidelines in form of ICH Common Technical Document as shown below-
Module-1 Administrative and Prescribing information

Module-2 Summary of Module-1,2 and 3

Module-3 Quality section

Module-4 Non-Clinical study Report

Module-5 Clinical Study Report
Medical Device Regulation:
The authority regulating medical devices is the Central Drug Standard Control Organization (CDSCO) in the Ministry of Health which lays down rules, standards and approves import and
Manufacturing of Drugs, Diagnostics, Devices, and Cosmetics. Currently, CDSCO's functions are to establish the standards and regulations, with added responsibility of regulating the medical devices industry, CDSCO will be the approving authority for import, manufacture and sale of medical devices in India.23
The medical device regulatory tree in India is as follows as:
Ministry of Health and Family Welfare
  > Drug Controller General of India - DCG (I)
  > Central Drugs Standard Control Organization (CDSCO - Medical Devices Division)2
The Ministry of Health and F.W. under Gazette notification declared the following sterile devices to be considered as drugs:
1.      Cardiac Stents
2.      Drug Eluting Stents
3.      Catheters
4.      Intra Ocular Lenses
5.      I.V. Cannulae.
6.      Bone Cements
7.      Heart Valves
8.       Scalp Vein Set
9.       Orthopedic Implants
10.   Internal Prosthetic Replacements.
NOW YOU CAN ALSO PUBLISH YOUR ARTICLE ONLINE.
SUBMIT YOUR ARTICLE/PROJECT AT articles@pharmatutor.org
Subscribe to Pharmatutor Alerts by Email
FIND OUT MORE ARTICLES AT OUR DATABASE
MANUFACTURE OF MEDICAL DEVICES IN THE COUNTRY
The applicant shall provide the following information along with the application for consideration of the licensing authority.
Manufacturing Details
Product Details
REGISTRATION OF MEDICAL DEVICES FOR IMPORT
For the purpose of import of Devices specified above, the procedure for registration and import license as prescribed under the Drugs and Cosmetics Rules following detail shoud be provide with filling:
(A)   Applicant Details
(B)   Product Information
(C)   Regulatory Status
(D)   Master File (Details of Good Manufacturing Practices employed by the manufacturer to  ensure quality of the device)
(E)    Devices containing medicinal product
(F)    Post Market Surveillance
(G)    Undertaking of conformity with respect to product standards, safety and effectiveness requirements and quality systems in the country of origin.
SALE OF MEDICAL DEVICES IN THE COUNTRY
The importers, stockiest and retail sellers of Medical Devices shall obtain appropriate sale licenses from the State Licensing Authorities for these Medical Devices within a period of 3 months form the issue of this guidelines.25
Major Issue in Indian Regulatory System:
The term 'pharmaceuticals regulation' means the regulation of any aspect of the production, distribution, prescription or consumption of a pharmaceutical product or the raw materials that are used in its production. But the Research shows that there is a large gap between the pharmaceutical regulation that exists on the paper and in everyday practice. Following are some considerable issue in our territory:
1.      The regulation of pharmaceutical products in India with apparently strong regulations but weak Implementation – is not a unique situation.
2.      At the level of the consumer there is self – prescription of the drugs, with or without written prescription?
3.      Patients or their guerdons can easily buy their medication from market, if they can afford, without or without taking advice of any registered medical practioners.26
4.      Practically still there is a large no. of people who are prescribing, selling, diagnosing patients without having any authorization from the government, to do so besides these, same issues can be observed in the license system which is needed to manufacturing, sale or distribution of the pharmaceutical products in the country.
5.      Medicines cannot be introduced in the Indian market without the permission of DCGI of India, but the manufacturing license is provided by the State Licensing Authority.
6.      The processes of removing dangerous or inefficacious medicines are very hard to implement, so it become quite hard to follow the circumstances.
7.      As there is an act regarding the price of pharmaceutical products but practically the implementation of this act is very poor.
8.      India is also listed by the Pharmaceuticals Security Institute [PSI as one of the top five sources of counterfeit drugs about 20% of medicines in the country are fake or sub-standard. Of these, 60% do not contain any active ingredient, 19% contain wrong ingredients and 16% have harmful and inappropriate ingredients, but these manufacturers, drug & devices are still present in the market.
9.      Pharmacovigilance, which can also called as post marketing surveillance or phase IV clinical trial, which include safety issue and ongoing technical report about the drugs, once it get permission to sale in the market. Even Clinical trials rarely involve enough patients to be sure that less common side effects and ADRs are picked up by the time a drug enters the market. But , in everyday use, a drug is used in combination with many others, and drug interactions may only be picked up some time after the drug has been introduced. Pharmacovigilance is gaining importance in developed countries and can lead to drugs being recalled. But the record about the patients which is necessary for Pharmacovigilance is inadequate.
10.  Lack of regulatory expertise and testing facilities which are required to implement standards.
11.  Need for greater thrust on institutional support to small scale firms to enable speedy implementation of Schedule M up gradation and standardization of drug quality
12.  There should be greater clarity on patentability and conditions of pharmaceutical substances under which firms can apply for compulsory licenses to prevent legal battles between local firms, MNCs and civil rights groups.
13.  Need for greater coordination, accountability and transparency in functioning  among different ministries concerned with drug regulation.27
14.  Role of PCI
In India presently all arrangement in regulating the pharmacy education, playing by PCI & AICTE, it should be further strengthen so that they can clarify the role of each agency. And state pharmacy councils need to be more strengthening in terms of infrastructure, manpower and resources so that they can do the effective and efficient drugs regulation in country.
15.  As we know in the rural areas of India the health facilities is not in a healthy condition, so the shortage of doctors and nursing personnel, these issue can be resolved by redefining the role of Pharmacist in the Indian regulatory system.28
Regulatory Timeline:29
Regulatory Body

Approval

Time

Drug Controller general of India

Regulatory approval for study conduct in India

Category A-4-8 Weeks

Category B- 8-12 Weeks

Local Ethics Committee

Ethics committee approval by the various study sites

4-12 weeks (in parallel)

Drug Controller general of India

Test License to import trial suppliers

2 weeks

(along with CT-NOC)

Total (FPFV)

N.A.

12Weeks
Preparation for a new Era in Indian Drug Regulatory System:
First Step
The expectation form the regulatory system is innovation on its part. When David Kessler took over as FDA Commissioner in 1990, the average time for any drug approval was 3 years. He changed the outlook of the FDA by putting life-saving drugs on fast track approval. For instance, it took just 45 days in 1996 for the approval of protease inhibitors. This made the life-saving drugs easily available to HIV-affected people and brought about a revolution in combating these deadly diseases.
There are many steps that DCGI has taken in recent past that has set good examples in a right direction for the industry
·         Registration of CROs with DCGI allows them to know who is doing what and can authenticate CROs in India.
·         Decision to check the sites while trials also helps DCGI check the compliance with the trial.
·         Registration of clinical trials has made the conduct of clinical trials more transparent. Also access to the new drugs is made easy for those people who would want to participate and undergo treatment with new drugs.
·         The evolving regulatory system may not be apprehensive or hesitant in future to allow Phase I studies to be conducted in India for all the drugs.30
·         The Union Cabinet gave its approval to the following proposals and Recommend a new drug regulatory system structure in India including the establishment of a New Drug Authority (NDA).31
NOW YOU CAN ALSO PUBLISH YOUR ARTICLE ONLINE.
SUBMIT YOUR ARTICLE/PROJECT AT articles@pharmatutor.org
Subscribe to Pharmatutor Alerts by Email
FIND OUT MORE ARTICLES AT OUR DATABASE
Proposals:
1.      The Central Drug Administration should make an independent office under the Ministry of health & Family Welfare.
2.      There should be one Act for entire country to control the quality of drugs.32
3.      There should be one national electronic network to join all state drug regulatory authorities and regional drug authorities with data bank on drugs available in India with their pharmacological and technical details.
4.      The restructured NDA should have 10 main Divisions at the headquarters followed by suitably trained manpower. Each of these divisions may have several sections depending upon the scope of the activities of the respective division. These divisions could be named as:
·         Division for Regulatory Affairs & Enforcement
·         Division for New Drugs & Clinical Trials
·         Division for Biological & Biotechnology Products
·         Division for Pharmacovigilance
·         Division for Medical Devices and Diagnostics
·         Division for Imports
·         Division for Organizational Services
·         Division for Training and Empowerment
·         Division for Quality Control Affairs
·         Division for Legal and Consumer Affairs33
5.      The following changes may require in present Drug Regulation:
·         Expansion of zonal and sub-zonal offices;
·         Creation of additional infrastructure for new offices in states;
·         Creation of considerable number of additional senior level and supporting posts;
·         Need of additional funds to set up a world class Central Drug Administration.
1.       The Central Drug Authority will have a chairman with no more than five members but at least 3 members, to be appointed by Central govt. with the defined criteria for the qualification and procedure of appointment.34
2.      The Central Drug Authority may require following expansion in the manpower at Headquarters, Zonal, Sub-zonal and state offices:
a.       Joint Drugs Controllers – 3
b.      Deputy Drugs Controllers – 2
c.       Assistant Drugs Controllers – 6
d.      Drugs Inspectors – 50
e.       Technical Experts – 5
f.       Pharmaceutical chemist
g.      Pharmaceutist
h.      Pharmacologist
i.        Toxicologist
j.        Statistician
k.      Administrative Officer – 1
l.        Accounts Officer – 1
m.    Computer Operators – 15; & adequate supportive staff.35
3.      This Authority would be modeled on the lines of the United States' Food & Drugs Administration (US-FDA).36
4.      There are also other important objectives of drug regulationlike ensuring
·  Good Manufacturing Practices (GMP),
·  frustrating production and marketing of spurious drugs,
·  monitoring adverse drug reactions (post-marketing surveillance)
And so on, all a resourceful CDA could better.
Conclusion:
The regulation of pharmaceuticals in India is a particular example of how the industry is modernizing. We can conclude from this study that as the country is moving ahead to the area of developing to Develop country, Drug Regulation System of Country also Strengthen. Drug regulators from the side of Nation are trying to give it a good shape, but surely the conditions are not so easier than US and Europe. But still the Nations have to do Great work in this field, but ultimately only Planning is not Sufficient, Implementation which is the most important, need to keep in mind.
References:
1.    swot analysis of Indian pharmaceutical industry  SWOT Analysis Friday, January 1, 2010 https://pharmaworldindia.blogspot.com/2010/01/swot-analysis-of-indian-pharmaceutical.html
2.    cci.in/pdf/surveys_reports/indias_pharmaceutical_industry.pdf
3.    Pharma to topple IT as big paymaster". The Economic Times. economictimes.indiatimes.com/News/News-By-Industry/Jobs/Pharma-engineering-to-topple-IT-as-big-paymaster/articleshow/6022202.cms?curpg=1. Retrieved 8 Jun 2010.
4.    workoninternet.com/business/investment-financial-strategy/stock-trading/161113-market-share.html
5.    biipharmablog.blogspot.com/2010/07/growing-generic-opportunities-of-indian.html
6.    indialawoffices.com/pdf/pharmaceuticalmarket.pdf
7. commerce.nic.in/publications/Report%20Tas%20Force%20Pharma%2012th%20Dec%2008.pdf?id=16
8.    indialawoffices.com/pdf/pharmaceuticalmarket.pdf
9.    indialawoffices.com/pdf/pharmaceuticalmarket.pdf
10.    topra.org/sites/default/files/focus2_12.pdf
11.    en.wikipedia.org/wiki/Regulation_of_therapeutic_goods
12. pacificbridgemedical.com/publications/india/2007_pharmaceuticals_in_india
13.    forum.usefuldrive.com/discussions/general-discussion/143-drug-regulatory-system-india.html
14.    sethassociates.com/food_and_drug_industry_in_india.php
15.    clinpage.com/article/indias_regulation_timeline/C9
16.    scribd.com/doc/45194517/Drug-Regulatory-System-in-India
17.    cdsco.nic.in/html/law.htm
18.    cdsco.nic.in/html/interim%20report.htm#intro
19.    topra.org/sites/default/files/focus2_12.pdf
20. pharmainfo.net/santosh-kumar-jh/drug-approval-process-usa-vs-india
21. slideshare.net/shivampharma88/regulatory-trends-of-pharmaceuticals-i-bric-countries-8261475
22.    1.mhlw.go.jp/english/wp_5/vol2/p2c5.html
23.    trade.gov/td/health/india_med_registration05.pdf
24.    emergogroup.com/services/india/india-medical-device-registration
25.    cdsco.nic.in/medical%20device%20A42.html
26. esocialsciences.com/data/essJournalArticles/Article2010113145017.pdf
27.    nistads.res.in/indiasnt2008/t4industry/t4ind18.html
28. whoindia.org/LinkFiles/Human_Resources_human_resources_for_pharmacy_sector.pdf
29.    veedaoncology.com/PDF-Document/Regulatory%20In%20India.pdf
30.    ncbi.nlm.nih.gov/pmc/articles/PMC2812777/
31.    arhamconsultants.com/CDA.htm
32. saffron.pharmabiz.com/article/detnews.asp?articleid=17696&sectionid=46
33.    cdsco.nic.in/html/Final%20Report%20mashelkar.pdf
34.    fermish.com/central_drug_authority.htmL
35.    cdsco.nic.in/html/Final%20Report%20mashelkar.pdf
36.    arhamconsultants.com/CDA.html
NOW YOU CAN ALSO PUBLISH YOUR ARTICLE ONLINE.
SUBMIT YOUR ARTICLE/PROJECT AT articles@pharmatutor.org
Subscribe to Pharmatutor Alerts by Email
FIND OUT MORE ARTICLES AT OUR DATABASE