ALZHEIMER DISEASE AND CONTRIBUTION OF NANOTECHNOLOGY AND HERBALTRADITIONAL DRUGS IN THE TREATMENT OF ALZHEIMER DISEASE


About Authors:
Himani sharma
B.pharm; mahakal institute of pharmaceutical studies,
Ujjain (m.p.); rgpv
shimani53@gmail.com

ABSTRACT
Among the several identified types of dementia, Alzheimer's dis­ease (AD) is the most common. In 1906 a German physician, Dr. Alois Alzheimer, specifically identified a collection of brain cell abnormalities as a disease which is a degenerative brain disorder. Today, this degenerative brain disorder bears his name, and when found during an autopsy, these plaques and tangles mean a definite diagnosis of Alzheimer's disease (AD).  This article provides a general idea of some main causes ofAlzheimer's disease, use of various prospects of nanotechnology herbal medicines and intended to explain the therapeutic effectiveness of various herbal medicines in the treatment of Alzheimer disease.

Reference Id: PHARMATUTOR-ART-1569
FIG.1- NEURONAL CELL IN ALZHEIMER'S DISEASE

1.    INTRODUCTION
* Alzheimer's disease is the most common form of dementia in the elderly. This condition is characterized by a progressive loss of memory, deterioration of virtually all intellectual functions, increased apathy, decreased speech function, disorientation, and gait irregularities.
* It is also one of the best known and important of all degenerative diseases. It is a condition that is associated with considerable psychological and emotional distress for patients and their families.
* It also represents a large economic burden for those afflicted and their families because of the long-term care that is associated with the condition.

FIG.2 - COMPARISON OF NORMAL NEURON AND ALZHEIME'S EFFECTED NEURON

* Progressive mental deterioration in old age has been recognized and described throughout history. However, it was not until 1906 that a German physician, Dr. Alois Alzheimer, specifically identified a collection of brain cell abnormalities as a disease.
* One of Dr. Alzheimer's patients died after years of severe memory problems, confusion and difficulty understanding questions. Upon her death, while performing a brain autopsy, the doctor noted dense deposits surrounding the nerve cells (neuritic plaques). Inside the nerve cells he observed twisted bands of fibers (neurofibrillary tangles).
* Today, this degenerative brain disorder bears his name, and when found during an autopsy, these plaques and tangles mean a definite diagnosis of Alzheimer's disease (AD).
2.    MECHANISM OF ALZHEIMER'S DISEASE
*    Pathophysiology
-    AD is characterized by marked atrophy of the cerebral cortex and loss of cortical and sub cortical neurons. The pathological hallmarks of AD are senile plaques, which are spherical accumulations of the protein-amyloid accompanied by degenerating neuronal processes, and neurofibrillary tangles, composed of paired helical filaments and other proteins
-     Although small numbers of senile plaques and neurofibrillary tangles can be observed in intellectually normal individuals, they are far more abundant in patients with AD, and the abundance of tangles is roughly proportional to the severity of cognitive impairment.
-     In advanced AD, senile plaques and neurofibrillary tangles are numerous and most abundant in the hippocampus and associative regions of the cortex, whereas areas such as the visual and motor cortices are relatively spared.
-    This corresponds to the clinical features of marked impairment of memory and abstract reasoning, with preservation of vision and movement. The factors underlying the selective vulnerability of particular cortical neurons to the pathological effects of AD are not known.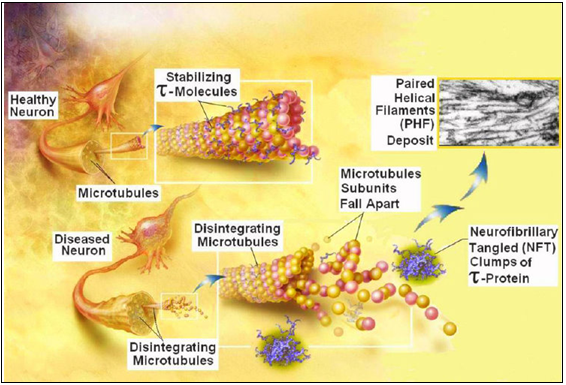 FIG.3- MECHNISM OF ACTION OF ALZHEIMER'S DISEASE

*    Neurochemistry
-    The neurochemical disturbances that arise in AD have been studied intensively (Johnston, 1992). Direct analysis of neurotransmitter content in the cerebral cortex shows a reduction of many transmitter substances that parallels neuronal loss; there is a striking and disproportionate deficiency of acetylcholine.
-    The anatomical basis of the cholinergic deficit is the atrophy and degeneration of subcortical cholinergic neurons, particularly those in the basal forebrain (nucleus basalis of Meynert), that provide cholinergic innervation to the whole cerebral cortex.
-    The selective deficiency of acetylcholine in AD, as well as the observation that central cholinergic antagonists such as atropine can induce a confusional state that bears some resemblance to the dementia of AD, has given rise to the "cholinergic hypothesis," which proposes that a deficiency of acetylcholine is critical in the genesis of the symptoms of AD (Perry, 1986).
-     Although the conceptualization of AD as a "cholinergic deficiency syndrome" in parallel with the "dopaminergic deficiency syndrome" of PD provides a useful framework, it is important to note that the deficit in AD is far more complex, involving multiple neurotransmitter systems, including serotonin, glutamate, and neuropeptides, and that in AD there is destruction of not only cholinergic neurons but also the cortical and hippocampal targets that receive cholinergic input.

*    Signalling Alterations
-    APP metabolism, Aβ oligomerization and signaling involvement in the mechanisms of synaptic damage in AD. Proteolytic cleavage of APP by β- and γ-secretase results in the generation of the Aβ1–42 monomer, which under pathological conditions can assemble into potentially toxic oligomers.
-    Enzymes such as Neprilysin and insulin-degrading enzyme (IDE) can degrade the Aβ monomer, whereas oligomers can be sequestered into fibrillar aggregates in plaques.
-    Oligomers may be the toxic Aβ species that contribute to de-regulation of signaling pathways (Fyn, FAK, GSK3β, CDK5) and result in alterations to cytoskeletal and synaptic proteins and subsequent synaptic and neuronal damage. Aβ accumulation is mediated by factors including rates of peptide production, aggregation and clearance.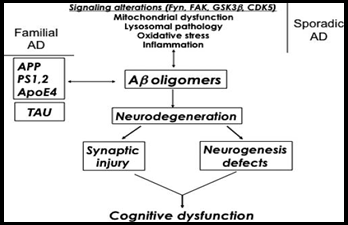 FIG.4- SIGNALLING ALTERATIONS

FIG.5- ALTERATION IN CYTOSKELETAL AND SYNAPTIC PROTIENS

3.    SIGNS AND SYMPTOMS
*    The patient generally visits the physician at the behest of his family. The family typically notices a pattern of changed behaviors that can include memory problems, insomnia, anxiety, depression, disruptive behavior, and hallucinations.
*    Memory impairment is the hallmark symptom of Alzheimer's disease and usually involves behaviors such as forgotten appointments, disorientation away from home, misplaced items, and repetitive questions.
*    The memory impairment of Alzheimer's patients is defined as the reduced ability to learn new information and to recall previously learned information.
*    Alzheimer's disease has been classified into three stages. Stage One usually lasts two to four years. It involves confusion, forgetfulness, disorientation, recent memory loss, and mood changes.
*    Stage Two often lasts two to ten years. It typically is characterized by decreased memory functioning, reduced attention span, hallucinations, wandering, restlessness, muscle spasms, reduced ability to perform logic, increased irritability, and an increased inability to organize thoughts.
*    Stage Three generally lasts one to three years. This period most often involves the increased inability to recognize family members, a progressive inability to recognize their own image in the mirror, weight loss, incontinence, swallowing difficulty, the development of skin infections, and seizures.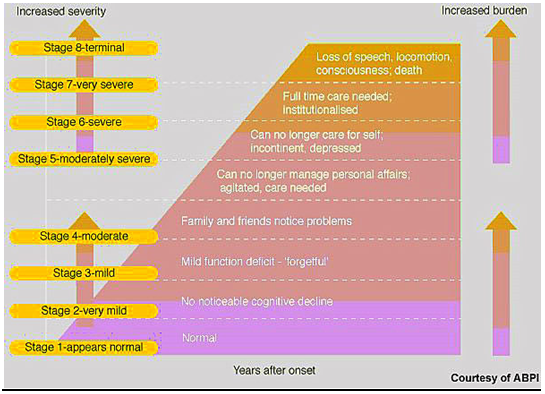 FIG.6- STAGES OF ALZHEIMER'S DISEASE

NOW YOU CAN ALSO PUBLISH YOUR ARTICLE ONLINE.
SUBMIT YOUR ARTICLE/PROJECT AT articles@pharmatutor.org
Subscribe to Pharmatutor Alerts by Email
FIND OUT MORE ARTICLES AT OUR DATABASE
Pages