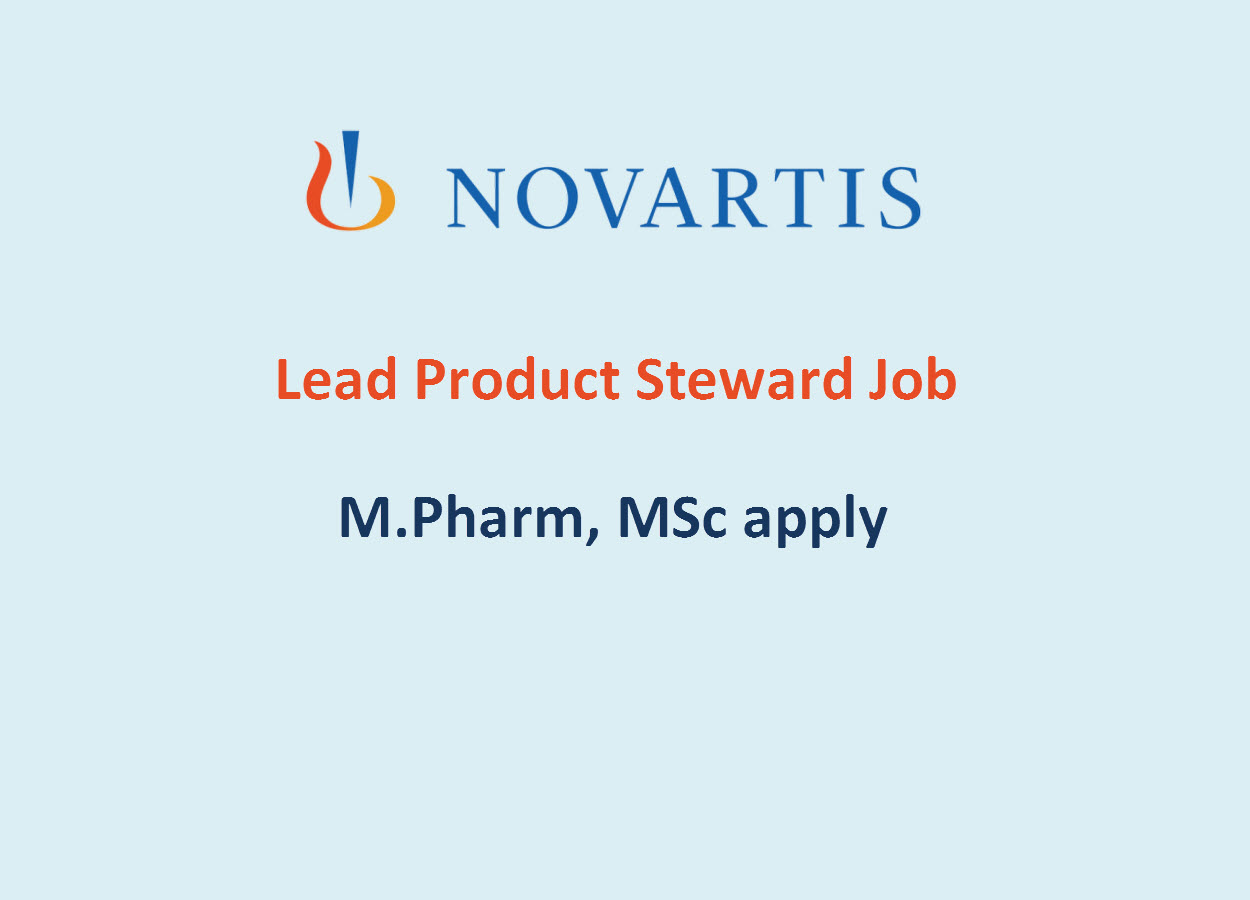 Novartis has one of the most exciting product pipelines in the industry today. A pipeline of innovative medicines brought to life by diverse, talented and performance driven people. All of which makes them one of the most rewarding employers in their field.
Post : Lead Product Steward
Job Description
Position Purpose :
In the roles of Lead - Product steward you will be responsible for the process knowledge of the product(s) assigned throughout the commercial lifecycle, maintains the oversight on process capability, through data trending and statistical analysis of critical variables, ensuring process(es) are robust, in continued state of validation and continuously improving. Ensures seamless flow of knowledge and information across functions, and with other Sites when applicable, with focus on the assigned product(s). Provides second line technical/scientific process support.
LEADERSHIP:
- Set objectives and develops vision for department, act as SPOC for site head /cluster head. Develop the team, succession planning, training program and career progression within the site.
- Enable knowledge management for processes and products within department and across site functions. Define and implement standards & works with the other Site teams and networks of the relevant platform / Cluster.
STEWARDSHIP:
- Ensure that quality and compliance improvement and savings opportunities are rapidly reapplied globally
- Ensure robust product stewardship for all products manufactured at the site, and end-to-end technical oversight of product manufacturing processes, at all stages of their commercial lifecycle. Ensure that all products, processes, unit operations are assigned to a product steward / technical steward / process expert / packaging expert
- Ensure that all manufacturing processes are robust respectively process improvement projects; works across PUs and Functions within the Site and in close collaboration with MS &T global team to resolve issues and to ensure process capability. Ensure oversight of technical changes and lead end-to-end change control management related to relevant technical issues, working cross functionally as the need arises
- Acts as the interface for the site with the relevant Health Authorities for technical issues. Reviews and releases regulatory proposals or information required for regulatory filings.
VALIDATION:
- Ownership of the site Validation Master Plan (VMP) (creation and maintenance), ensure that execution of VMP activities are tracked, ensures all manufacturing, packaging and cleaning processes are validated and ongoing verification is implemented, so that all site products are validated and remain in constant state of validation throughout the product lifecycle.
LAUNCH & TRANSFER:
- Accountable for technical transfer activities into, within and out of the site Work with technical research and development organizations to ensure a robust commercial scale-up of new products.
MANUFACTURING EXCELLENCE:
- Support excellence in manufacturing through standard setting and technical capability development and deployment. Ensure technical excellence in operational start-up for new manufacturing equipment and areas.
TRAINING:
- Ensure development and deployment of highly specialist technical skills and knowledge to meet the needs of the site's product portfolio and strategy.
Candidate Profile
- Master' s in Pharmacy, Pharmaceutical Technology, Chemistry or equivalent scientific degree or Desirable PhD. or equivalent experience.
- Proficient in English. Additional languages desirable.
- Demonstrated ability with min 15+ yrs in GMP manufacturing relevant to the specialist area of expertise. Min 7+ yrs experience in process support in manufacturing plant. e.g. Process Expert role on the shop floor of pharmaceutical manufacturing Plant. Proven process understanding (Pharma, GMP, Regulatory aspects). Sound experience of data handling and applied statistics is a must.
- Proven process understanding (Pharma, GMP, Regulatory aspects).
Additional Information
Experience : 7+ years
Qualification : B.Pharm, MSc
Location : Navi Mumbai
Industry Type : Pharma / Healthcare / Clinical research
Functional Area : Technical Operations
End Date : 20th October, 2020
See All   Ph.D Alerts   M.Pharm Alerts   B.Pharm Alerts   MBA Alerts
See All   Other Jobs in our Database