Career for Master in Pharmacy as Formulator at Cipla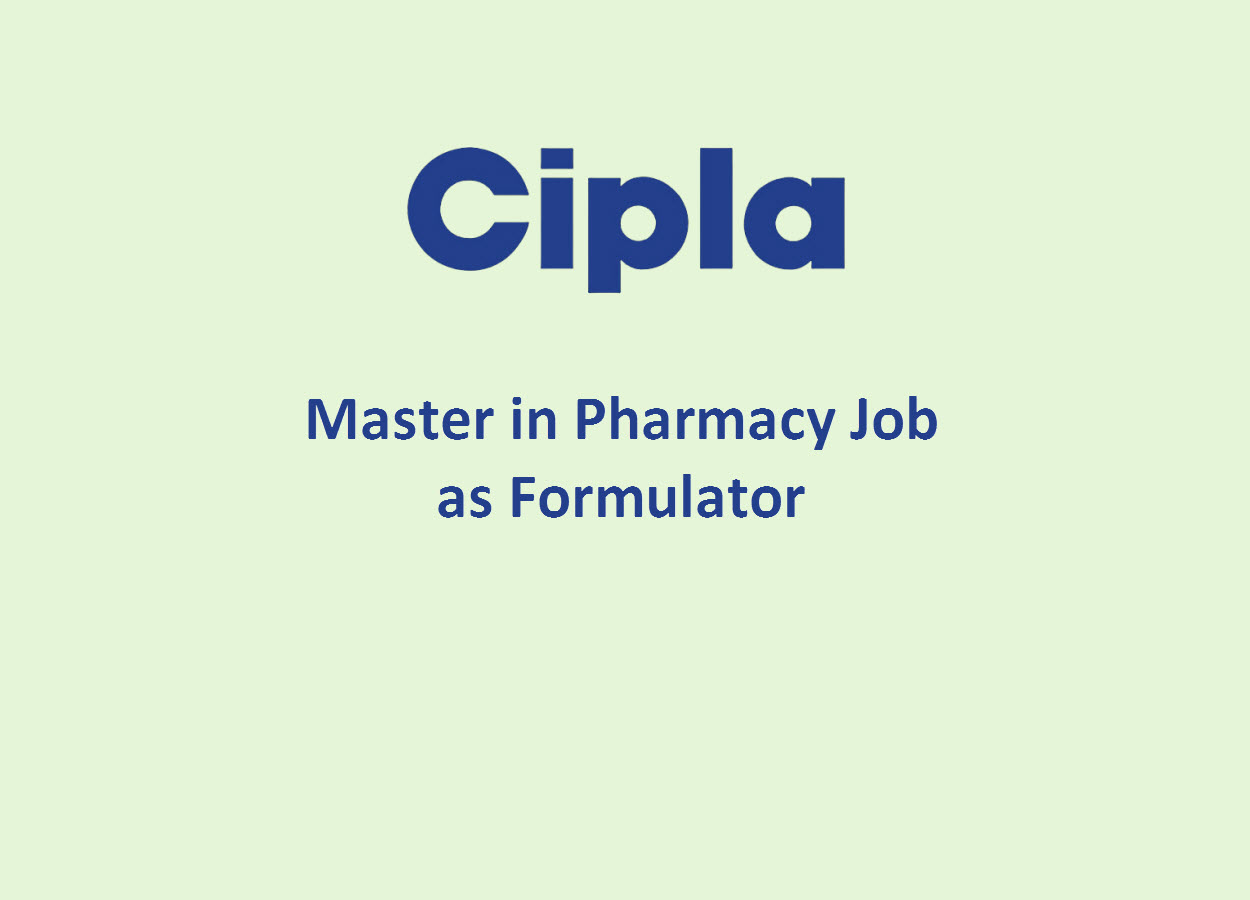 Cipla, as an organisation has been built brick-by-brick on the foundation of care. Caring For Life has always been and continues to remain, our guiding purpose. Driven by the same purpose, we have extended our presence to 80+ countries providing over 1,500 products across various therapeutic categories in 50+ dosage forms. To make healthcare more affordable globally, we are deepening our presence in the key markets of India, South Africa, the U.S. among other economies of the emerging world.
Post : Formulator
Job Description
Job Purpose
Execute end to end formula and process development of  Opthalmic products following good laboratory practices and continuously monitor its data and quality to have robust a product within the budget, timeline and regulatory standards.
Accountabilities
I. Collate and review Pharma literature from USFDA etc. in order to utilize knowledge during product development
II. Provide and submit all stage gates documents to CFT on the basis of data generated from development trials to execute batches at plant
III. Gather data from pre-formulation studies by carrying out characterization of reference product and optimize the formula in order to develop a robust product
IV. Provide indent through supply chain management to procure the Filters, RM and PM required during product development and submission batches
V. Prepare regulatory submission data by conducting R&D trials and executing regulatory submission batches at the unit for successful filing
VI. Provide deficiency response support by generating data at R&D/Unit required for approval of the product
Candidate Profile
Master in Pharmacy (Specialization in Pharmaceutics)
4 years experience in R&D (Preferably in  Opthalmic products)
Additional Information
Experience : 4 years
Qualification : M.Pharm
Location : Vikhroli, Mumbai
Industry Type : Pharma/ Healthcare/ Clinical research
Functional Area : Formulation R&D
End Date : 30th September, 2020
See All  Mumbai Alerts  B.Pharm Alerts   D.Pharm Alerts   M.Pharm Alerts
See All   Other Jobs in our Database
Subscribe to Pharmatutor Job Alerts by Email