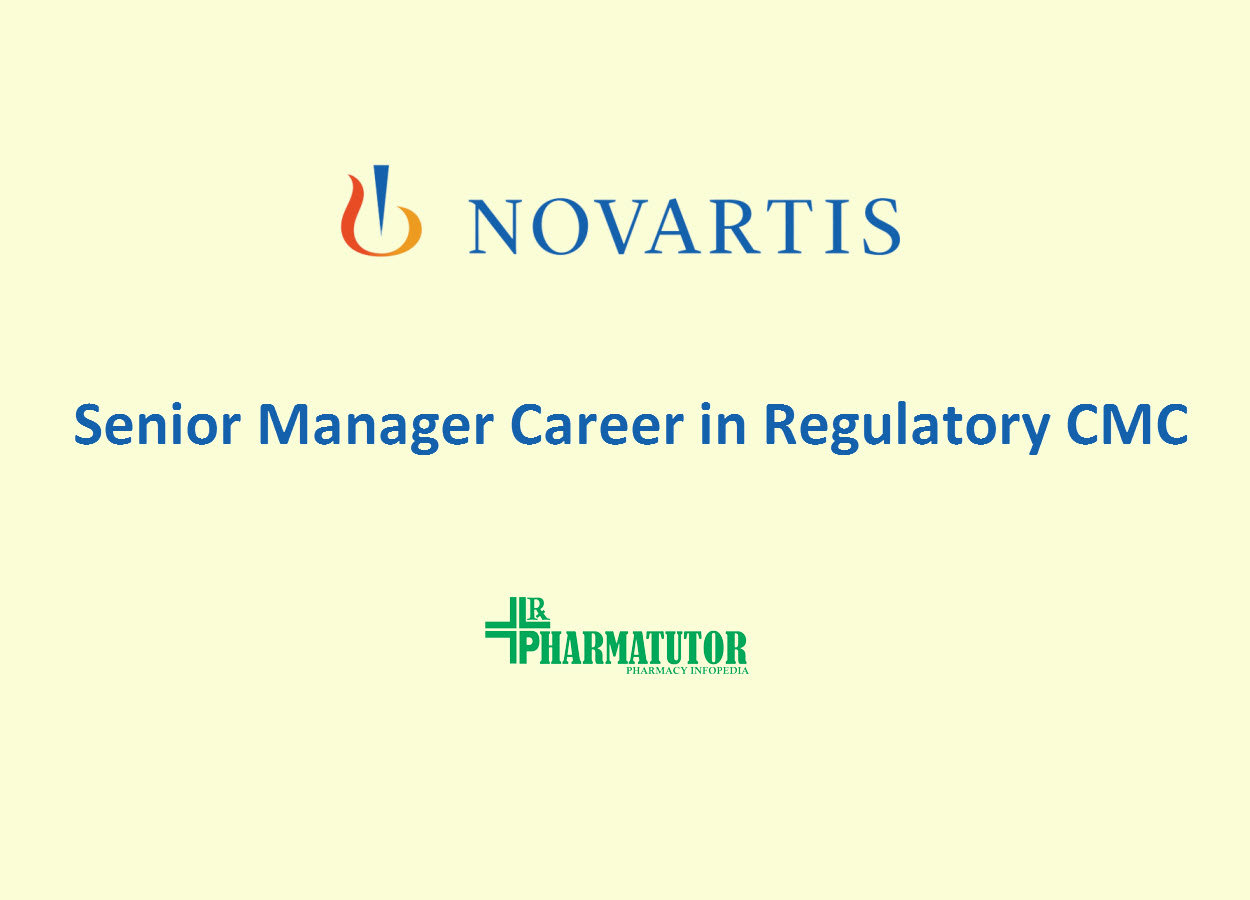 Novartis has one of the most exciting product pipelines in the industry today. A pipeline of innovative medicines brought to life by diverse, talented and performance driven people. All of which makes them one of the most rewarding employers in their field.
Post : Senior Manager, Regulatory CMC
Job Description
• Responsible for regulatory activities specifically related to chemistry, manufacturing, and control (CMC).
• Activities such as the preparation and publication of REG CMC documentation for submissions to Health Authorities. In addition interact with HA's on REG CMC questions to support new product or post marketed launches.
• Formulate and lead global CMC regulatory strategy with a focus on innovation, maximizing the business benefit balanced with regulatory compliance.
• Lead and implement all global CMC submission activities (planning, authoring, reviewing, coordination, submission) for assigned projects/products.
• Identify the required documentation and any content, quality and/or timelines issues for global submissions and negotiate the delivery of approved technical source documents in accordance with project timelines.
• Author and/or review high-quality CMC documentation for HA submission, applying agreed CMC global regulatory strategies, current regulatory trends and guidelines. Ensure technical congruency and regulatory compliance, meeting agreed upon timelines and e-publishing requirements.
• Proactively communicate CMC regulatory strategies, risks and key issues throughout the life cycle in a timely manner to project teams and other stake holders. Represent department in cross-functional project teams as appropriate.
• Prepare and communicate CMC Risk Management Assessments, contingency plans, and lessons learned on major submissions and escalate with management as appropriate.
• Initiate and lead Health Authority interactions and negotiations as appropriate; setting objectives, preparing briefing books, coordinating and planning rehearsals and risk mitigation plans.
Candidate Profile
• Minimum: Science Degree (e.g. Chemistry, Pharmacy, Biochemistry, Biotechnology, Biology) or equivalent Desirable: Advanced Science with Experience of Minimum 7 years in regulatory preferred, and/or experience in the pharmaceutical industry.
• Excellent written/spoken communication skills
• Working knowledge/experience in regulatory submission and approval processes.
• Working knowledge of chemistry/biotechnology, analytics or pharmaceutical technology. Ability to critically evaluate data from a broad range of scientific disciplines.
• Knowledge of product development and life cycle desirable.
• Demonstrated track record to successfully work in interdisciplinary global teams; leading, planning and prioritizing activities simultaneously on multiple projects.
• Ability to work independently and successfully with global project teams and prioritize activities considering timelines and workload.
Additional Information
Qualification : Science Degree
Location : Hyderabad, AP
Industry Type : Pharma / Healthcare / Clinical research
Functional Area : R&D
End Date : 20th November, 2020
See All   B.Pharm Alerts   M.Pharm Alerts    Ph.D Alerts   Hyderabad Alerts
See All   Other Jobs  in our Database