Work as Complaint Vigilance Analyst at Johnson & Johnson | M.Pharm, B.Pharm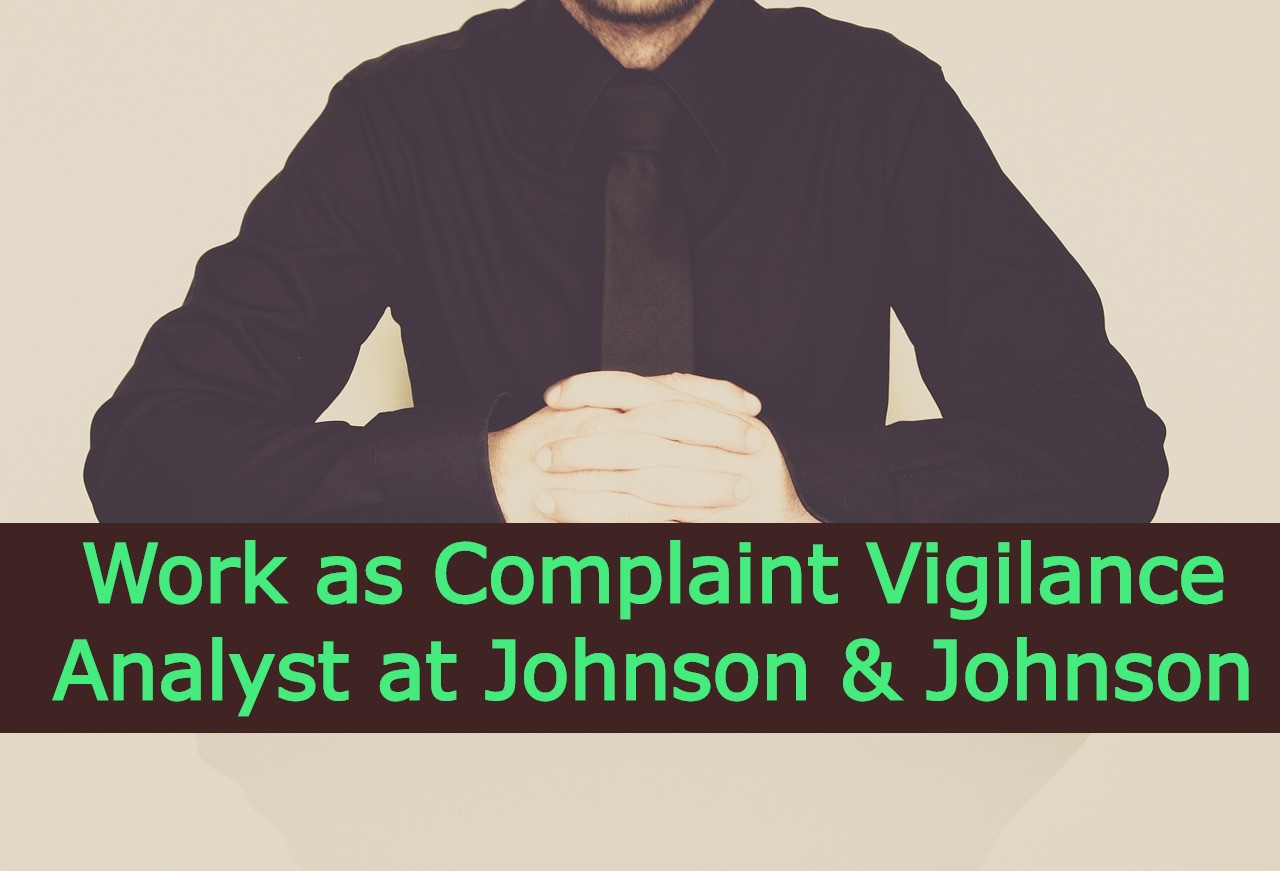 Caring for the world, one person at a time has inspired and united the people of Johnson & Johnson for over 125 years. We embrace research and science -- bringing creative ideas, products, and services to advance the health and well-being of people. Every single day, our more than 130,000 employees across the world are blending heart, science, and ingenuity to profoundly change the trajectory of health for humanity.
Post : Complaint Vigilance Analyst
Job Description
Key Responsibilities:
Provide support to Complaint Vigilance process within Asia Pacific region through periodic monitoring of complaints. This may include, but is not limited to, triage, investigation, trending, issues resolution. Provide periodic training and support to the triage and investigation team to ensure compliance to the complaint management process.
• Reviews product quality complaints and processes in accordance with Standard Operating Procedures using the Complaints Management System. This may include, but is not limited to, review complaint case to verify customer verbatim, lot number, subject coding, trend analysis, malfunction coding, and complaint closure as applicable.
• Analyzes data, prepares and disseminate weekly complaints report to region.
• Reviews and processes updated information for complaints received as change logs from call center and medical safety to assess the impact on triage and investigation. This may include, but is not limited to, necessary actions such as timely notification to the impacted sites to process the same, communication with business partners to ensure compliance.
• Collaborates with Call Centers, Medical Safety, Marketing, Internal affiliates, External sites, and other business partners to ensure the integrity, consistency, compliance, and alignment of the end-to-end complaint vigilance process.
• Assists with developing training presentations for complaint vigilance process and systems.
• Assists with global and regional projects within the department, communicate effectively with all levels of management.
Candidate Profile
• Master's/ Bachelor's degree in Pharmacy, Science discipline with a minimum of 3+ years of related experience in Quality Systems and Compliance with experience working in pharmaceutical, medical devices or other related or highly regulated industry.
• Demonstrated knowledge and expertise in quality processes and regulatory requirements. Experience working in an FDA regulated environment.
• Experience supporting manufacturing, packaging, and development operations.
• Experience supporting many/all aspects of the complaint vigilance life cycle for pharmaceutical, device, and /or cosmetic products. Device and pharmaceutical strongly preferred.
• Experience with one or more technologies supporting complaint handling. Trackwise or similar system preferred.
• Experience in the creation, update, and management of complaint files from complaint identification through closure.
• Expertise with root cause analysis techniques including but not limited to: Brainstorming, data analysis and collection tools, 5 Whys, Fishbone (Cause and Effect), FMEA
• Experience with tools and techniques supporting qualitative risk analysis including but not limited to: Probability and impact assessment (likelihood of recurrence and potential effect), probability and impact matrix (risk ratings, rating rules), and risk categorization (by root causes, other qualifiers).
• Experience with systems and tools supporting analysis and reporting.
• Ability to develop and implement simple, yet effective quality systems and metrics
• Ability to evaluate quality system elements and recommend improvements to meet regulatory requirements.
• Excellent verbal and written communication. Ability to read, write, speak and understand the English language.
• Possesses strong organization and project management skills.
Additional Information
Experience : 2-7 years
Qualification : B.Pharm, M.Pharm
Location : Visakhapatnam
Industry Type : Pharma
Functional Area : Quality Control
Last date : 5th June, 2020
See All  M.Pharm Alerts    B.Sc Alerts    B.Pharm Alerts  J&J Alerts
See All    Other Jobs in our Database
Subscribe to Pharmatutor Job Alerts by Email