WEBINAR on Management of Hypertension in Diabetes and Lipid Disorder Organised by National Pharmacist Convention Committee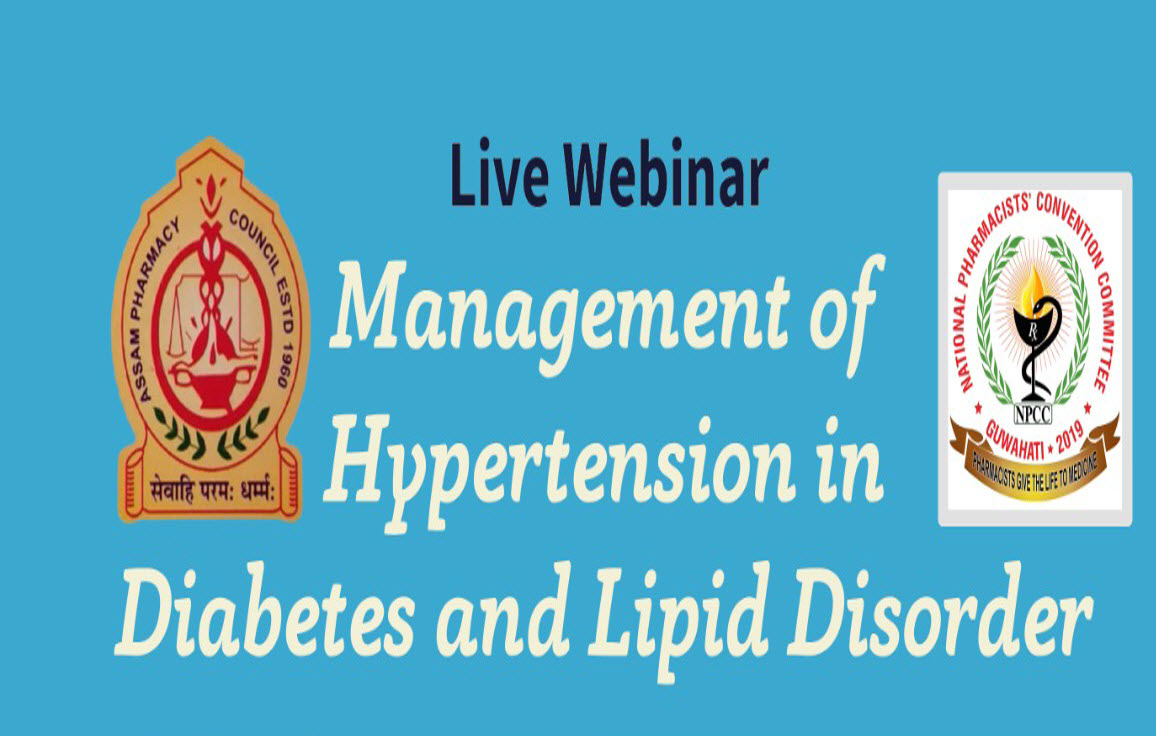 The office of the Assam Pharmacy council is situated at Pharmacy Bhawan, Hengrabari, Guwahati, Pin - 781036 (Assam), in the campus of Director of Health Services, Assam. Assam Pharmacy Council is a statutory body constituted by the Government of Assam under the provisions of the Pharmacy Act 1948 to regulate the profession and practice of Pharmacy in the State of Assam. The prime function of the Assam Pharmacy Council is to grant registration and renewal thereof to the eligible candidate possessing requisite qualifications as per the provisions of section 32(2) of the Pharmacy Act & to enforce the necessary provisions of the Pharmacy act 1948.
Live Webinar
Management of Hvvertension in Diabetes and Lipid Disorder
Organised by "National Pharmacist' Convention Committee (NPCC), Guwahati"
Supported by "Association of Advanced Pharmacy Practitioners (AAPP)" and "Pharmaceutical Chamber of Commerce (PCC) Assam" in association with "Assam Pharmacy Council".
Event Registration : Upto 6:00 PM May 28th, 2020
Event Timing : May 29th, 2020, 02:30PM
Event Duration : 30-40min
Event Language : Both in English and Assamese
Seat Capacity : 80 (Eighty Only) Limited participants will be shortlisted for the Webinar.
(Shortlisted Participants will get ZOOM ID and PASSWORD via email on or before 10:00 AM, May 29th, 2020)
Resource Person :
Dr. Subhash Nath M.D. (UPSC CMS 1996, 2001 and 2005) (CHIEF MEDICAL OFFICER, MINISTRY OF H&FW, GOVT. of INDIA)
Considering the duration of Webinar and number of participants; no one will be allowed to ask question during webinar. hence you are requested to place your questions during registration. A few of them will be answered. 
Certificate will be awarded to each of the Shortlisted Participants once they will submit their feedback. Feedback link will be send via email after Webinar within three working days.
For Support : 8876562782 (Mr. Uttam Borah)
or advancepharmacypractitioner@gmail.com
FIND MORE CONFERENCES AT PHARMATUTOR
Subscribe to PharmaTutor News Alerts by Email