Lonza looking for Site Head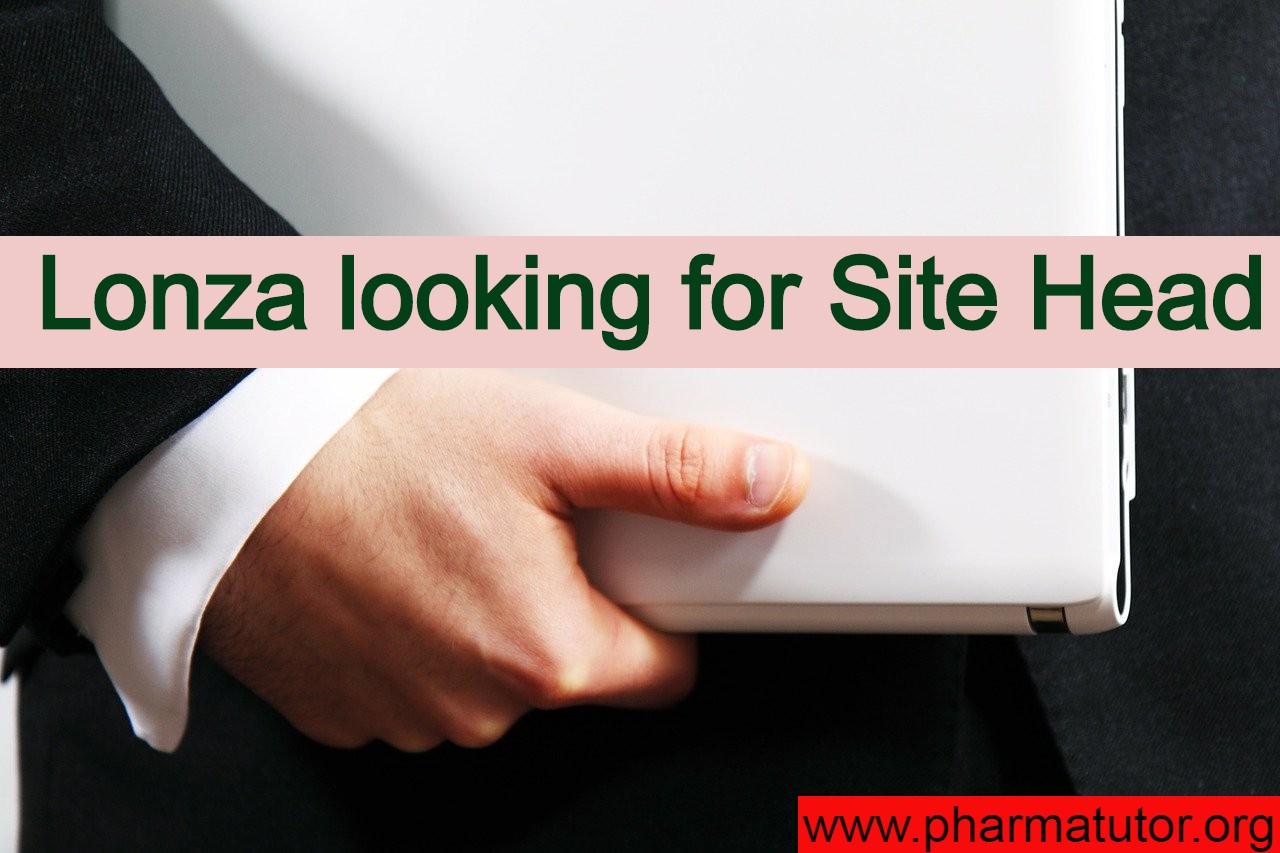 Lonza is a global leader in life sciences. We are more than 15,000 employees in more than 100 locations around the world. While we work in science, there's no magic formula to how we do it. Our greatest scientific solution is talented people working together, devising ideas that help businesses to help people. In exchange, we let our people own their careers. Their ideas, big and small, genuinely improve the world. And that's the kind of work we want to be part of.
Post : Site Head
Job Description
The Site Leader for Capsules and Health Ingredients site is based in our Dharuhera Plant, Haryana & is jointly responsible with other business unit leaders to deliver the annual financial commitments for the business unit, owns primary accountability for achieving the site's manufacturing key performance indicator targets (Safety, Quality, Delivery, Cost, Innovation, People), and oversees long-range strategic initiatives and master planning activities for the site and network.  The Site Leader will manage a team of 6 direct reportees plus indirect reportees & will report to VP Operations.
Accountabilities
• Annual financial target achievements for revenue, profit, and free cash flow.  Enabling responsibilities include but are not limited to:
• Hosting customer visits and ensuring a positive customer experience
• Innovation and product development as directed by the business unit
• Oversight of the site's capital investment development and execution
• Inventory optimization in collaboration with Supply Chain leaders
• Margin expansion activities
• Collaboration with Sales and Marketing on commercial enabling strategies
• All Operations results at the CHI site with all its elements, connected and aligned to the Business Unit
• Continuous improvement for both new and existing services and products via a "Dedicated to Excellence" program.
• Continuous development and optimization of the site masterplan and direct oversight of site-specific strategic initiatives linked to the global masterplan.
• Will be involved in interactions with operational managers, engineering, EHS and maintenance & other functions such as Quality, Supply Chain, HR, Finance, and commercial leaders. 
• Leading the site to ensure a highly effective organization, fully compliant with appropriate cGMP and EHS legislation.
• Working with every level of the Lonza organisation including external communications with clients, community leaders, and regulatory auditors.
• Managing employee unions and ensuring a healthy working environment in IR sensitive area of Haryana with focus on management objectives
Responsibilities
• Lead, develop and coach a Site Leadership team with shared business objectives and manage continuous improvement and on-going organizational change.
• Planning and execution of site activities consistent with company's Vision, Value and Mission.
• Ensure that the site is fully in compliance regarding quality and safety.
• Maintain and protect Lonza's hard and soft resources and assets on site, in the community and marketplace.
• Assure appropriate staffing to meet business goals.
• Ensure proactive community relations, Lonza's reputation and leadership for community involvement.
• Responsible for keeping the site a viable System within the overall CHI Network.
• Responsible for annual spending and capital budgets.
• Responsible for product process development and improvement of existing and new products in all areas of development and manufacturing – cost, quality, safety environment, waste, etc.
• Ensure production output can meet designed capacity. Liaise with Global Operations support teams in a timely manner to develop plans for appropriate capacity for future requirements.
• Reporting: Provide timely all site reports needed for the overall Operations reporting and performance management.
• Ensure a process improvement mind-set to reduce management complexity, improve visibility and use financial information to drive business decisions.
Quality Responsibilities
• Drive compliance with all relevant GMP and ISO Quality procedures, programs, guidelines, and work instructions through developing a culture of sustainable quality adherence
Safety Responsibilities
• Promote a safety culture and demonstrate commitment to a safe site
• Knowledgeable and complies with all pertinent safety policies, rules and regulations.
• Ensure that all team members comply with safety rules and regulations.
Leadership Responsibilities
• Set the tone for the site – Customer-centric, financial accountability, safety, quality, continuous improvement, community, social responsibility and the health and wellness of colleagues
• Provides appropriate coaching and performance feedback to all direct reports and assures that all team members are being developed.
• Identification and development of talent on the site leadership team
• Ensure appropriate level of talent identification and development across the site to ensure excellent succession plans are in place for all critical functions
Candidate Profile
• BE/BTech - MBA would be an advantage
• Considerable experience and background in pharmaceutical or nutritional products business in international Companies.
• Experience in capsules manufacturing is highly desirable
• Proven track record of delivering results against short and medium term goals
• Proven ability to identify and fix problems at all levels across all functions
• Strong knowledge of GMP & Site management experience
• Experience working in matrix organizations
• Experience of managing employee unions and having led negotiation for collective bargaining agreements
• Ability to lead a multi-disciplinary team to face complex business challenges
• Ability to move daily with ease from hands-on to strategic planning
• Occasional national and international travel
• Laboratory and Manufacturing environments
• Strong presence in local community is highly desired
Additional Information
Qualification : BE/BTech - MBA
Location : Haryana
Industry Type : Pharma
Last date : 15th June, 2020
See All M.Pharm Alerts    Ph.D Alerts   Haryana Alerts
See All   Other Jobs in our Database
Subscribe to Pharmatutor Job Alerts by Email