Recruitment for Pharmacists(12 posts) in APVVP Hospitals - Govt Hospital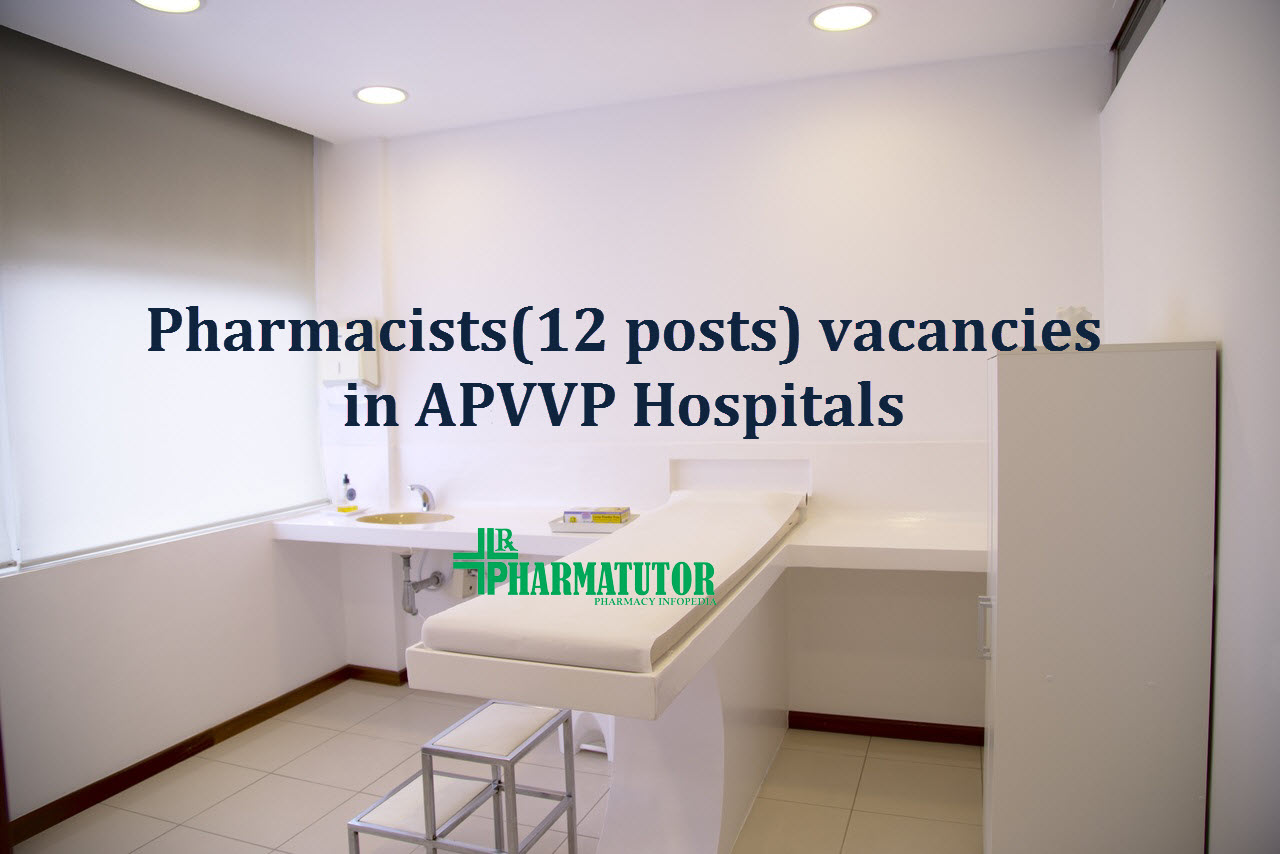 Applications are invited from the qualified candidates for recruitment of Staff Nurse & Pharmacist-Gr II posts in Chittoor District on contract basis under the administrative control of Commissioner of Andhra Pradesh Vaidhya Vidhana Parishad Hospitals of Chittoor District.
Post : Pharmacist Gr-II
In the letter no: Spl/Rect/N&P/2020, Dated: 16-06-2020 of the Commissioner APVVP Vijayawada permission was accorded for recruitment of Staff Nurses and Pharmacist Gr-II posts on contract basis, initially for a period of one year for utilization of their services APVVP Hospitals of Chittoor District purely on temporary basis. The no. of vacancies to be filled under the administrative control Commissioner of APVVP Hospitals of Chittoor District is as follows.
No of Posts : 12
Note : The vacancies shown above are tentative and may increase or decrease.
Education Qualification : D Pharmacy/B Pharmacy/M Pharmacy course in AP Govt/AP Govt recognized institution. Must be registered with the AP Pharmacy council and AP Paramedical Board with upto date renewal.
Applications : Applications are invited from the qualified for the above said posts, from those candidates, who have not crossed the age of '42' years. Age relaxation for upper age limit to those candidates belongs to SC/ST/BC are '5' years and '3' years for Ex-Service Women and 10 years for Physically Handicapped Persons up to a maximum for 50 years. The maximum age will be reckoned as on 01.06.2020.
Method of Recruitment : a) 75% marks based on Aggregate of marks obtained in all the year in the qualifying examination i.e. GNM or B.Sc. (Nursing) / B.Pharma or D.Pharma b) 15% Weightage for experience of Government service including contract / out sourcing service for Tribal service 3 marks per year, for Rural service 2 marks per year, for Urban service 1 mark per year. c) Weightage for number of years since passing qualifying examination upto 10 marks 1 mark per completed year after acquiring requiste qualification.
How to apply :
Candidates can send the filled applications with the relevant documents directly or through post to the O/o District Coordinator of Hospital Services Chittoor on or before 04.07.2020 05:00 PM. The application forms can be downloaded from the below link and the following documents shall be attached for the purpose of scrutiny.
1. Marks memo of SSC ( or) equivalent certificate
2. Marks memos of all the years of qualifying examination i.e. GNM or B.Sc. (Nursing) / B.Pharma, D.Pharma.
3. Permanent registration certificate of A.P. Nursing & Midwives Council / A.P. Para Medical Board and its renewal registration on completion of '5' years period if any;
4. Latest caste certificate (in case of SC/ST/BC)
5. Study certificates from Class–IV to X where the candidate studied.
6. Latest Physically handicapped certificate /Ex-Servicemen (if applicable).
7. Candidates must submit the DD in favor of District Coordinator of Hospital Services Chittoor from any Nationalized Bank towards application fee of Rs.500/- for General candidate and Rs.200/-,for SC, ST candidates. Physically handicapped Candidates are exempted from application fee.
Note :-
i) If the Caste certificate / Physically handicapped certificate / Ex-Serviceman are not submitted, the candidate will be treated under OC.
ii) If the Study certificates are not submitted the candidate will be treated as Non-Local. ii) If the applications received after 04.07.2020 05:00 PM / without any of the above mentioned certificates such applications will be rejected.
Selection Process :-
A) Scrutiny of applications, display of merit list, selection list, conducting counseling and issue of appointment orders will be done by the District Coordinator of Hospital Services, Chittoor under the guidance of District Selection Committee headed by District Collector. B) Rule of Reservations will be followed as per the Rule 22 of AP State and Subordinate Services.
Conditions on Appointment:-
The candidate selected and appointed on contract basis shall not be regarded as a member of the service in which the post to which he/she is appointed, is included, and shall not be entitled by reason only of such appointment, to any preferential right to any other appointment in that or any other service. The department or the person may revoke the contractual appointment or discontinue the contract by giving one month's notice in writing on either side. This contract would automatically cease to operate on lapse of contract period and both parties will be discharged of their respective obligations and liabilities without any formal or informal communication.
Tenure :- Initially for a period of one year from date of joining in the post.
Leave :- The persons appointed on contract basis are entitled to only Casual leave on par with regular employees in the department.
Other Service Conditions:-
1. No private Practice is allowed during the contract period.
2. Shall reside at their bonafied headquarters.
3. Department reserves the right to transfer the contractual employees to another stations due to exigencies of work or on administrative reasons.
4. Disciplinary control in accordance with provisions of APCS (CCA) Rules, 1991.
5. All persons appointed on contract basis shall execute an agreement on a non-judicial stamp paper of Rs.100/- with two witnesses, and submit the same to the appointing authority concerned at the time of reporting for duty, agreeing to the terms and conditions of the contract.
DEBARMENT:-
1. Candidates should make sure of their eligibility to the post applied for and that the declaration made by them in the format of application regarding their eligibility in all respects. Any candidate furnishing incorrect information or making false declaration regarding her eligibility at any stage or suppressing any information is liable to be debarred from recruitment conducted by the department and summarily rejection of their candidature for this recruitment and future recruitments.
2. The department is vested with conducting recruitment and selection as per rules duly maintaining utmost secrecy and confidentiality in this process and any attempt by any one causing or likely to cause breach of this duty in such manner or by such action as to violate or likely to violate the fair practices followed and ensured by the Department will be sufficient cause for rendering such questionable means as ground for debarment.
DEPARTMENT'S DECISION IS FINAL
The decision of the Department / Dist. Selection Committee pertains to the application and its acceptance or rejection as the case may be, and conduct of counseling and at all consequent stages culminating in the selection or otherwise of any candidate shall be final in all respects and binding on all concerned under the powers vested with it. The Department/DSC also reserves its right and modify regarding terms and conditions laid down in the notification for conducting the various stages up to selection duly intimating details thereof to all concerned as warranted by any unforeseen circumstances arising during the course of this process.
Last Date : 04.07.2020; 05:00  PM
See All   D.Pharm Alerts   B.Pharm Alerts    M.Pharm Alerts    M.Sc Alerts
See All    Other Jobs  in our Database
Subscribe to Pharmatutor Job Alerts by Email