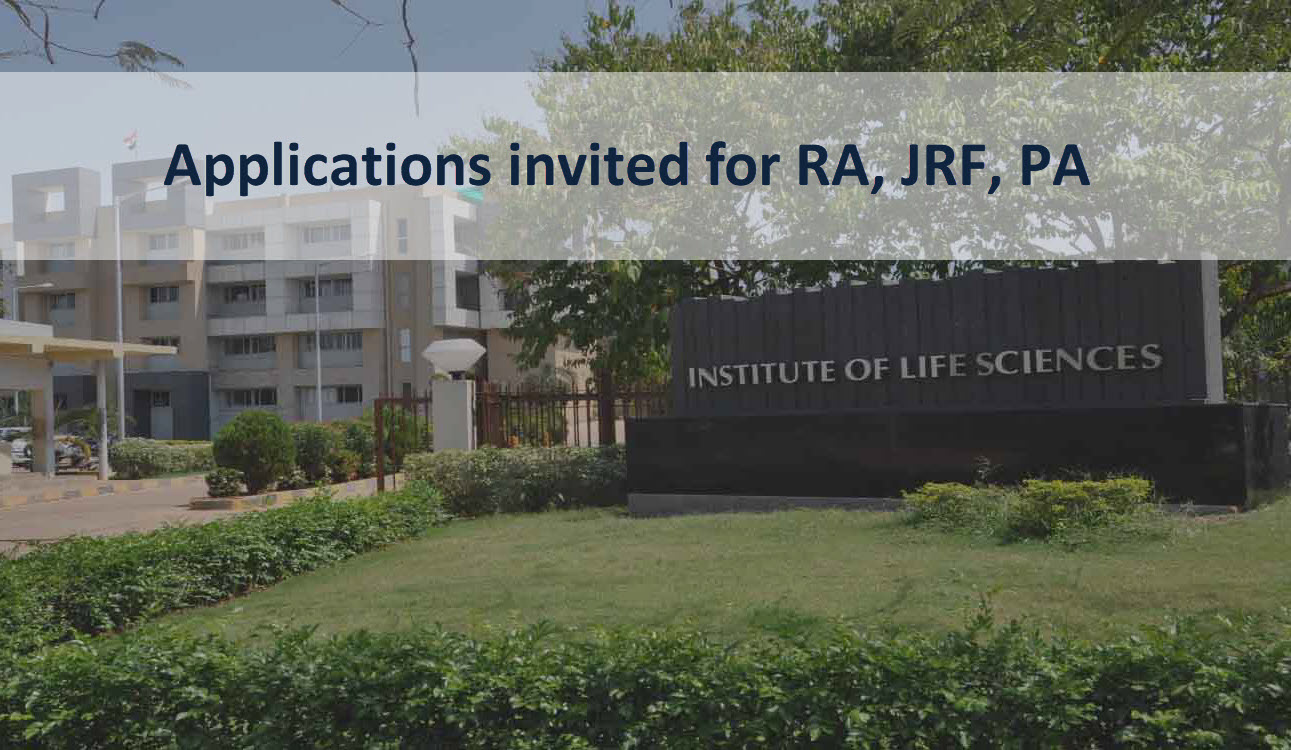 Institute of Life Sciences (ILS), Bhubaneswar is a leading national institute in India and is a multidisciplinary institute engaged in advanced research in area of Infectious Disease Biology, Cancer Biology, Genetic & Autoimmune Diseases, and Plant & Microbial Biotechnology.
Post : Research Associate-I, JRF/Project Associate-I
Project : DBT-Wellcome Trust Alliance project entitled 'Understanding the Role of IRGM-mediated innate immune responses in diseases.'
Fellowship :
1. Research Associate-I : Rs. 47,000/- + @16% HRA
2. JRF/Project associate-I : Rs. 31,000/- + @16%HRA
Eligibility :
Research Associate-I : Candidates having Ph.D. in any branch of Life Sciences are eligible to apply. Research experience in cell biology, cancer biology, and infectious diseases will be preferred. Candidate with first author paper in peer-reviewed journals (PubMed listed) will be preferred.
JRF/Project Associate-I : Candidates having M.Sc. or an equivalent qualification in Life Sciences or allied subjects such as Biochemistry/ Biotechnology/ Bioinformatics/ Microbiology, etc. with a minimum of 60% marks or an equivalent grade point (50% for OBC/ST/SC) are eligible to apply. Preference will be given to candidates having NET-JRF/NET-LS/GATE qualification.
For Non-NET/GATE applicants the amount of fellowship will be as per Govt. of India norms. Research experience in molecular biology, cell biology and biochemistry will be preferred. The candidate should be below 28 years in age, as on 20.06.2020. An age relaxation will be given as per Govt. of India rules.
Selection will be carried out through application screening, followed by an interview process.
Interested/eligible candidates may download application form from the institute website (ils.res.in ) and apply along with self-attested copies of mark sheets and certificates to "The Director, Institute of Life Sciences, Nalco Square, Bhubaneswar-751023. Super-scribe the envelope with Advt. No., the project title and the position name." Incomplete applications and applications without the above mentioned documents will be rejected.
Selected candidate will not have any right to claim explicit or implicit for any post in Institute of Life Sciences. The initial appointment will be until the end of the grant (31 March 2021) subject to satisfactory performance. Only names of short listed candidates will be published in the Institute website and separate call letter will not be issued. No TA/DA will be given for attending the interview. The decision of the Director regarding selection of the candidates will be final and no correspondence will be entertained in this regard.
1. Last date for receiving application : 20.06.2020
2. Date of display of shortlisted candidates in ILS website : 22.06.2020
3. Date & time of interview : Will be notified in the website
Note : All communication will be through e-mail. No separate call letter will be issued to the candidates.
See All  M.Pharm Alerts   B.Sc Alerts   B.Pharm Alerts   Bhubaneswar Alerts
See All   Other Jobs in our Database