Job for M.Pharm, B.Pharm, M.Sc in Manufacturing Compliance, QA, QC at Biocon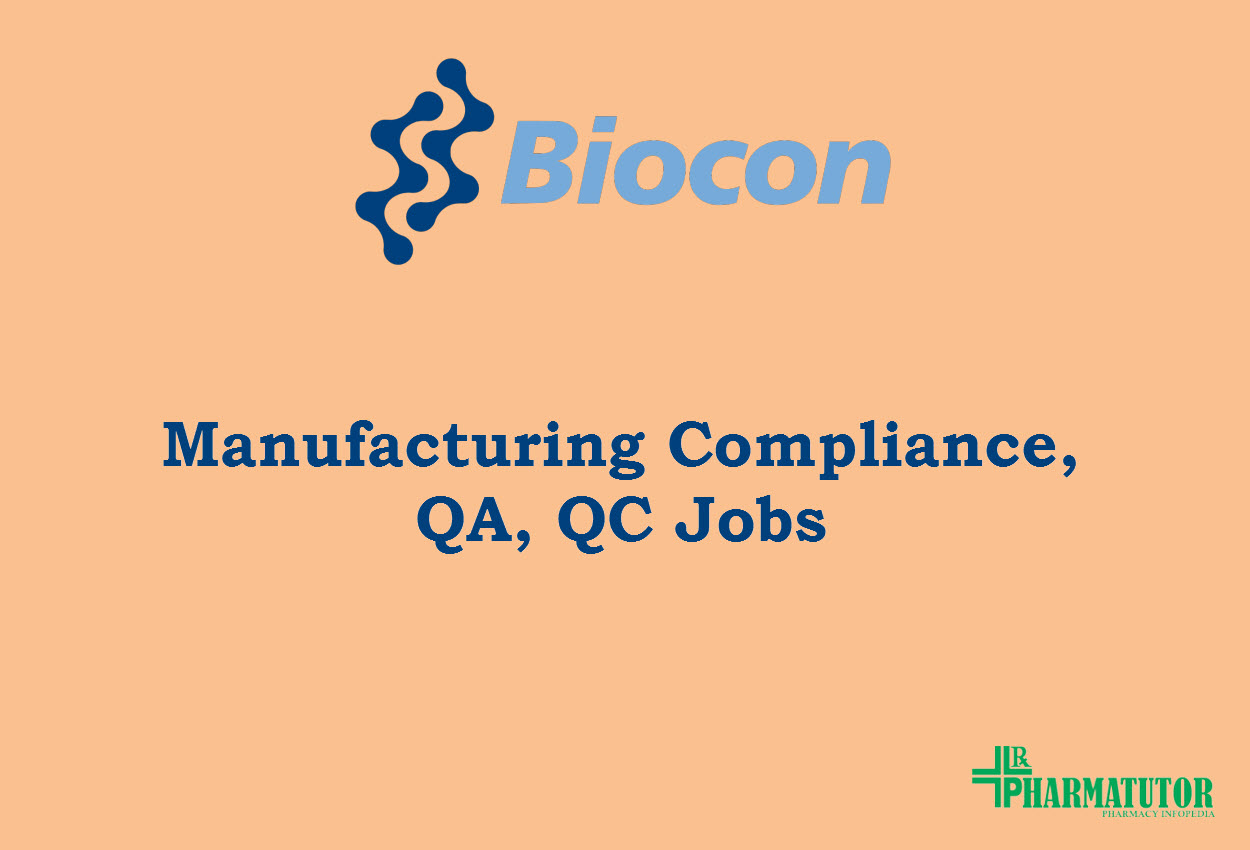 Biocon is a research-driven, global healthcare company with a strong matrix of capabilities along the biopharmaceutical value chain. Focusing on unmet medical needs in cancer, diabetes and inflammatory diseases, it offers novel therapies on a platform of affordable innovation.
Biosimilars - Manufacturing Compliance (QMS)
Qualification : BE/B.Tech/M.Tech/ M.Sc
Job details : 8+ years of relevant experience in bio-processes (Upstream/Downstream) and well versed with Compliance/Quality Management Systems like handling of deviations, change controls and CAPAs. Profiles with experience in cell culture/mAbs manufacturing processes would be an added advantage.
Interested candidates can share your profile at sushmitha.101@biocon.com
QA Department
Experience Range : 4 to 15
Job Description :
• Candidate must have working experience in biological background.
• Candidate should have knowledge towards IPQA activity in QA Department.
Interested candidates please share your updated resume to sivasakthivel.bbhrdcon07@biocon.com
Looking for the Talent with 5-15 years of experience with below skill set with qualification of M.Pharm / B.Pharm / M.Sc / B.Sc (Preferably from Biologics division)
Quality Assurance : IPQA, QMS, R&D, AQA, Documentation & Training Coordinator
Quality Control : QCAT, Biosimilars, Molbio & BioAssay, QC insulin & Micorbiology
Interested candidates can share their CV's to chundi.balakrishna@biocon.com
Job Location : Bangalore
See All   M.Sc Alerts   B.Pharm Alerts   M.Pharm Alerts    Ph.D Alerts
See All   Other Jobs  in our Database
Subscribe to Pharmatutor Job Alerts by Email