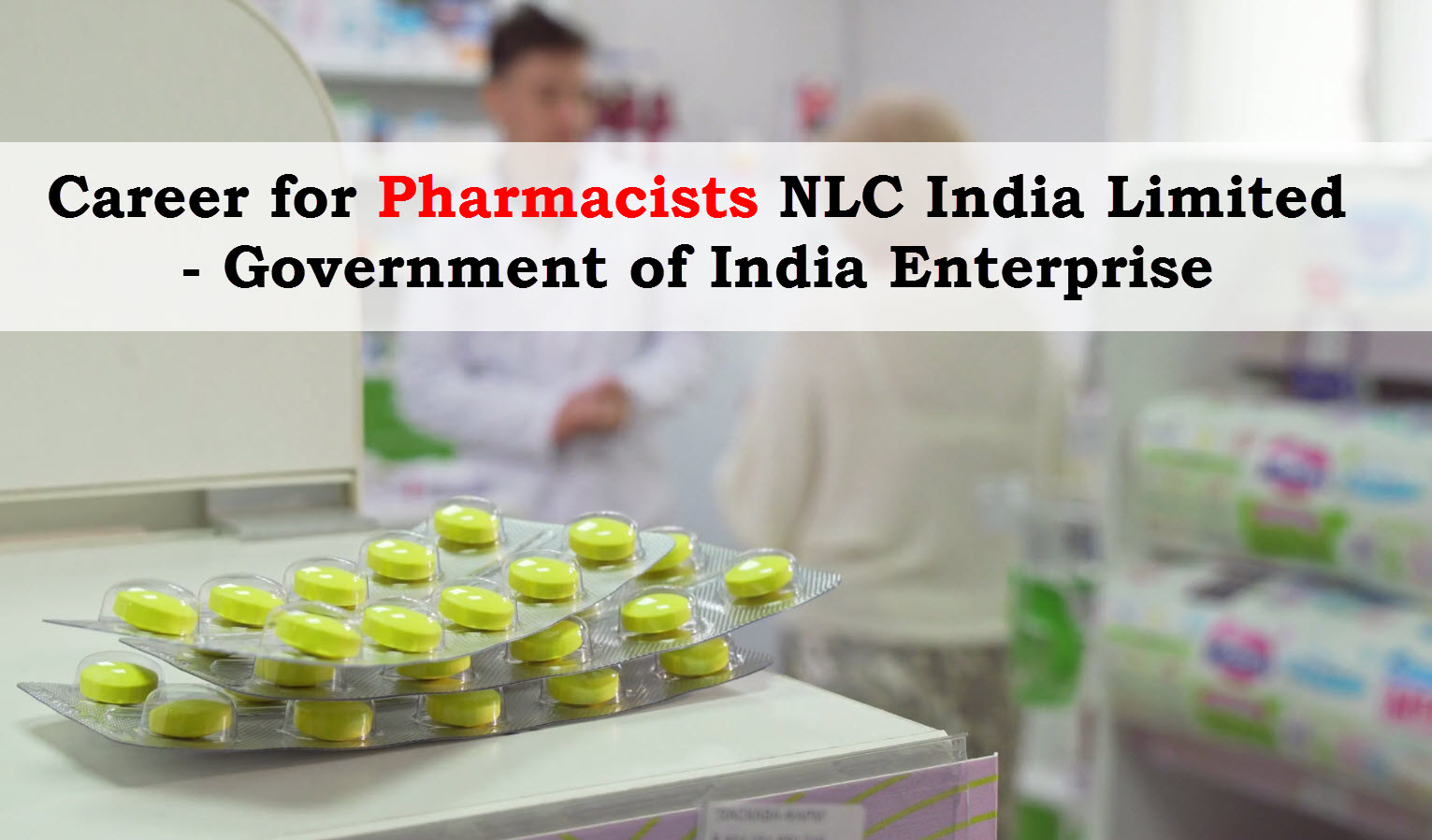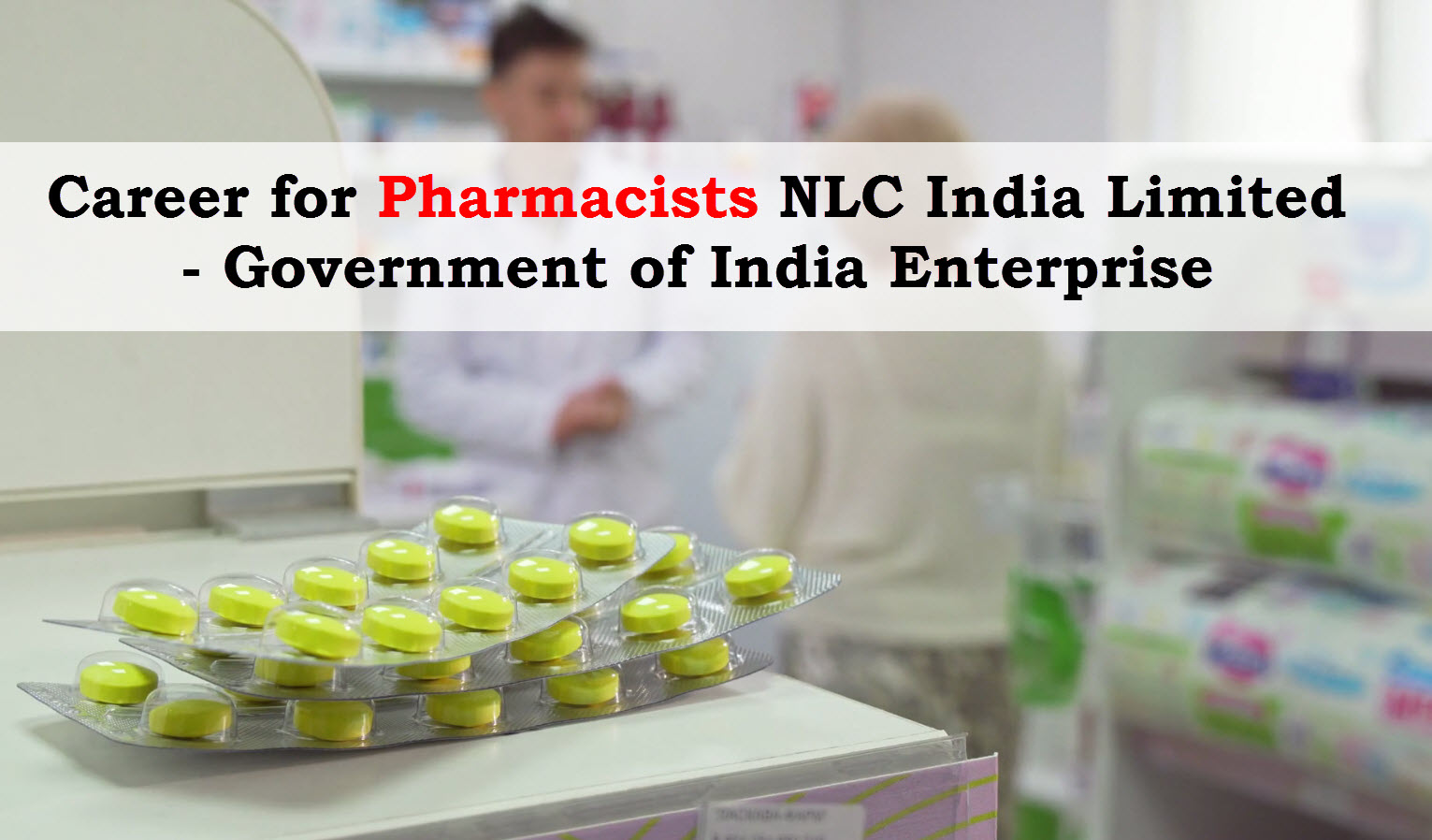 NLC India Limited (NLCIL), a premier 'NAVRATNA' Public Sector Enterprise with a present Annual Turnover of INR.7916.30 crore is spreading its wings in the frontiers of Mining (Lignite & Coal), Thermal Power generation and Renewable energy. The Corporate Plan of the company has many ambitious expansion schemes for massive capacity augmentation in the years to come.
Post : Pharmacist Gr-B (Ayurveda)
No of Posts : 02 (UR-02)
Educational Qualification
Diploma in Ayurveda Pharmacy with minimum duration of two years from recognized institution (or) Diploma in Integrated Pharmacy with minimum duration of two years from recognized institution (or) Degree in Ayurveda Pharmacy from recognized institution / University. (Minimum qualifying percentage of marks in notified qualification is 60 %)
Note-1:
i. Wherever there is no reservation for OBC (NCL) / SC / ST Categories, candidates belonging to such categories can apply against UR vacancies, provided relaxation for Minimum Qualifying percentage of marks does not apply to them against unreserved vacancies.
ii. The minimum percentage of marks in qualifying degree is 50% for internal candidates, irrespective of the category [UR/OBC (NCL)/SC/ST/PwBD] they belong to.
iii. Reservation for PwBD candidates is in accordance with Government of India Directives.
Note-2:
i. Qualifications notified above are sacrosanct. Any other qualifications, which are regarded / classified as equivalent or having combination of branches other than the notified one will not be considered.
ii. All qualifications should have been acquired from Indian Universities/Institutes, recognized by UGC or any other appropriate statutory authority in India.
Note–3:
i. For the purpose of calculating the aggregate final marks, the aggregate marks of all years / semesters / trimesters would be taken. Rounding of percentage (%) will not be acceptable under any circumstances, hence 60% of marks and above will only be considered.
Upper Age Limit :  Upper Age Limit, in years (As on Crucial date) : UR-03
Crucial Date :  Crucial date for claim of OBC (NCL)/ SC/ ST/ PwBD / Ex-Servicemen status or any other benefit viz. fee concession, reservation, upper age limit etc., were not specified otherwise, will be the first of the month in which the notification is issued (i.e., 01/12/2020). 
Induction :  Candidates joining NLCIL in the above posts will be placed in W5 Grade in the scale of pay Rs 22000-3%-90000 with a starting basic pay of Rs 22,000/-.
RESERVATIONS &RELAXATIONS:
1. Reservation and relaxations for SC/ST/OBC (non-creamy layer)/ EWS / PwBD (degree of disability 40% & above) & Ex-servicemen candidates will be as per Government of India guidelines.
2. Candidates belonging to SC/ST, PwBD & Ex-Servicemen categories are exempted from payment of application fee. However, they are required to pay a non-refundable amount of INR 236/- (Inclusive of 18% GST) towards Processing fee.
3. The Upper age limit is relaxable by 10 Years for Persons with Benchmark Disabilities. Reservation for Ex-Servicemen as per Govt. of India guidelines. However, in all the cases of relaxation, maximum age limit is 58 years as on Crucial Date.
4. Candidates belonging to OBC (NCL) / SC / ST categories should meet the eligibility norms notified for UR category for consideration against unreserved (UR) vacancies. In other words, OBC(NCL) / SC / ST candidates applying against unreserved posts shall be considered under general standard of merit and no relaxations (except payment of application fee for SC / ST candidates) shall be available for the candidates.
5. OBC Candidates belonging to "Creamy Layer" are not entitled to avail any concession otherwise extended to OBC (NCL) category. Such candidates have to indicate their category as UR.
6. PwBD candidates should possess valid disability certificate issued by a Competent Authority as prescribed vide the Rights of Persons with Disabilities Act, 2016 (RPWD Act, 2016). Such certificate shall be subject to verification/re-verification as may be decided by the Board/ competent authority.
7. Category (EWS/SC/ST/OBC/ PwBD /Ex-servicemen) once filled in the online application form will not be changed and no benefit of other category will be admissible later on. Candidates belonging to EWS/SC/ST/OBC/PwBD/Ex-servicemen are required to submit requisite certificate in the format prescribed by Government of India and issued by the Competent Authority.
8. Upper age limit indicated at para 2.0 does not apply to employees currently on the rolls of NLCIL or its Subsidiary companies /Joint ventures. However, they should have minimum 02 years of remaining service as on the crucial date. They are also exempted from payment of Application fee and processing fee.
METHOD OF SELECTION:
1. Candidates shall be evaluated for 100 marks in the following manner with intra allocation of marks indicated against each segment: -
Written Test
Norms for Awarding Marks : Objective type question to test the subject knowledge of the candidates (Total 100)
Marks). (The marks obtained out of 100 marks will be converted to 50 Marks.)
Maximum Marks : 50
Practical Test
Norms for Awarding Marks : By testing the practical skill of the shortlisted candidates in their respective domain.
Marks). 
Maximum Marks : 40
Weightage for Academic performance
Norms for Awarding Marks : By converting the aggregate percentage of marks scored by the candidates in the notified Degree / Diploma (as the case may be) to 10 marks
Maximum Marks : 10
2. Minimum qualifying marks in Written Test, Practical Test for various categories against reservation is tabulated below
UR% : 50%
OBC(NCL)% : 50% *
SC% : 50% *
ST% : 50% *
* Minimum Qualifying Marks in Written Test, Practical Test for Candidates belonging to OBC (NCL) / SC/ST Category applying against UR vacancies is 50%. Relaxation does not apply to them against unreserved vacancies.
3. Question Paper for Written Test will be in English language and will have 100 objective type questions carrying equal 01 mark each, with no negative marks for wrong answer. Duration of Written Test will be 120 minutes.
4. Successful candidates in Written Test will be shortlisted for Practical Test in the ratio of 1:6 in the order of merit based on the marks scored by them in Written Test against the number of vacancies notified in UR category, subject to scoring minimum qualifying marks prescribed for UR Category and where the number of such candidates are less than 1:6, all eligible candidates shall be considered for final selection. In case the number of notified vacancies are 05 or below for a post and number of eligible candidates to be called for final selection are higher than the prescribed ratio of 1:6, but less than 1:10, the prescribed norm 1:6 could be upto 1:10.
5. Candidates scoring minimum qualifying marks in both Written Test and Practical Test shall only be considered for final selection. Final selection shall be in the order of merit based on the total marks scored by the candidates (out of 100 marks) Written Test, Practical Test and Weightage for Academic Performance.
COMPENSATION PACKAGE AND OTHER BENEFITS:  1. Selected candidates will be placed in the pay scale of INR.22000-3%-90000 (W-5 Grade) and offered attractive compensation package (CTC approximately  Rs 5.91 Lakhs per annum). They will be paid Basic Pay, Dearness Allowance (presently 18.40% of basic pay) and Common Allowance (35% of basic pay) per month.  2. In addition to the above, they will be paid Unified Incentive annually and entitled for superannuation benefit (30% of basic pay + Dearness Allowance), free Medical treatment for self and dependents, HBA, Group Insurance; etc. as per rules. Eligible residential accommodation (unfurnished) will be provided depending on the place of posting at nominal rent.
GENERAL CONDITIONS:
1) Only Indian Nationals are eligible to apply.
2) Candidates who have Passed the notified qualification only are eligible to apply.
3) Candidates from PSE/Govt./Quasi Govt. should produce No Objection Certificate (NOC) at the time of Selection.
4) Depending on the response and requirement, NLCIL reserves the right to raise / relax the eligibility conditions.
5) Candidates are informed that mere submission of applications shall not give them any right to be called for Selection.
6) NLCIL reserves the right not to fill up any or all the posts notified at its discretion and vacancies may also be increased/decreased depending upon organizational requirements.
7) Travelling Expenses (To & Fro to the extent of II-Class sleeper Train fare by the shortest route from the Communication address to the selection venue) shall be reimbursed to the candidates belonging to SC/ST/PwBD/Ex-servicemen categories shortlisted for selection, subject to production of proof of journey performed, along with reservation and the tatkal booking charges, if any.
8) The appointment of selected candidates will be subject to being found Medically Fit as per the prescribed health standards of NLCIL and they will be required to undergo medical examination by the Industrial Medical Officer of the Company, prior to being appointed after due selection.
9) Candidates to be called for selection shall be permitted to attend Written Test/Practical Test without physical verification of original documents / certificates prior to Written Test. Their eligibility shall be ascertained based on the information furnished by them online and copies of documents / certificates submitted. Their candidature shall be provisional at all stages of selection and NLCIL shall have the right to reject their candidature at any stage of selection. Verification of original documents will be conducted after the selection process and prior to joining for the provisionally selected candidates alone.
10) If the SC/ST/OBC (NCL)/ EWS/Disability certificate has been issued in a language other than English/ Hindi, the candidates should submit a selfcertified translated copy of the same either in English or Hindi.
11) Candidature of a registered applicant is liable to be rejected at any stage of recruitment process or after recruitment or on joining, if any information provided by the candidate is false or if not found to be in conform it with eligibility criteria mentioned in the advertisement, the Candidate's employment will be terminated.
12) Candidates already removed / terminated / deserted their employment from NLCIL will not be considered.
13) Persons already resigned from NLCIL may also apply, subject to fulfilling the notified eligibility criteria.
14) A candidate who has availed Voluntary Retirement (VR) from CPSE/PSU/State PSU/Central Govt./State Govt. and having received ex-gratia payment as VR compensation can also apply provided that he/she is prepared to repay/return the VRS compensation to the PSU from where he has received such compensation to the extent required as laid down in the VR scheme/relieving letter and other Govt. rules as applicable at the time of VR. If such candidate who has got VR is selected by NLCIL the appointment order would be sent to such person only after getting clearance from the PSU concerned about their payment of ex-gratia compensation. Further all instructions / guidelines of Government of India issued in respect of VRS will also apply apart from the above.
15) NLCIL reserves the right to cancel/restrict/enlarge/modify/reopen/alter the recruitment process, if the need so arises, without issuing any further notice or assigning any reason thereof.
16) Candidates can contact the Helpline No.04142-255135 between 10:00 Hours and 17.30 Hours on all working days i.e., Monday to Saturday or write to online.recruitment@nlcindia.in. Candidates are here by advised not to contact telephone numbers of any other officials /divisions.
HOW TOAPPLY?
1) Candidates should apply only through online mode NLCIL Online Application Portal in NLCIL website nlcindia.com.
2) No manual / paper applications will be entertained and candidates are advised not to send any hard copy to this office.
3) Before registering / applying online, the candidates should ensure that they have valid e-mail ID, which should remain valid at least for one year, or till the recruitment process is completed.
4) Candidates should upload required scanned copies of documents / certificates in prescribed format to establish their eligibility.
5) Scrutiny of applications for short listing of candidates for written examination will be solely based on documents / certificates uploaded by the candidates at the time of registration / submission of application through ONLINE.
6) After submitting applications through ONLINE, candidates should take a print out of registration cum application form and produce it along with selfattested copies of certificates / documents, at the time of document verification.
7) Candidates should submit single application only for any post. In case of multiple applications / registrations for any post, the last registered application shall only be considered.
8) The Online application portal will be active from 10:00 hours on 18/12/2020 to 17:00 hours on 07/01/2021.
PAYMENT OF APPLICATION FEE:
1) Candidates are required to pay a non-refundable amount towards Application fee & Processing fee through e-payment (i.e. State Bank Collect) as below
UR / EWS / OBC (NCL) candidates
Application Fees : INR 250 / -
Processing Fees : INR 236 / - [INR 200/- plus INR 36/- (18% GST)]
Total Fees : INR 486 / -
SC /ST / PwBD/ Ex-servicemen candidates
Application Fees : Exempted/ -
Processing Fees : INR 236 / - [INR 200/- plus INR 36/- (18% GST)]
Total Fees : INR 236 / -
2) Candidates belonging to SC/ST/PwBD & Ex-Servicemen categories are exempted from paying application fee. However, they have to pay a nonrefundable amount of INR 236/- (Inclusive of 18% GST) towards Processing fee.
3) The application fee mentioned above does not include service charges or any other charges that bank may levy.
4) The amount paid towards application fee / processing fee will not be refunded under any circumstances.
5) Detailed instructions for making online payment are available in login page of NLCIL Online Application Portal.
IMPORTANT DATES
Opening of On-line submission of application Date & Time : 18.12.2020 at 10:00 hrs
Closing of On-line submission of application Date & Time : 07.01.2021 at 17:00 hrs
Last Date for On-line payment of Fees : 07.01.2021 at 23:45 hrs
See All   D.Pharm Alerts   M.Sc Alerts   B.Pharm Alerts   Government Jobs
See All   Other Jobs  in our Database