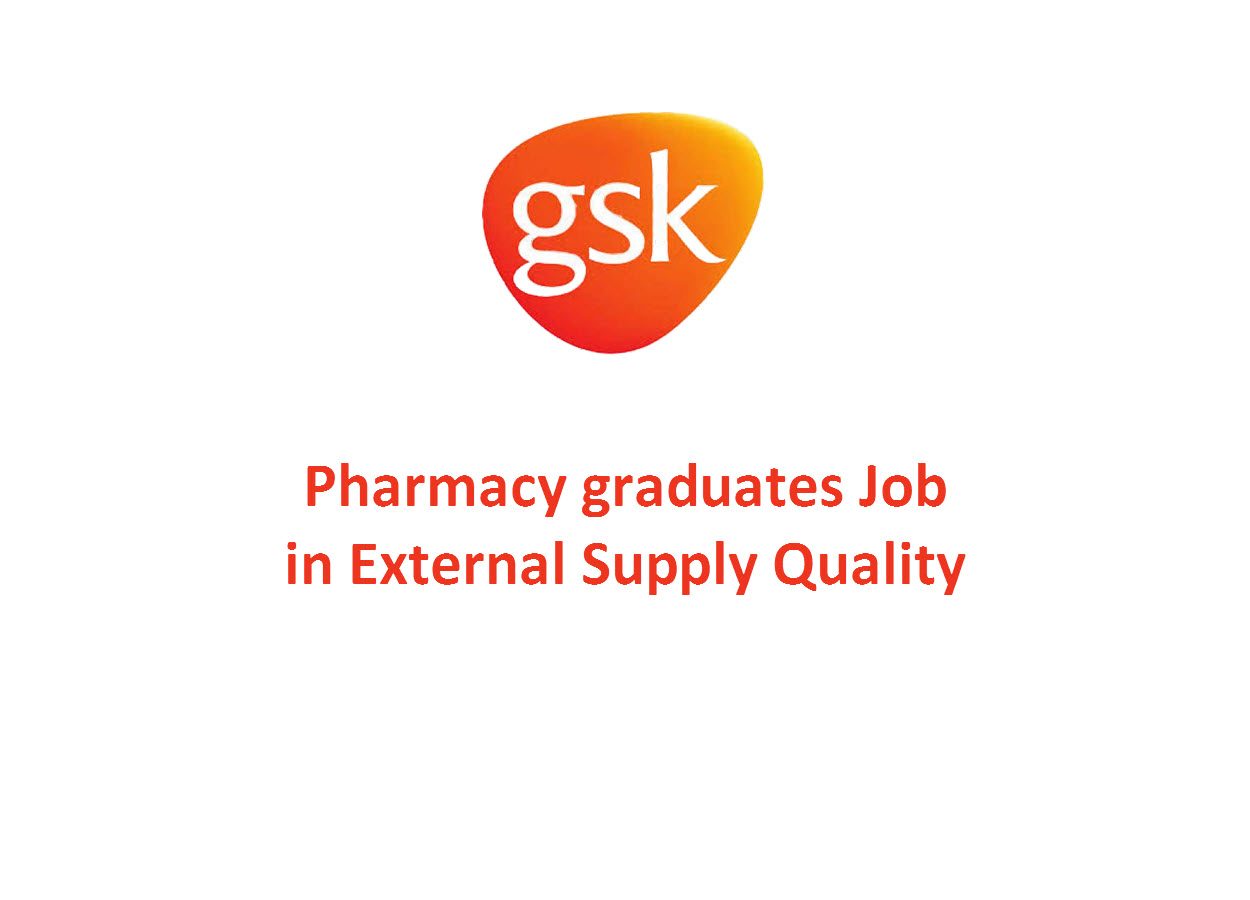 GlaxoSmithKline Pharmaceuticals Ltd. (GSK Rx India) is one of the oldest pharmaceuticals company and employs over 5000+ people. Globally, we are a £ 27.4 billion, leading, research-based healthcare and pharmaceutical company. In India, we are one of the market leaders.
Post : Executive - External Supply Quality
Job description
Job Purpose
• To ensure support to business by management of Raw and Packaging material supplier management.
• To support resolution of supplier related complaints by acting as interface between procurement, site Q representatives and Supplier Quality Ops.
• To support Business in introducing new vendors (API, Excipients & Primary packing materials) and coordinating for validations and stability strategies through change management process.
• To Provide support to CMO sites with respect to Microbial method.
• To support Analytical method, transfer w.r.t Microbial method at new/existing sites to support Product transfers.
• To support MERPs team, For implementation of MERPs process.
Supplier Management :
• To ensure that the RM, PM used for manufacturing GSK products are only obtained from GSK approved manufacturers and suppliers.
• Preparation of Approved Supplier list on timely basis and updating as and when required.
• To prepare adequate Risk Assessment / STP for usage / discontinuation of material from disapproved and conditionally approved supplier.
• To provide information to CMOs and site representatives about usage or discontinuation of material from disapproved suppliers.
• To Conduct LIC for the supplier disapprovals.
• To support Site Q representatives for disposition of materials required for production.
• To maintain supplier complaint log with all the relevant details.
• To ensure that all supplier related complaints are resolved in stipulated time period in coordination with suppliers.
• To identify repeat complaints from RM/PM supplier and follow-up with Procurement / ES technical / Supplier Quality Ops for resolution and support.
• To follow up with supplier quality Operation for escalated complaints.
• To provide continuous support to improve business performance by support to Procurement function and Supplier Quality Ops., where required.
• To provide the supplier complaint KPI to SQOps.
• To provide Data collection form to SQA&C as the pre-audit data collation details for supplier audit.
• Approval of SQOPS change control related to supplier change control details relevant to ES site suppliers
Others
• To raise Change controls/Deviation related to revision of Approved Supplier List.
• Preparation / Revision of SOP as per QMS gap assessment.
• Ensure a site of inspection readiness for above mentioned activities.
• To perform the activities assigned by the supervisor as and when required.
Candidate Profile :
• Graduate in Science / Pharmacy discipline
• Preferably 1 to 5 years' experience in Corporate Quality Assurance and in Pharmaceuticals formulations, in Supplier Management, , Documentation and SOP management.
• Demonstrated experience in managing w.r.t microbial method transfers and method verification.
• Good knowledge of Microbiological and QC analysis/ Documentation/ Regulatory requirements and Quality Management System.
• Effective verbal and communication skills, collaborative team member & team leader.
• Capable to work independently.
• Area of Specialization : Quality Assurance / Pharmaceutical Sciences/ Microbiology
Additional Information
Experience : 1-5 years
Qualification : B.Pharm, B.Sc
Location : Maharashtra - Worli Mumbai
Industry Type : Pharma / Healthcare/ Clinical research
Functional Area : Quality
Req ID : 261786
End Date : 25th September, 2020
See All   B.Pharm Alerts   M.Pharm Alerts    Ph.D Alerts   Bangalore Alerts
See All   Other Jobs  in our Database