Job for Pharmacists(06 posts) due to COVID-19 outbreak - Government Jobs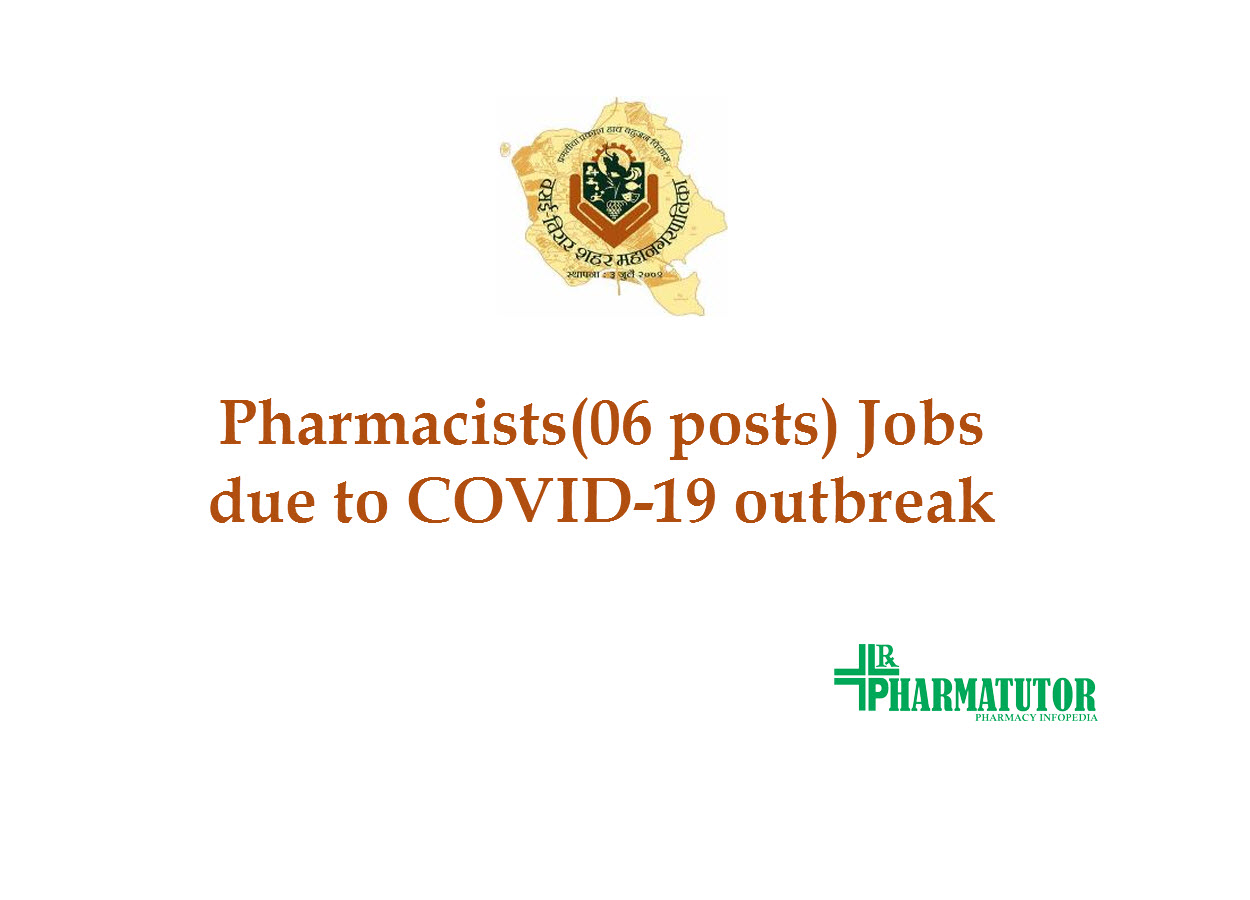 Corona Virus (COVID - 19) Infection in the Symptom Cell  Additional health care officers and staff may be needed to cope with outbreaks.  Candidates wishing to work on contract basis for this post should submit their application in full details at Walk in Interview at Vasai Virar Municipal Corporation Medical Health Department, Head Office.
Post : Pharmacist
No of Posts : 6 or as per requirement
Qualification : Passed the examination (Science) branch in higher secondary schools and Diploma in Pharmay (D.Pharm). Registration of Pharmacy Council of India required.
Salary : Rs 20,800/- pm
Terms and Conditions :
1. The period for the above posts is 6 months or till the end of Corona (Covid 19) outbreak, whichever happens earlier.  However, if further service is required, the decision to extend the term after checking the services, behavior etc. of the candidate has been reserved by the Hon'ble Commissioner Vasai Virar City Corporation. 
2. The Hon'ble Commissioner shall have the right to increase or decrease the above posts.
3. The age limit will be up to 50 years. 
4. After scrutiny, the final decision to select the right candidates will rest with the Hon'ble Commissioner, Vasai Virar City Corporation. 
5. As this service is temporary, the selection of candidates will be done according to the local conditions and needs.  No inquiries should be made over the phone. 
6. Considering the district boundary ban and traffic ban, if the candidate resides in Vasai Virar Municipal Corporation area, he will be given first preference. 
7.  Eligible candidates are required to fill up the agreement in the prescribed format after the interview. 
8. These candidates will not be able to claim to remain in the municipal service.  Also they will not be allowed permanent employee benefits. 
9. Preference will be given to the first come first served candidate during the recruitment process. 
10. Candidate has to provide his service within 3 days after selection.  However, if the candidate does not appear, the next candidate on the waiting list will be served, the concerned should note. 
11. All the rights during the recruitment process are vested in the Hon'ble Commissioner, Vasai Virar City Corporation.
How to apply : Vasai Virar Municipal Corporation Medical Health Department, 4th Floor, Ward Committee C, Multipurpose Building, Virar (East) with full details from 01/08/2020 to 08/08/2020 in the 11:00 am morning application Should be submitted excluding public holidays.  Necessary documents should be submitted along with the application.  How to get service on contract / contract basis: Applications will be accepted after checking the original documents while accepting the application.  After scrutiny of the documents, the candidates who have academic qualifications and experience will be selected through direct interview.  Candidates for these posts will be hired as per requirements after direct interviews.
See All   D.Pharm Alerts   B.Pharm Alerts   M.Sc Alerts   Mumbai Alerts
See All   Other Jobs in our Database
Subscribe to Pharmatutor Job Alerts by Email