Opportunity for Pharmacists (17 posts) at Pandit Raghunath Murmu Medical College & Hospital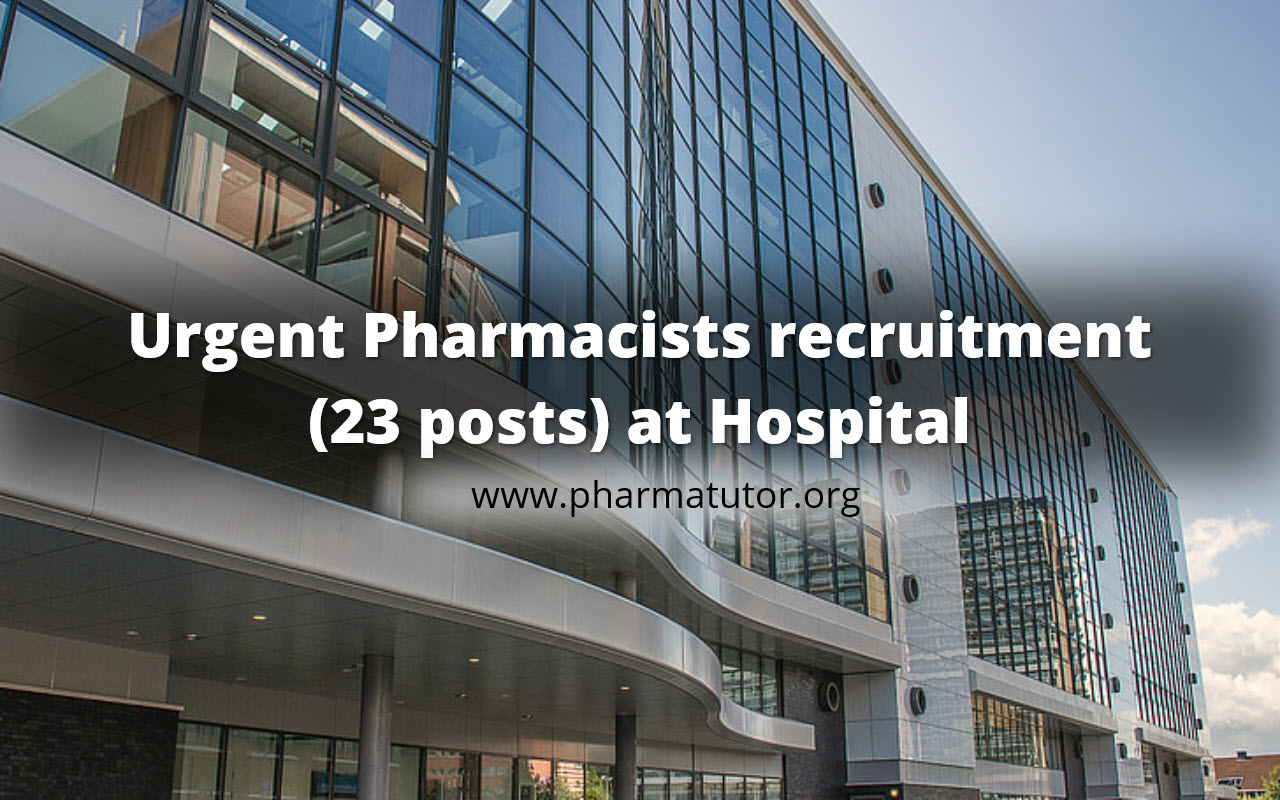 In view of spread of COVID 19 in the country and detection of positive cases in the state and in obedience to the instructions of Govt, of Odisha H& FW dept no. 8907 dated 23.03.2020,and in order to augment the health workforce at PRMMCH, Baripada, it has been decided to engage the staff nurses and other paramedical staff upto 65 years of age on DAILY WAGES, as per the Labour and ESI Dept. Notification No. 11688/LC dated (Pharma) 07.11.2019 along with the special incentive for COVID-19. The engagement shall be given till 30th June 2020 and may be extended further if situation so warrants. The engagement is purely temporary and can be terminated at any point of time without assigning any reason thereof.
Post : Pharmacist
No of posts : 17
Wages as per ESI Dept, notification and Covid-19 Incentive : Daily Wages@Rs.388/- per day Daily COVID Incentive @Rs.612/-perday Total@Rs.1000/- per day
Qualification : Must have passed +2 science examination under council of Higher Secondary Education, Odisha/Equivalent and Diploma in Pharmacy from Govt. Medical College & Hospitals of the state/any other recognized private institutions duly approved by A.I.C.T.E. and examination conducted by the Odisha Pharmacy Board.
Eligibility Criteria :
Nationality:- She / he must be a citizen of India
Age limit: - She / he must have attained the age of 21 years and must not be above the age of 65 years on the date of advertisement for the post.
Knowledge in Odia:- The candidate must:
a) Be able to read, write and speak Odia;
b) Have passed middle school examination with Odia as language subject; or
c) Have passed Matriculation or equivalent examination with Odia as medium of examination in non - language subject; or
d) Have passed in Odia as language subject in final examination of class - VII from a school or educational institution recognized by the Government of Odisha or the central Government; or have passed a test in Odia in Middle English School standard conducted by the School and Mass Education Department.
Registration: The candidate must have registered her/ his name in respective council in the state and have possessed valid registration certificates as on the date of advertisement.
No personal query will be entertained. Incomplete application in any form is liable for rejection. The authority reserves the right of accepting / rejecting any application without assigning any reasons thereof.
Terms & Conditions:
1. This engagement is purely temporary for the purpose of the emergency and not a regular government appointment and is not against any specific post.
2. The employer i.e Superintendent of PRM MCH, Baripada, will require the shortlisted candidate to work at any of the duty positions as per his/ her qualification on a daily wage basis. No candidate will have any lien or right to any post since no such post exists.
3. Since all the engagements are technical requiring professional skill the candidates who are engaged after the short listing process will have to demonstrate a professional competency at his workplace commensurate to his qualification failing which his services shall be discontinued.
4. The employer presumes that all documents (soft copies) and declarations made by the willing candidates in favour of their personal and professional details and qualifications are true and if any fraud is detected at a later date even if the candidate is already engaged he/ she will be promptly arrested and handed over to the Town PS for prosecution under appropriate sections of IPC.
5. This engagement is based on willingness-to-serve and no comparison of candidates will be made to ascertain any superiority over one another.
6. No inter-se-merit list will be prepared and the employer does not intend to give any preference or weightage to any candidate for any reason.
7. The process of engagement will be done in three steps:
8. STEP 1:
On or after 01.04.2020 all willing and eligible candidates (as per annexure-1) will upload from their personal mail: (LAST DATE OF SUBMISSION SUBJECT TO EVOLVING SITUATION)
a) Their OWN SELFIE PHOTOGRAPH (ON THE DATE OF APPLICATION)
b) OTHER DETAILS BY EMAIL AS PER CHECKLIST A.
9. STEP 2:
10. All the submissions will be line listed in chronological order as per their time of receipt in the inbox of the mail id: covid19.prmmch@gmail.com.
11. After verification and scrutiny of the submissions the eligible candidates will be contacted by telephone for interview (preferably by video-call if bandwidth permits at both ends).
12. The employer will make all attempts to verify the professional identity of the candidate from the reference submitted by him/ her and will be an important criteria for consideration of eligibility.
13. The candidates found eligible after consideration by the selection panel will be listed in an empanelled list where the person who applied earlier will be ahead of the person who applied after. The list will remain valid irrespective of the number of engagements available now since it is a dynamic process and if people already engaged leave or do not turn up after a few days of work the next person in the list will be offered engagement.
14. Persons on the empanelled list will be offered engagement by the employer by email and Whats app subject to availability of slots. EMPANELLMENT DOES NOT CONFER ANY RIGHT OF OFFER OF ENGAGEMENT ON THE CANDIDATE. It is purely the discretion of the employer based on emergent situation.
15. STEP 3: 
16. After getting offer from the employer, the candidates who are willing to serve may come directly with self-attested photocopies and original of documents asked by the employer to the office of the undersigned and report for duty.
See All   D.Pharm Alerts   M.Sc Alerts   B.Pharm Alerts   Government Jobs
See All   Other Jobs  in our Database
Subscribe to Pharmatutor Job Alerts by Email