TOTAL PHENOLIC AND FLAVONOID CONTENT OF DIFFERENT EXTRACTS OF INDIGOFERA TINCTORIA LINN
Preliminary phytochemical analysis of different extracts
S.No

CHEMICAL TEST

Aque
ous

Ethanol

Chloro
form

Ace
tone

Ethyl acetate

Pet ether

Hydro Alcoholic

1

Alkoloids

+

+

+

+

+

+

+

2

Glycosides

+

+

--

+

-

-

+

3

Flavonoids

+

+

+

+

-

-

+

4

Saponins

+

+

+

+

+

+

+

5

Steroids

+

-

-

-

+

-

-

6

Carbohy
drates

+

+

+

+

+

+

+

7

Protiens

+

+

-

-

-

-

+

8

Tannins

+

-

+

+

+

+

+

9

Phenolic Group

+

+

+

+

-

-

+
+ = present, - =Absent
Preliminary phytochemical analysis revealed that the presence of flavonoids and Phenolics abundantly. Besides this hydroalcoholic extracts shows presence of  alkaloids, glycosoide, proteins, saponons, carbohydrates, Tannins, Proteins.
In the present study, total phenolic content present in Indigofera tinctoria Linn extract was estimated using modified Folin- ciocalteau method and total flavonoid content by aluminium chloride assay method. The results of total phenolic and total flavonoid content  and ratio of total flavonoids/phenolic content of Indigofera tinctoria Linn were represented in table II. The data clearly indicating that Indigofera tinctoria Linn, medicinal herb is rich of phenols and flavonoids. Aqueous extract contains more phenolic and flavonoid content in comparision with other solvent extracts.
Conclusion:
Phenolics are the widely spread as secondary metabolites in plant kingdom(Aleemuddin MA et al, 2012). These are potential natural antioxidant and act by efficient radical scavengers and metal chelator(Tapas et al., 2008). Aqueous extract of Indigofera tinctoria Linnleaves and ethanolic extract of stem and root of Indigofera tinctoria Linnis a potential source of phenols and flavonoids. Further deeper studies have to be carried out to isolate new natural molecules.
Tables and figures:
Table 1 percentage of yield of Indigofera tinctoria Linnextract
| | |
| --- | --- |
| Solvent | Yield of extract(%) |
| Aqueous | 23.3 |
| Ethanol | 14.2 |
| Ethyl acetate | 3.3 |
| Chloroform | 3.8 |
| Acetone | 5 |
| Petroleum ether | 0.6 |
Table II Total phenolic and flavonoid content of leaves extract of Indigofera tinctoria
| | | | |
| --- | --- | --- | --- |
| solvent | Total phenolics mg GAE/100g fresh mass | Total flavonoids mg QC/100g fresh mass | Flavonoids/Phenolics |
| Aqueous | 73.48 | 55.9 | 1.31449 |
| Ethanol | 67.43 | 50.11 | 1.34564 |
| Chloroform | 8.09 | 2.2 | 3.677273 |
| Acetone | 5.93 | 3.85 | 1.54026 |
| Ethyl acetate | 25.29 | 18.99 | 1.331754 |
| Petroleum ether | 55.26 | 43.01 | 1.284817 |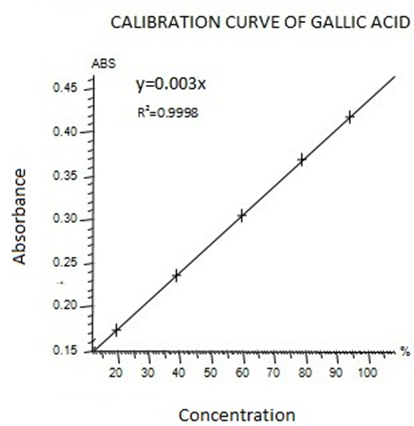 Figure I standard calibration curve of Gallic acid
FigureII standard calibration curve of Quercetin
REFERENCES:
Amrithpal Singh. Medicinal Plants of the World, Special indin edition, Oxford & IBH" Publishing Co.Pvt  Ltd, ,  New delhi( 2006):168.

Renukadevi KP and Suhani Sultana S. "Determination of Anti bacterial, Antioxidant and Cytotoxicity effect of Indigofera tinctoria on Lung cancer cell line NCI-h69". International journal of pharmacology.;7(3):356-362, (2011)

Anju  puri,Tanvir khaliq,Rajendran SM,Geetika Bhatia, Ramesh Chandra and Tadigoppula Narender. Antidyslipidemic activity of indigofera tinctoria. Journal of Herbal Pharmacotherapy.7(1): 59-64 (2007).

Amarnath V Bangar and MG Saralaya. Anti Hyperglycemic activity of ethanol extract and chloroform extract of Indigofera tinctoria leaves in streptozotocin induced diabetic mice. Research Journal of Pharmaceutical , Biological and Chemical Sciences. 2(1) 445-455  (2011).

Thiruvanmiyoor Ravichandran,Kameswaran and Ravichandran Ramani ,The Anti proliferative acitivity of Biological Sciences;1-7, (2008).

Pramod  KTyagi K. Preliminary phyto chemical Screening and Evaluttion of Anti -  inflammatory activity of Ethanolic extract of leaves of Indigofera tinctoria.;3(1):47-50 (2010)

Gunasekaran Balamurugan and Shinnaraj Selvarajan. Preliminary Phytochemical  Screening and Anthelmintic Activity of Indigofera tinctoria Linn. International Journal of Drug development and Research. 1(1):157-160, (2009)

Nadkarni K M, Indian meteria medica, 3rd revised enlarged edition, Ramdas Bhatkat for popular prakashanpvt. LtdMumbai.( 2002);680-681

Amandeep kaur, Rana A.C, Vineeta tiwari , ramica Sharma and sunil kumar, Review on ethanomedicina and pharmacological properties of Ficus religiosa, J.App.Pharm.Sci. 2011, 1 ( 8 ), 06-11.

Charles S. Buer, Nijat Imin and Michael A. Djordjevic, Flavonoids: New Roles for Old Molecules, Journal of Integrative Plant Biology (2010), 52 (1): 98–111.

David Hoffmann, Medical herbalism: the science and practice of herbal medicine, inner traditions and bear &co(2003),103.

Jeevan K. Prasain,y Chao-Cheng Wang,y and Stephen Barne, Mass spectrometric methods for the determination of flavonoids in biological samples, Free Radical Biology & Medicine (2004), 37( 9),1324–1350,

Krishnarao Mangeshrao Nadkarni,. Nadkarni A. K. Indian materia medica, 3, Vol 1, Bombay, Popular Book Depot, (1955);371.

Maria Kratchanova, Petko Denev, Milan Ciz, Antonin Lojek and Atanas Mihailov, Evaluation of antioxidant activity of medicinal plants containing polyphenol compounds. Comparison of two extraction systems,acta biochimica polonica,(2010),57(2) 229–234.

Marinova D, F. Ribarova, M. Atanassova, Total Phenolics and Total Flavonoids in Bulgarian Fruits and Vegetables, Journal of the University of Chemical Technology and Metallurgy, (2005),40( 3), 255-260.

Nagulendran KR. S. Velavan, R. Mahesh and V. Hazeena begum, In Vitro Antioxidant Activity and Total Polyphenolic Content of Cyperus rotundus Rhizomes, E-Journal of Chemistry(2007), 4, (3),440-449.

Patel N, Raval S, Goriya H, Jhala M,Joshi B, Evaluation Of Ant Diabetic Activity Of Indigofera tinctoria LinnIn Alloxan –Induced Diabetes In Rat, J Herb Pharmacother (2007);7(1):13-23.

Raj Narayana K., M. Sripal Reddy, M.R. Chaluvadi, D.R. Krishna, Bioflavonoids classification,pharmacological , biochemical effects and therapeutic potential, Indian Journal of Pharmacology (2001); 33: 2-16.

Sujata V. Bhat, Bhimsen A, Nagasampagi, Meenakshi sivakumar,Chemistry of natural products,Birkhauser(2005),585-587.

Sukhdev Swami Handa, Suman Preet Sing Khanuja, Gennaro Longo, Dev Dutt Rakesh, Extraction technologies for medicinal and aromatic plants, Italy, (2008), 23.

Tapas AR , DM Sakarkar1, and RB Kakde, Flavonoids as Nutraceuticals: A Review, Tropical Journal of Pharmaceutical Research, (2008); 7 (3): 1089-1099.

White Law Anisile. Materia Indica, Vol II, Rees, London, Longman, Orme, Brown, and Green, (1826);435-436.

Wilfred vermerries, Ralph Nicholson ,Phenolic Compound Biochemistry,springer(2006), 2-3.

Amrith Singh ,2006 Medicinal plants of the world,  Mohan Primlani for Oxford&IBH Publishing Co.Pvt.Ltd ,New Delhi, Special Indian Edition ,168.

Aleemuddin MA et al, (2012). Total Phenolic and Flavonoid Content of Different Extract of Coldenia procumbens Linn. Journal Of Pharmacy Research ( New Journal BioMedRx), 5(4)., 2012.
NOW YOU CAN ALSO PUBLISH YOUR ARTICLE ONLINE.
SUBMIT YOUR ARTICLE/PROJECT AT articles@pharmatutor.org
Subscribe to Pharmatutor Alerts by Email
FIND OUT MORE ARTICLES AT OUR DATABASE
Pages