REVIEW ARTICLE ON ANTIMICROBIAL, ANXIOLYTIC AND MUSCLE RELAXANT ACTIVITY OF ECLIPTA ALBA (BHRINGRAJ)

About Authors:
Nishtha mukherjee
Shri ram institute of technology
jabalpur (m.p.) 482002
Nishthamukherjee210@gmail.com
ABSTRACT: Eclipta alba offers a remarkable activities for curing of many diseases. It has wide range of chemical constituents. Clinical investigations have been done on pharmacological activities like hepatotoxicity, proliferative, diabetic, hypolipedemic etc. Eclipta alba leaves were collected and dried. Furthur aquous and ethanolic extract were prepared and evaluated for anti microbial, anxiolytic and muscle relaxant activity.

Reference Id: PHARMATUTOR-ART-1584

INTRODUCTION
ECLIPTA ALBA: ECLIPTA ALBA (L.) is a small branched annual herbaceous plant with a long history of traditional medicines uses in many countries espicially in tropical and subtropical region. The herb has been known for its curative properties and has been utilised as antimytotoxic, analgesic, antibacterial, antihepatotoxic, antihyperglycemic, antioxidant, immunomodulatory properties and it is considered as a good rejuvenator too.
Eclipta alba (L.) is an annual herbaceous plant, commanly known as false daisy. It is an erect or prostate, much branched, roughly hairy, annual, rooting at the nodes, the leaves are opposite, sessile and lanceolate.Belonging to family Asteraceae.It is also known as Bhringaraj and Karisilakanni, which is found a comman weed throughout India ascending up to  6000ft. The genus name comes from the Greek word meaning "Deficient," with reference to the absence of the bristles and awns on the fruits. The specific Eclipta alba means white which refers to the color of the flower. Main active principle consist of constituents like furanocoumaris, oleanane and taraxastane glycosides.

1.     Eclipta alba(L.) Hassk. (syn.Eclipta prostrata L.), commonly known as False Daisy , yerba de tago, and bhringraj, is a plant belonging to the family Asteraceae.
2.       Root well developed, cylindrical, greyish. It is also named 'kehraj' in Assamese and karisalankanni in Tamil. Floral heads 6-8 mm in diameter, solitary, white, achene compressed and narrowly winged.
3.       It grows commonly in moist places as a weed all over the world. It is widely distributed throughout India, China, Thialand and Brazil.
4.       In ayurvedic medicine, the leaf extract is considered a powerful liver tonic, rejuvenative, and especially good for the hair.
5.       A black dye obtained from Eclipta alba is used for dyeing hair and tattooing.
6.       Eclipta alba also has traditional external uses, like athlete foot, eczema and dermatitis, on the scalp to address hair loss and the leaves have been used in the treatment of scorpion stings.
7.       It is used as anti-venom against snakebite in China and Brazil (Mors, 1991). It is reported to improve hair growth and colour.

GEOGRAPHICAL SOURCE
Eclipta alba has been used in various parts of tropical and subtropical regions like south America,Asia ,Africa.There are three kinds of eclipta alba the white flowering, the yellow flowering and tha black fruiting,but all three grow throughout India by marshes, rivers, and lakes or on the  foot hills of the himalayas.
Macroscopy: It is an erect or prostrate, much branched, roughly hairy, annual, rooting at the nodes, the leaves are opposite, sessile and lanceolate ,The specific Eclipta Alba means white which refers to the colour of the flowers.Flower heads have 6 to 8 mm in diameter,solitary, white, achene compressed and narrowly winged. Root well developed, cylindrical, greyish.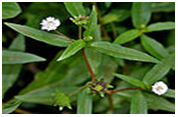 Plant is bitter, hot, sharp, dry in taste and is used in ayurveda & "siddha" for the treatment of Kapha and Vata imbalances. In India, the plant is known as bhangra, "bhringaraj" or bhringraja. Another plant Widelia calendulacea is also known by the same name, but Eclipta has white flowers so called white bhangra and Widelia has yellow flower so it is called yellow Bhangra.

PHYTOCHEMISTRY
Eclipta alba (L.) contains wide range of active principles which includes coumestans, alkaloids, flavonoids, glycosides, polyacetylenes, triterpenoids. The leaves contain stigmasterol, a-terthienylmethanol, wedelolactone, demethylwedelolactone and demethylwedelolactone-7-glucoside. The roots give hentriacontanol and heptacosanol. The roots contain polyacetylene substituted thiophenes.The aerial part is reported to contain a phytosterol, P-amyrin in the n-hexane extract and luteolin-7-glucoside, P-glucoside of phytosterol, a glucoside of a triterpenic acid and wedelolactone in polar solvent extract. The polypeptides isolated from the plant yield cystine, glutamic acid, phenyl alanine, tyrosine and methionine on hydrolysis. Nicotine and nicotinic acid are reported to occur in this plant.

Parts containing chemical constituents
| | | |
| --- | --- | --- |
| Sl.No. | Parts | Chemical constituents |
| 1 | Leaves | Wedelolactone[1.6%], Desmethylwedelolactone,Desmethyl-wedelolactone-7-glucoside, stigmasterol |
| 2 | Roots | Hentriacontanol, Heptacosanol& Stigmasterol, Ecliptal, Eclalbatin. |
| 3 | Aerial parts | P-amyrin & Luteolin-7-O-glucoside, Apigenin, Cinnaroside, Sulphur compounds, Eclalbasaponins I-VI |
| 4 | Stems | Wedelolactone |
| 5 | Seeds | Sterols, Ecliptalbine (alkaloid) |
| 6 | Whole plant | Resin, Ecliptine, Reducing sugar, Nicotine, Stigmasterol, Triterpene saponin, Eclalbatin, Ursolic acid, Oleanolic acid |
NOW YOU CAN ALSO PUBLISH YOUR ARTICLE ONLINE.
SUBMIT YOUR ARTICLE/PROJECT AT articles@pharmatutor.org
Subscribe to Pharmatutor Alerts by Email
FIND OUT MORE ARTICLES AT OUR DATABASE
Pages