MANUFACTURING DOCUMENTATION IN PHARMACEUTICAL INDUSTRY- DEVELOPMENT AND IMPLEMENTATION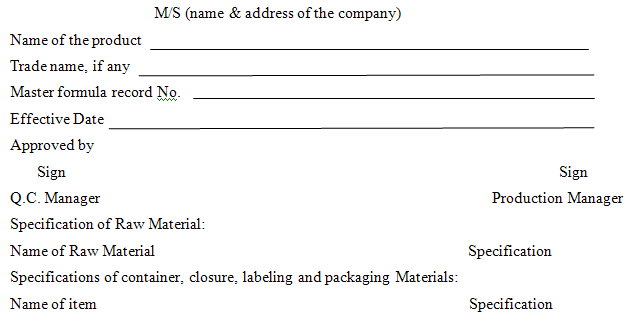 Specification of Raw Material:
Name of Raw Material              Specification
Specifications of container, closure, labeling and packaging Materials:
Name of item                 Specification
Weighment sheet:
Dispensing instructions:
List of Equipment and Machinery (may be appended as annexure):
Manufacturing Instruction including in-process controls to be exercised
Packaging Material Requirements ( requisition and issue formats);
Packaging instruction:
Precautions to be taken
Finished product specification
Expiry date
Review due on (Sharma P.P)
BATCH MANUFACTURING RECORD
Batch manufacturing record is a product and batch specific document designed to give a complete and reliable picture of the manufacturing history of each batch of every product.
Batch manufacturing record shall be essentially based on the master formula record and shall be compiled, checked, approved and authorized by competent technical person responsible for production and quality control. Photo reproduction, or such other system (e.g. computer printouts) shall be preferred to avoid transcription errors provided, however, there are adequate safeguards to prevent unauthorized re-production.
·         Name of the product
·         Batch number
·         Date of commencement & completion of significant intermediate stage
·         Name of  the person responsible for each stage of production
·         Initials of operators who carried out significant processes and initial of persons who checked, wherever applicable
·         Quantity, batch number, quality control report number of each ingredient actually weighed and amount of any recovered material added
·         In-process controls carried out their results and signature of person who performed
·         Theoretical yield & actual yield at appropriate stage of production together with explanation, if variation beyond expectation observed
·         Authorization of any deviation, if made
In addition to the mandatory ( schedule U, drugs & cosmetics rules, 1945 ) requirement, the batch manufacturing record should also include; (D.H. Shah, Sharma P.P)
FOR TABLETS
M/S (name & address of the company)
s.no.

Ingredients

In order of

mixing

Standards

Q/C report

No.

Label

Claim

Quantity required

Quantity

Actually

Used

Remarks

%

Overages

1

2

3

4

5

6

7

8

 

 

 

 

 

 

 

 
MIXING
DRYING
Date

Start

Time

Close

Time

      Name of persons responsible for

Stripping

Other packg.

Stripping

Checking

Counting & filling In boxes

 

 

 

 

 

 
Total quantity packed
Date of completion
Quantity collected as sample by Q/C department
Reconciliation of labeling & packaging material
Label

Foil

Printed cartons

Requisitioned

Received

Used

Returned

Destroyed

Destroyed on

Destroyed by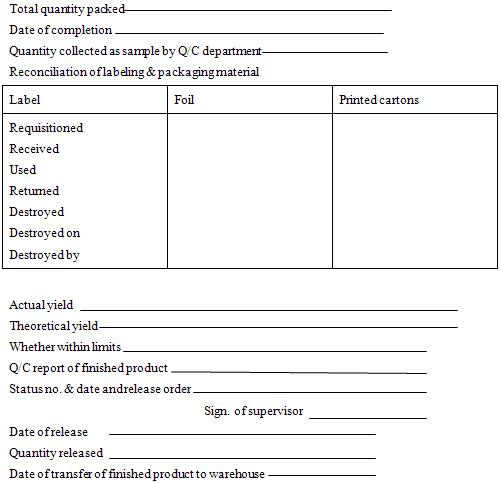 BATCH PACKAGING RECORDS
In fact, batch packaging record is a part of batch process record. These records are based on packaging instruction. One important operation that should be carried out before packaging operation is line purging. WHO guidelines require that following information should be recorded at the time of each action
·         The name , batch number & quantity of the bulk finished product to be packed
·         Theoretical yield & actual yield and reconciliation
·         The date and time of the packaging operations
·         The name of the responsible person carrying out the packaging operations
·         Initial of the operators of the different significance step
·         In-process control checks & the checks made for identity & conformity with the packaging instruction
·         Detail of packaging operation like equipment and the packaging lines used, when necessary, the instruction for keeping the product unpacked or a record of unpacked product sent back to storage area
·         Sample of printed packaging material used, bearing the batch number, expiry date and any additional over printing;
·         In any case of problem, if any deviation made, written authorization for the same;
·         Quantity along with identification of different packaging materials issued, used, destroyed and/ or returned to store and reconciliation. (Sharma P.P)
STANDARD OPERATING PROCEDURES (SOP)
The terms standard operating procedure and standing operating procedure, both abbreviated by the initialism, SOP, occur in a variety of different contexts, such as healthcare, education, industry, the military, etc.
One of the important activities in the implementation GMPis preparation of SOPS. One may very well ask why should there be SOPS. One of the objectives of GMPS is consistency in quality. Consistency in quality can be achieved by minimizing sources of quality variation. SOPS can be defined as written documents specifying the procedure that must be followed to carry out operation. One of the purposes of SOPS is to reduce the introduction of errors and variation in the operation. The other purpose of sops is of historical perspective i.e. how an operation was carried out.
1)                  An SOP is a written document or instruction detailing all steps and activities of a process or procedure. These should be carried outwithout any deviation or modification to guarantee the expected outcome. Any modification or deviation from a given SOP should be thoroughly investigated and outcomes of the investigation documented according the internal deviation procedure. (wikipedia.org/wiki/Standing_operating_procedure)
All quality impacting processes and procedures should be laid outin Standard Operating Procedures (SOPs).
Benefits of SOP
1. To provide people with all the safety, health, environmental and operational information necessary to perform a job properly. Placing value only on production while ignoring safety, health and environment is costly in the long run. It is better to train employees in all aspects of doing a job than to face accidents, fines and litigation later.
2. To ensure that production operations are performed consistently to maintain quality control of processes and products. Consumers, from individuals to companies, want products of consistent quality and specifications. SOPs specify job steps that help standardize products and therefore quality.
3. To ensure that processes continue uninterrupted and are completed on a prescribed schedule. By following SOPs, you help ensure against process shut-downs caused by equipment failure or other facility damage.
4. To ensure that no failures occur in manufacturing and other processes that would harm anyone in the surrounding community. Following health and environmental steps in SOPs ensures against spills and emissions that threaten plant neighbors and create community outrage.
5. To ensure that approved procedures are followed in compliance with company and government regulations. Well-written SOPs help ensure that government regulations are satisfied. They also demonstrate a company's good-faith intention to operate properly. Failure to write and use good SOPs only signals government regulators that your company is not serious about compliance.
6. To serve as a training document for teaching users about the process for which the SOP was written.Thorough SOPs can be used as the basis for providing standardized training for employees who are new to a particular job and for those who need re-training.
7. To serve as a checklist for co-workers who observe job performance to reinforce proper performance. The process of actively caring about fellow workers involves one worker coaching another in all aspects of proper job performance. When the proper procedures are outlined in a good SOP, any co-worker can coach another to help improve work skills.
8. To serve as a checklist for auditors. Auditing job performance is a process similar to observation mentioned in the previous item only it usually involves record keeping. SOPs should serve as a strong basis when detailed audit checklists are developed.
9. To serve as an historical record of the how, why and when of steps in an existing process so there is a factual basis for revising those steps when a process or equipment are changed. As people move from job to job within and between companies, unwritten knowledge and skills disappear from the workplace. Properly maintained written SOPs can chronicle the best knowledge that can serve new workers when older ones move on.
10.  To serve as an explanation of steps in a process so they can be reviewed in accident investigations. Although accidents are unfortunate, view them as opportunities to learn how to improve conditions. A good SOP gives you a basis from which to being investigating accidents.
(pharmainfo.net/reviews/standard-operating-procedures-sop-back-bone-pharmaceutical-industries)
Some guidelines are given below to prepare SOPS.
(i)                 Give a clear & descriptive title to each SOP.
(ii)               Provide sufficient details. The SOP should meet the need of an individual, all the same, it should be general enough for more than one user.
(iii)             Flexibility should be written in the SOP wherever appropriate but it should not be made too general for, it may be useless in meeting its intended purpose
(iv)             Organize SOPs according to order of sequence of events involved in performing the operation. Write the text in straight forward and easy to follow manner.
(v)               After drafting SOP, use it in performing the operation to ensure that it has sufficient details to perform the operation in intended manner.
(vi)             Take into account the instructions from the manufacturer of the equipment which is employed in performing the operation while drafting SOP.
(vii)           Indicate total number of pages so that user is certain that he is performing the complete operation.
(viii)         Indicate the effective date of the SOP.
The best way to prepare SOPs is to involve at least one person from each work area. The person selected should be asked to write down the procedure of the operation with details and the precautions to be taken. The written down procedure should be discussed by a group of persons intimately connected with the operation. Modifications, if any, should be made. This should be handed over to the person who has been designated as coordinator. The coordinator should rewrite it is needed to bring uniformity in style & format.
NOW YOU CAN ALSO PUBLISH YOUR ARTICLE ONLINE.
SUBMIT YOUR ARTICLE/PROJECT AT articles@pharmatutor.org
Subscribe to Pharmatutor Alerts by Email
FIND OUT MORE ARTICLES AT OUR DATABASE
Pages