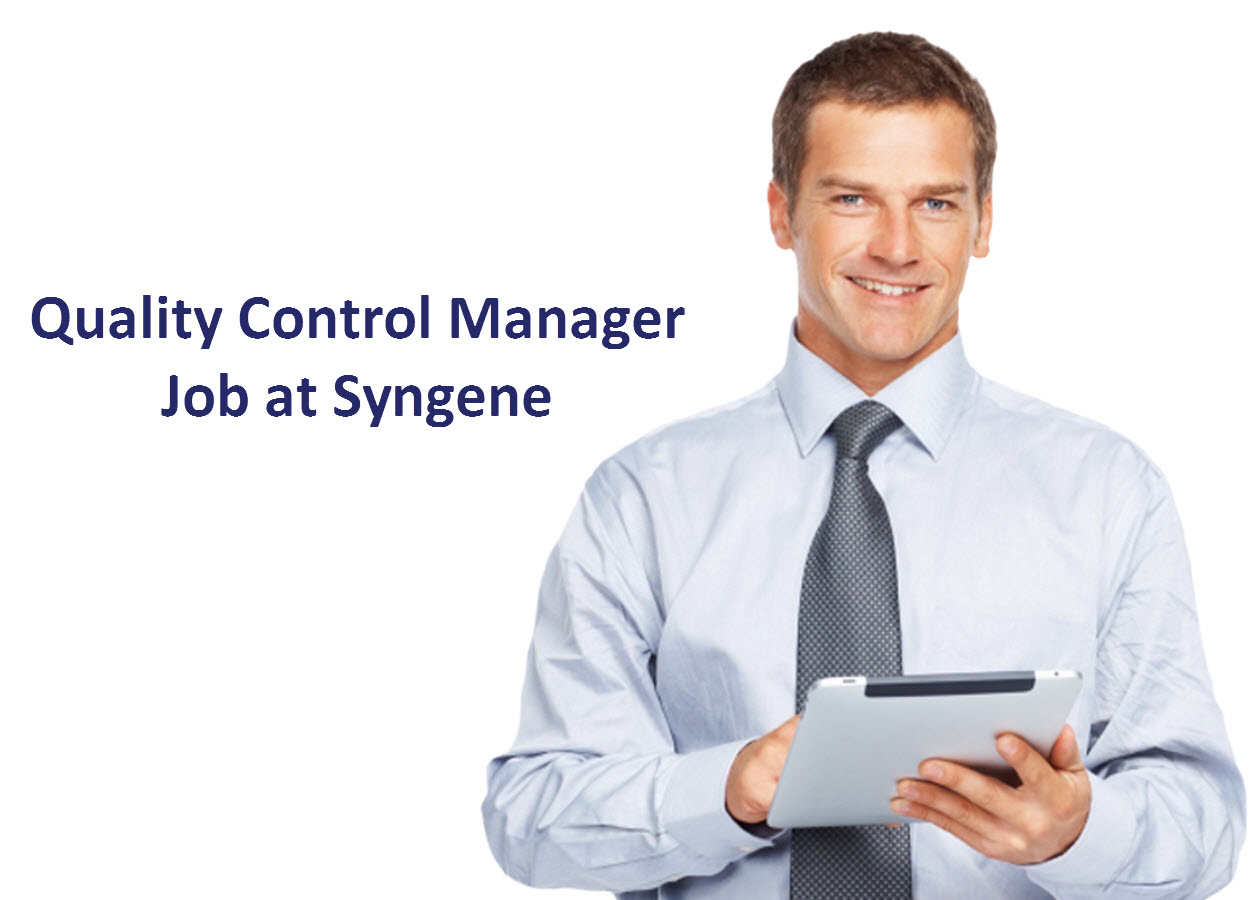 Syngene International Ltd. is an innovation-focused global discovery, development and manufacturing organization providing integrated scientific services to the pharmaceutical, biotechnology, nutrition, animal health, consumer goods and specialty chemical industries around the world. Syngene' s clientele includes world leaders such as Bristol-Myers Squibb, Baxter, Amgen, GSK, Merck KGaA and Herbalife.
Post : Manager - Quality Control
Job Purpose : 
This role involves in Quality Control operations, services and ensure compliance to Good Manufacturing Practices and other regulatory requirements.   
Key Responsibilities
• Experience in handling of analytical method validation activities and reference standard qualification.
• Experience in handling of instrument calibration and instrument qualification activities.
• Knowledge in cGMP, ICH, USP and other pharma regulatory guidelines.
• Interaction with client and project team for the smooth functioning of the projects.
• Must have experience in training the team members for GMP activities in QC.
• Must have experience in 21 CFR Part 11 compliance environment and data integrity practices.
• Must have experience in lab safety and personnel safety.
• Must have expertise in analytical troubleshooting in QC.
• Preparation of capital and revenue budget, manpower projection and recruitment.
• Coordination with the instrument vendor and maintenance activities.
• Experience in handling of Laboratory incidents and deviations.
• Responsible for ensuring the samples are analyzed, reported within agreed SLA /TAT.
• Leading a Quality Control (API/DP) Standard Qualification and Special Instrumentation Section.
• Ensure that human errors in laboratory are monitored, reviewed, reduced and controlled within justifiable limits.
• Ensure that failures such as OOS, OOT and LIR are adequately investigated, root cause identified and CAPA identified and implemented.
• Ensure that quality management system documentations are closed within the stipulated timelines mentioned in respective SOPs.
• Ensuring all members of Quality Control undergoes the required training and their knowledge and skills are updated to perform the duty efficiently.
• Ensure all equipment in the laboratory are functioning according to GMP requirements and are efficiently utilized.
• Interaction with QA, Production, R&D, regulatory and other departments for the functioning of QC lab.
• Interaction with EHSS department for lab /personnel safety.
• Budgeting for Quality Control Department.
• Recruitment of personnel to the Quality Control Department.
• Ensure regulatory surveillance needs are responded to in a timely manner and actions are taken to correct non-compliances.
• Ensure SOPs are written adequately and are complied with fully for each operation. Ensure no deviations between SOP and Practices.
• Knowledge on 21 FR part 11 compliance requirement, ICH and FDA guidelines.
• Awareness about Data Integrity policies/procedures, lab safety and personnel safety
• Experience in the handling of QMS (laboratory incidents, deviations, OOS and OOT).
• Possess the knowledge and exposure to environment, health, and safety (EHS) practices
• Follow environment, health, and safety (EHS) requirements at all times in the workplace ensuring individual and lab/plant safety
• Ensure environment, health, and safety (EHS) measures are imparted via training and adhered within the team.
Candidate Profile
• M.Sc. Chemistry / M. Pharma
• Must have experience in Quality Control (APIs & oral solid dosage forms) with reputed pharmaceutical company/CRO.
• Familiar with Chromatography and Non-Chromatography Analysis of Drug Substances and Drug Product. Well experienced in Analytical techniques using scientific instruments like LCMS, ICP-MS, ICP-OES, TGA, DSC, GCMS, HPLC, GC, KFT, HPLC, FTIR, UV, NMR, Polarimeter, KF/Auto Titrator, COulometry and Conventional Methods.
• Hands on experience in LIMS (Labware), Chromeleon as an added advantage.
• 15 plus Years of Industrial Experience in reputed Pharmaceutical Quality Control Department.
• Effective Communication Skills (Oral communication & presentation skills)
• Ability to influence people
• Adaptability/Flexibility
• Motivational Skills
• Problem Solving skills
• Influencing skills
• Managing Conflict
• Team Leadership
• Interpersonal Skills
• Personal Integrity
Additional Information
Job ID : 14861
Qualification : M.Sc. Chemistry / M. Pharma
Location : Bengaluru, Karnataka
Industry Type : Pharma / Healthcare / Clinical research
Functional Area : Quality Control - API
End Date : 30th September, 2020
See All    Bangalore Alerts   B.Pharm Alerts   M.Pharm Alerts  Mohali Alerts
See All   Other Jobs in our Database