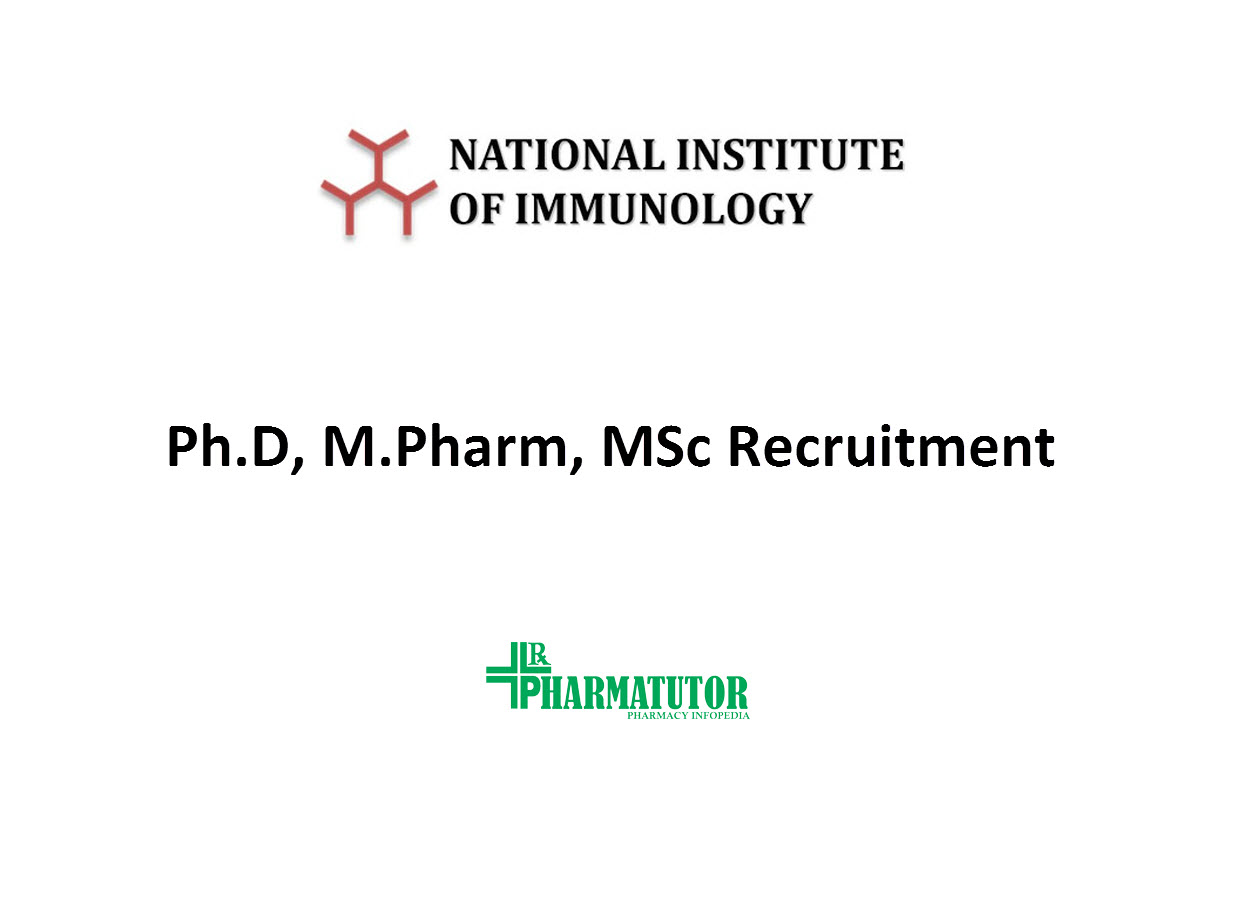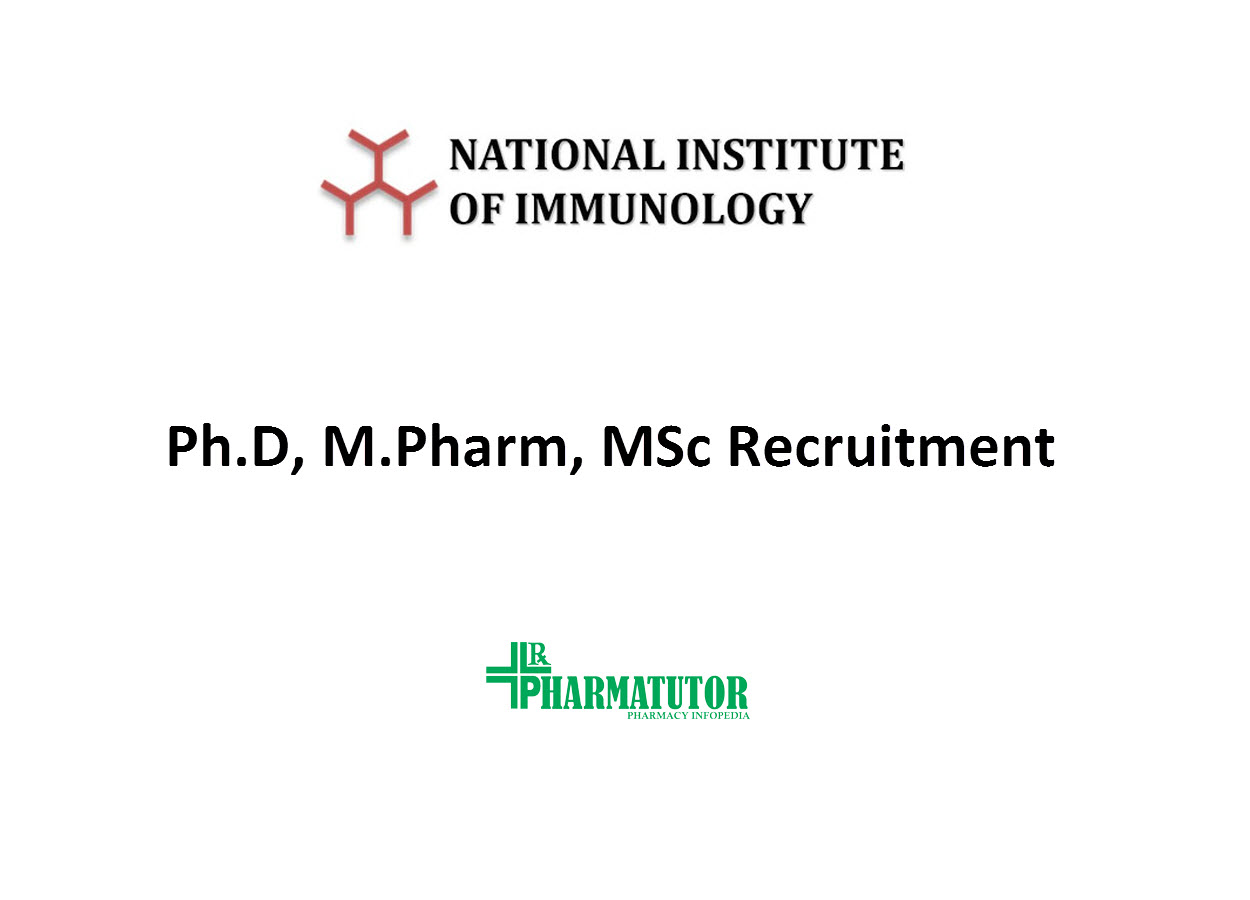 The National Institute of Immunology, New Delhi, is a leading research Institute in India with a long-standing reputation for scientific excellence. The institute is equipped with state-of-the-art infrastructure for pursuing research in immunology and allied sciences. The Institute also imparts vigorous long-term research training leading to a Ph.D degree.
The Institute invites applications from early as well as mid-career scientists, with potential for intellectual leadership and passion for innovative research to set up independent research programmes in the areas of (but not restricted to) Immunology, Virology, Microbiology, Structural, Chemical and Molecular Biology, Immunology and Vaccines, Infectious and Autoimmune Diseases, Metabolic Disorder and Chronic diseases, Structural and Computational Biology, Genetics, Cell and Developmental Biology to address immunological problems at the expanding interface of modern biology for filling 2 positions of Staff Scientist-III and 5 positions of Staff Scientist-IV as per details given below.
Staff Scientist-III (2 Vacancies)
Remarks : 1-EWS 1-for Persons with benchmark disabilities (deaf and hard of hearing)
Pay Level (7th CPC) : 11
Qualifications and Experience : Ist class M.Sc with 5 years experience or Ist class M.Tech/ MD/ MVSc/ M.Pharm/ M.Biotech with 4 years R&D experience OR Ph.D with 4 years postdoctoral experience in the relevant field.
Upper Age Limit : 40 years
Staff Scientist-IV (5 Vacancies)
Remarks : 2-OBC 1-SC 1-ST 1-EWS
Pay Level (7th CPC) : 12
Qualifications and Experience : Ist class M.Sc with 9 years experience or Ist class M.Tech/ MD/ MVSc/ M.Pharm/ M.Biotech with 8 years R&D experience OR Ph.D or corresponding degrees in other disciplines with original work as evidenced by patents or publications. Evidence of leadership with about 8 years of R&D experience.
Upper Age Limit : 50 years
NOTE:-
(i) The vacancies advertised also include anticipated vacancies. The Institute reserves the right to withdraw any/all the advertised post/s at any time without assigning any further reasons.
(ii) All candidates except who had applied for the post of Staff Scientist-III (Persons with benchmark disabilities) in response to the advertisement published in Employment News dated 12.10.2019, have to apply afresh subject to fulfilment of eligibility criteria and category for which the posts are being advertised.
(iii) Demonstrated record of scientific productivity in the form of outstanding publications in scientific journals of repute and/or internationally valid and productive patents is essential. Applicants should have a commitment to excellence and willingness to collaborate in inter-disciplinary projects. Quality of the scientific productivity and capability of independent thinking will be major factors in deciding the selection.
(iv) Investigators will be provided shared laboratory space and adequate start-up resources. They are expected to generate extramural project based funding.
(v) Accommodation of the type available in the Institute campus would also be provided. Other benefits as per Govt. of India / Institute Rules include- Dearness Allowance, House Rent Allowance (in case official accommodation is not provided), Transport Allowance, Leave Travel Concession and National Pension Scheme (defined-contribution based pension scheme of Govt. of India). Besides this, reimbursement of Children Education Allowance, medical expenses and telephone facility as per rules of the Institute is also admissible. The candidate who is stationed abroad at the time of selection would further be allowed reimbursement of single economy class air fare by shortest route for self only from the place of residence abroad to New Delhi for joining the Institute subject to travel by Air-India and execution of a bond for serving the Institute for a minimum period of three years as per rules.
(vi) Terms and conditions not specified herein shall be as per relevant Institute/GoI rules.
General Terms & Conditions:-
1. The prescribed age limit, educational qualifications, experience etc. shall be reckoned as on the last date of receipt of applications.
2. Candidates should satisfy themselves that they fulfil the eligibility criteria before applying for the post.
3. Interested and Eligible candidates are required to submit application fee of Rs.500/- through online mode/internet banking as per the following details:-
Name of Account : National Institute of Immunology, Aruna Asaf Ali Marg, New Delhi-110067
Details of Bank : Canara Bank, Jit Singh Marg, New Delhi-110067
Account Number : 1484101001636
Account Type : Savings
IFSC Code : CNRB0001484
Applicants should attach proof of payment in respect of application fee alongwith the application.
4. Candidates desirous of filling application for more than one post are required to submit separate application fee for each post. Applications received without requisite application fee or not in the prescribed application format shall not be entertained under any circumstances.
5. Female candidates, SC/ST, PwD and Ex- servicemen candidates are exempted from payment of application fee.
6. Applications not in conformity with the requirement indicated in the advertisement, are liable to be rejected.
7. The application in the prescribed format alongwith self-attested photocopies of all educational qualifications, experience certificates, caste certificate, recent passport size photo, payment proof of application fee, proposed research plan (2 pages) etc. may be submitted either by email to facultyrecruitment@nii.ac.in OR Hard Copy may be submitted to Director, National Institute of Immunology, Aruna Asaf Ali Marg, New Delhi-110067.
8. Incomplete applications OR applications received after the last date will summarily be rejected without assigning any further reasons.
9. Mere submission of application form and/or fulfilment of eligibility criteria will not entail any right on the candidate to be shortlisted OR called for interview.
10. If at any point of time, it is found that the information furnished by the candidate was incorrect in any respect or forged/fabricated documents were presented by any candidate, his/her candidature will be cancelled and in case the candidate has already joined the post, his/her services shall be summarily terminated.
11. Candidates working with Central Govt./State Govts./PSUs/Autonomous Bodies have to submit their application through proper channel OR furnish NOC at the time of interview, failing which they shall not be considered for interview.
12. No TA/DA shall be paid for attending the interview.
13. Last date of receipt of applications:- The last date for receipt of applications is 30 days from the date of publication of advertisement in Employment News. For candidates residing in North-Eastern States, Union Territory of Ladakh, Lahaul and Spiti Districts of Himachal Pradesh, Pangi sub-division of Chamba district of Himachal Pradesh, Andaman & Nicobar Islands and Lakshadweep Island is 45 days from the date of publication of advertisement in Employment News.
14. In case of any discrepancy of advertisement in English and Hindi newspaper, the English version shall prevail.
WOMEN SCIENTISTS FULFILLING THE REQUIREMENTS ARE ENCOURAGED TO APPLY
See All   B.Pharm Alerts   M.Pharm Alerts   M.Sc Alerts  Delhi Alerts
See All   Other Jobs  in our Database