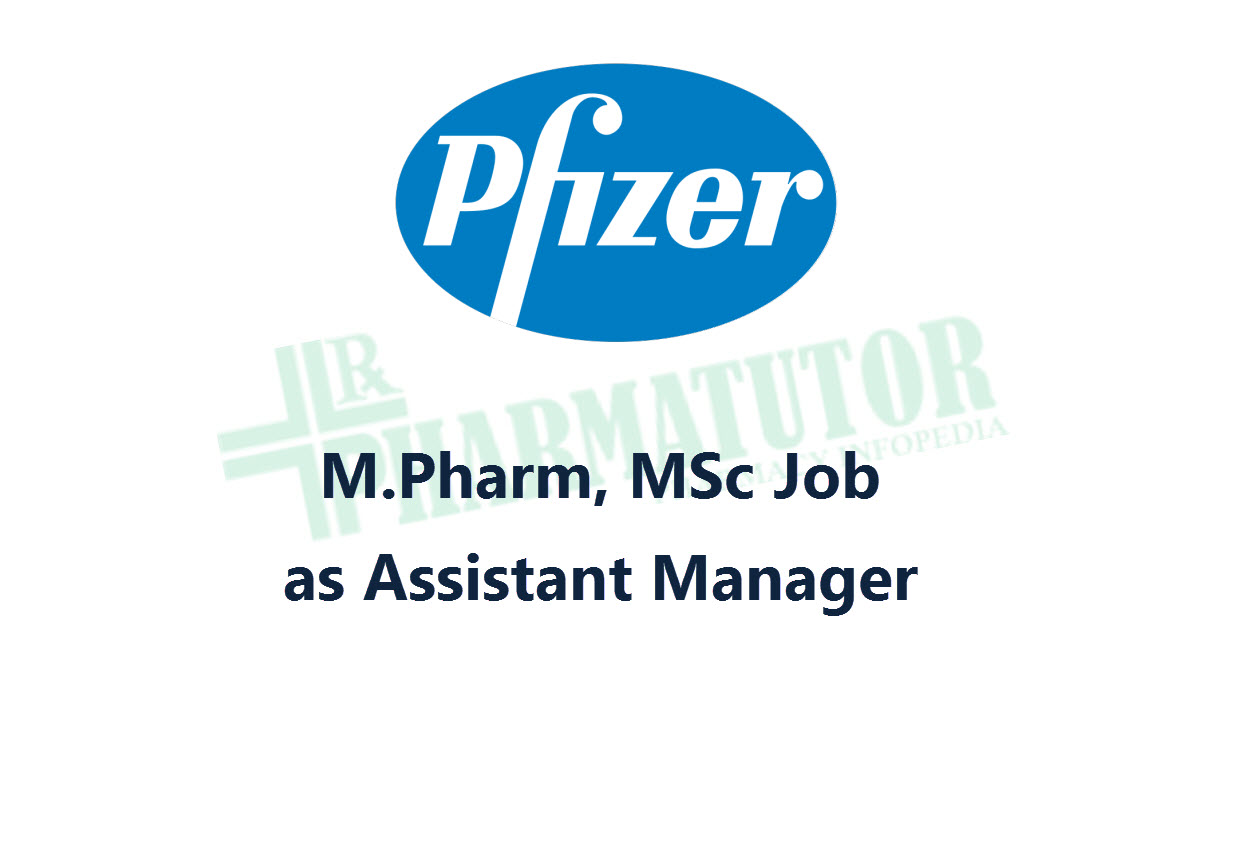 Founded in 1849, Pfizer is the world's premier biopharmaceutical company taking new approaches to better health. We discover, develop, manufacture and deliver quality, safe and effective prescription medicines to treat and help prevent disease for both people and animals. We also partner with healthcare providers, governments and local communities around the world to expand access to our medicines and to provide better quality health care and health system support.
Post : Assistant Manager
Job Description
• Analysis of Raw materials and Packing materials
• Analysis of in-process, finished, stability samples, MOC studies, Filter compatibility studies etc.
• Calibration of various analytical instruments.
• Execution of various documentation related to Analytical Development functions
• Execution of Analytical method development and Method validation/ Method transfer.
• Responsible for other functions related to Analytical Development assigned by the Group Leader.
• Follow all the safety rules and regulations in the premises adhere to cGLP practices and   procedures.
• Download, review and compilation of analytical method & reports, procedures for Raw materials, finished product, stability, packaging materials from originating sites.
• Feasibility studies for raw materials and finished products.
• Maintaining/Coordinating amongst all internal & external customers. Ensure the personnel safety in the work area.
• Ensure Method transfer activities in adherence to cGMP/ cGLP systems and procedure.
• Generation of Working standards/Reference standards.
• Preparation & Execution of Method validation/Method development, Method transfer, Material of contact study protocols, Feasibility study Protocols.
Candidate Proflie
Qualification : M.Sc in Chemistry or Analytical Chemistry/  M. Pharm.
3 to 8 years of experience in Analytical development functions in a reputed pharmaceutical Company dealing with regulated markets. Should have hands on exposure in handling sophisticated analytical equipment's like HPLC, GC, UPLC, FTIR, UV, IC, TOC, etc.
Additional Information:
Location: Vizag
Experience : 3 to 8 years
Education: MSc, M.Pharm
Industry Type: Pharma/ Healthcare/ Clinical research
See All    Ph.D Alerts    M.Pharm Alerts    B.Pharm Alerts    MBA Alerts
See All    Other Jobs in our Database