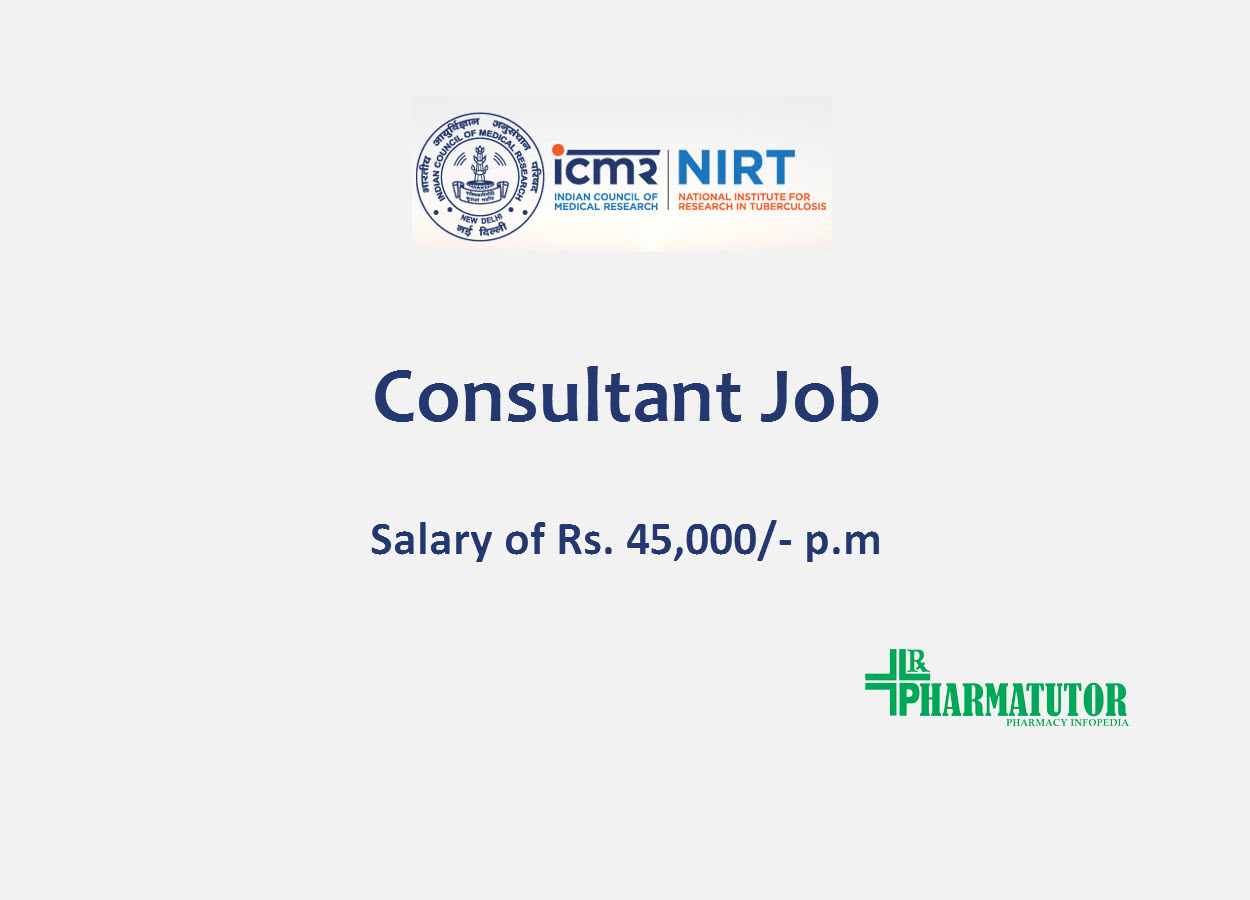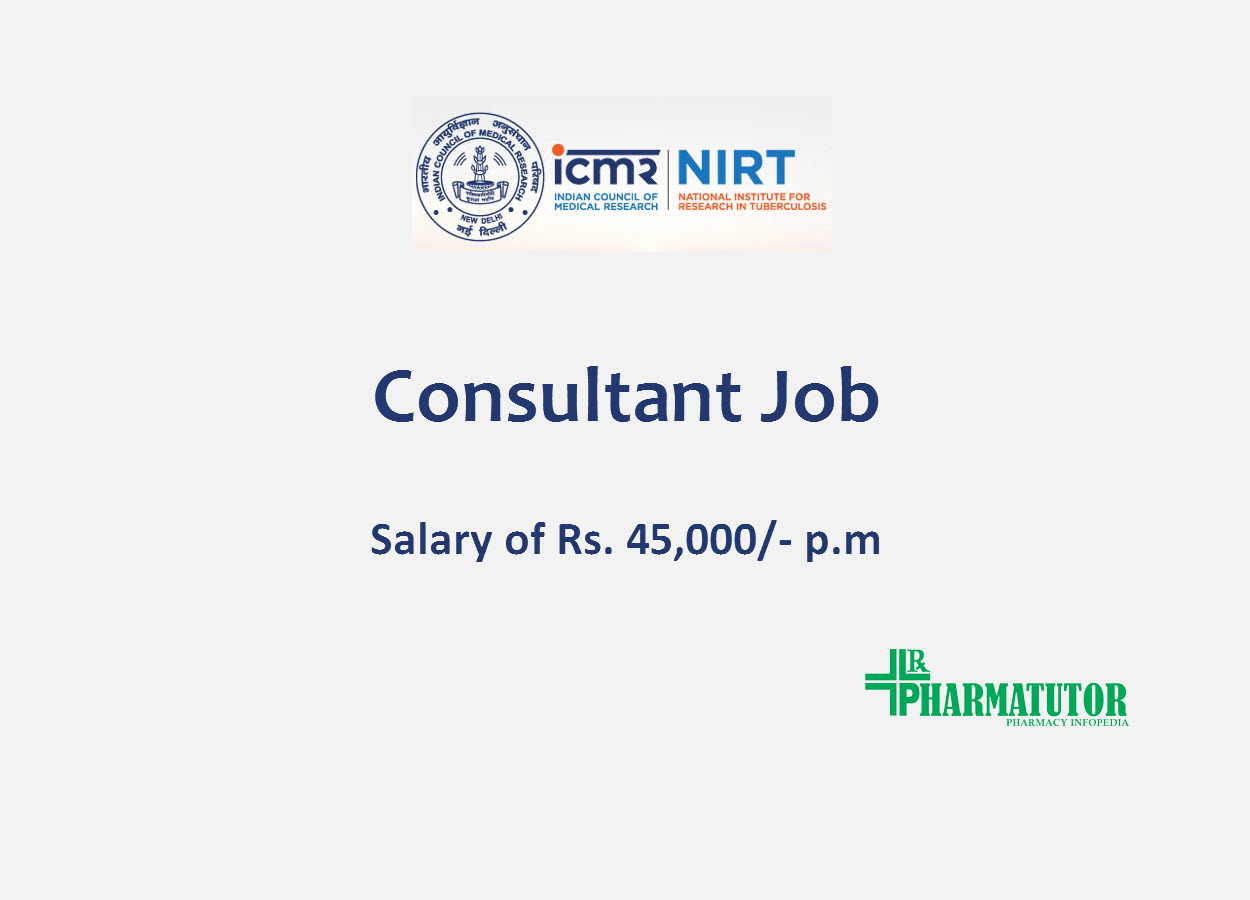 The National Institute for Research in Tuberculosis [Formerly Tuberculosis Research Centre (TRC)], a permanent institute under the Indian Council of Medical Research (ICMR), is an internationally recognized institution for Tuberculosis (TB) research. It is a Supranational Reference Laboratory and a WHO Collaborating Centre for TB Research and Training. Recently, an International Centre for Excellence in Research (ICER) in collaboration with NIH was established at the Centre.  The Centre (formerly known as the Tuberculosis Chemotherapy Centre) was set up in Madras in 1956 as a 5-year project, under the joint auspices of the Indian Council of Medical Research (ICMR), the Government of Tamil Nadu, the World Health Organization (WHO) and the British Medical Research Council (BMRC).
Post : Consultant (Non Medical)
Name of the project : "A Phase 2/3,observer-blind, randomized, controlled study to determine the safety and immunogenicity of COVISHIELD(COVID-19 vaccine) in healthy Indian Adults"
Place of posting : Chennai
Age limit : Not exceeding 70 years.
Emoluments : Consolidated salary of Rs. 45,000/- p.m
Essential qualification : Professionals having M.Sc. in pharmacology/Biochemistry in clinical trials with R & D experience and published papers. Should be proficient in Tamil, English and Hindi.
Nature of duties : Maintaining study binder. Conducting and .organizing meeting with study sites, co-ordinating with study sites. Any other work designated by studv P.l Duration    For a period of ten months.
Interview Details : The date of skype interview will be intimated to the eligible/shortlisted candidates by e-mail and in return they will have to share their skype ID by e-mail.
INSTRUCTIONS TO THE CANDIDATES:
1. Candidate should submit the duly filled in application in the prescribed format and attach therewith the following certificates through e-mail only to projectcell@nirt.res.in for considering their candidature. Incomplete application forms will be rejected. The last date of receipt of applications by e-mail is 08.09.2020 by 5.30 p.m.
• 10th mark sheet
• 12th Mark sheet
• U.G and P.G certificate
• Experience certificate clearly stating the nature of work during the period of employment.
• Community certificate
2. Age relaxation is admissible in respect of SC/ST/OBC candidates, Retrenched Government Employees, Departmental Candidates (including projects) and Ex-Servicemen in accordance with the instructions issued by the Central Government from time to time. Age concession to the extent of service rendered in other research projects will also be admissible for experienced and skilled persons.
3. All posts are Contractual for the duration offered. The engagement may be renewed after every specific period of time subject to satisfactory performance and project requirement.
4. The incumbents selected will have no claim for regular appointments under NIRT/ICMR or continuation of his/her services in any other project.
5. The Director, ICMR-NIRT reserves the right to increase or decrease the number of posts or cancel the recruitment or re-advertise the posts, without assigning any reasons thereof, no further correspondence will be entertained in this regard.
6. Any further information may be downloaded from ICMR-NIRT website which will be updated from time to time.
7. Date of skype Interview/Skill test & written test may be changed due to administrative reasons, hence, candidates are advised to check website before appearing for skype Interview/written test
The Director/Selection Committee has the right to accept /reject any application without assigning any reason thereof.
See All   Ph.D Alerts   M.Pharm Alerts   B.Pharm Alerts   MBA Alerts
See All   Other Jobs in our Database