Career for M.Pharm, B.Pharm as Quality Assurance Manager at Aurobindo Pharma Ltd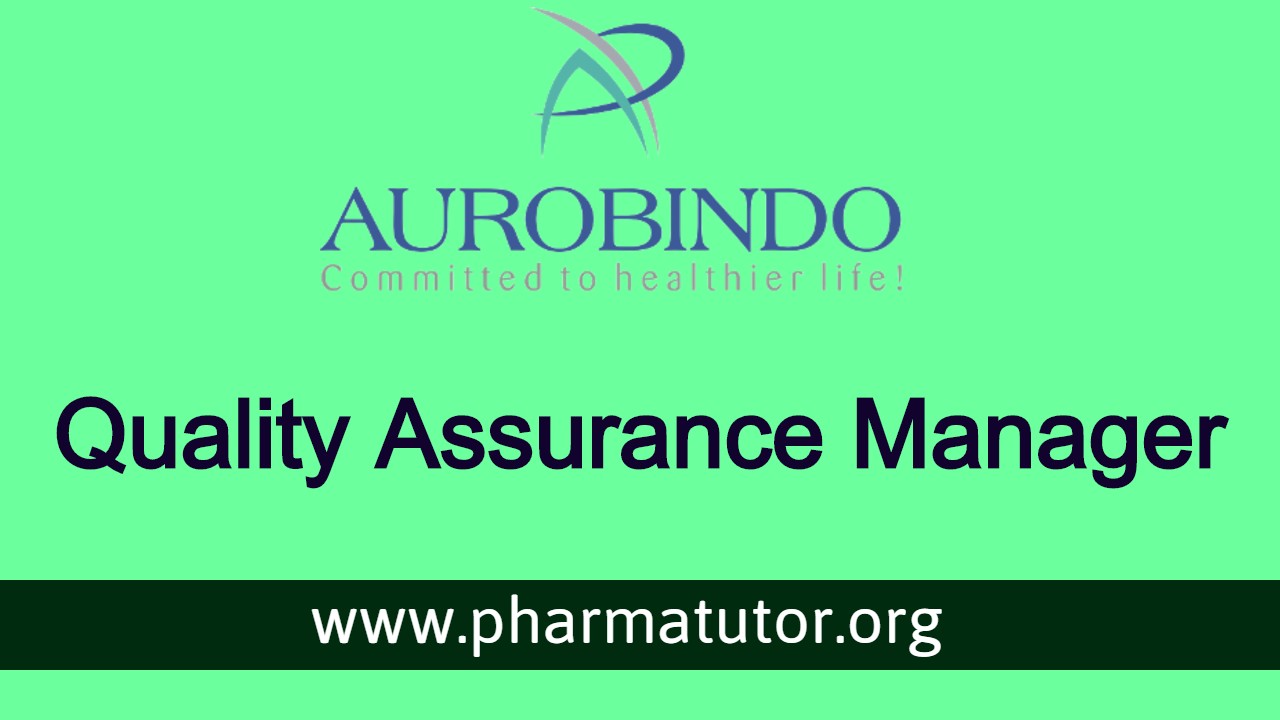 AUROBINDO PHARMA LTD' (APL). APL is a growing Indian multinational pharmaceutical manufacturing firm with turnover of over US$2.8 Billion revenues for 2018-19, with presence in more than 34 countries fronted presence with products exported to 155 nations. APL is 2nd Largest Generic Company as per Rx dispensed in the USA.APL is Amongst Top 10 Generic player in France, Germany, Portugal, UK, Italy, Czech Republic, Netherlands & Belgium. APL manufactured 33 Billion+ diverse dosage forms in 2018-19. APL has 27 manufacturing facilities and 5 R&D centres worldwide.
Post : Manager-Quality Assurance For Investigation,CAPA
Job Description
1. To login, acknowledge the complaint upon receipt in Product Complaints Register.
2. To conduct Preliminary evaluation of complaint and escalate (Based on severity and classification) to Site QA head / Corporate Investigations and Compliance In charge (CQA) and coordinate for regulatory action like Field Alert Report and Recall, if any.
3. To perform Field Alert Reporting Evaluation of complaints, wherever applicable for complaints reported from USA.
4. To co-ordinate for investigation and summarize investigation findings by taking inputs from cross functional team and document in complaint investigation report.
5. To identify need of comprehensive investigation of recurring complaints and escalate to Site QA head.
6. To review Investigation report of Market Complaints and monitoring the Implementation of CAPA.
7. To take relevant extension of timeline for investigation as per procedure, if investigation is not completed within stipulated time period.
8. To communicate the investigation report to reporter, follow up for closure letter, disposition of complaints and maintain Product Complaints docket.
9. Initiation of Corrective and Preventive Action (s) (CAPA), follow up for CAPA implementation and closure in QMS software.
10. To conduct Periodic review of Product complaints, prepare trends of complaints and maintain product complaints docket.
11. To Review and upgrade relevant QA SOP's wherever required for continuous improvement.
12. Monitoring of Corrective and Preventive Actions for all departments.
13. Monitoring and review of change controls wherever required.
14. To review, compile and ensure corrective and preventive action taken for all deviations, and non-conformances raised in the plant.
15. To involve in preparation and implementation of audit observation compliance report.
16. Co-ordination of customer/regulatory audits.
14. Authorized deputy for Training co-ordinator for all training related activities.
15. Coordinate with Section/Department In-charge for Identification of Training Needs for employees.
16. Initiating job responsibilities and co-ordination of their training activities of New joinees after consultation with concerned Section/Department In-charge.
17. To coordinate with All Department Heads and completion of the long-term & short term evaluation of all employees as per schedule.
18. To coordinate with CQA Training co-ordinator for any external Training related activities.
19. To coordinate for cGMP/ cGDP related training to all Employees.
20. Shall be responsible to impart training on Quality Risk Management and to facilitate the QRM exercises .
21. Shall be responsible for review and approval of Standard Operating Procedures.
22. Shall be responsible for review and approval of Quality Risk Management Exercises.
23. To Review and Approval of Change Controls, Process Non-Conformances, Exceptions, Complaints, protocols /Reports as required.
24. To follow and implement Environment Management System related procedures.
Additional Information
Experience : 12-14 years
Qualification : B.Pharm, M.Pharm
Location : Hyderabad
Industry Type : Pharma
Functional Area : Quality Assurance
Last date : 25th June, 2020
See All  B.Pharm Alerts   M.Pharm Alerts    Ph.D Alerts
See All   Other Jobs  in our Database
Subscribe to Pharmatutor Job Alerts by Email