Pharma Career as Senior Research Associate at Syngene International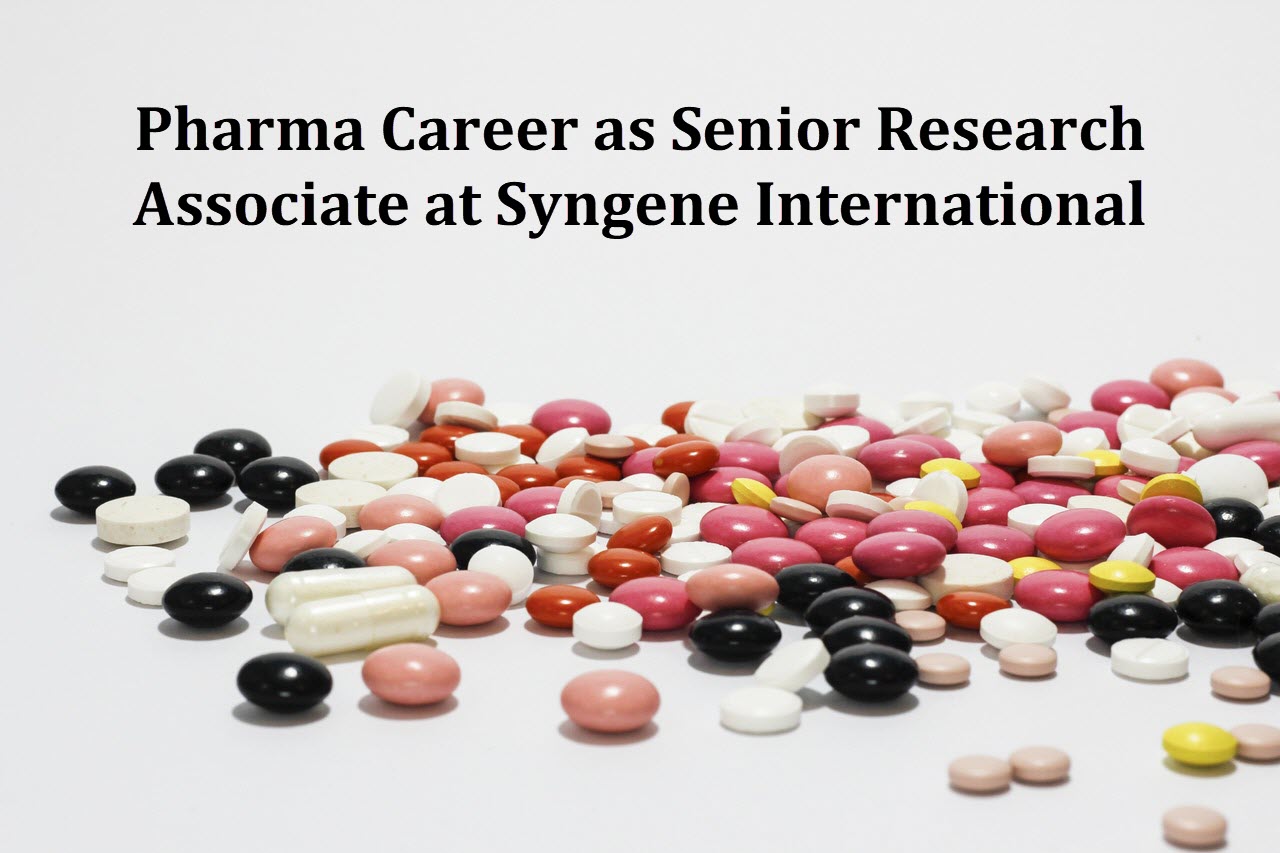 Syngene International is one of India's premier contract research and manufacturing organizations in providing customized service. Our services encompasses all across discovery chain: early stage discovery, process development, cGMP manufacturing and formulation development both in the small molecule and novel biologics area. Based in Bangalore, Karnataka, the Company is situated in a 90 acre Special Economic Zone with over 100000 sq. mt of built up facilities.
Post : Senior Research Associate
Job Description
Job Purpose
Responsible for executing the assigned in vivo efficacy studies in oncology therapeutic area
Key Responsibilities
• Responsible to conduct assigned research projects including experiments with utilizing current concepts and recognized standard techniques.
• Responsible to set up the experimental designs, analysis of data and concluding from the progress.
• Record laboratory observations information in lab notebooks, database and document the experimental designs.
• Responsible for data analysis, perform calculations for the result of the experiment.
• Summarize the research and communicate result of research to the supervisor.
Candidate Profile
• M.Pharm Pharmacology
• M.V.Sc Pharmacology / Pathology
• M.Sc Biochemistry /  Biotechnology
• 2 - 3 years of Industrial experience
• Decent communication skills
• Fair interpersonal skills.
• Good team player
• Strong documentation Skills.
• Hands-on experience in execution of subcutaneous tumor xenograft models, orthotopic xenograft model, Metastasis models.
• Hands-on experience in handling human primary tumor xenografts from clinical samples.
• Hands-on experience in studies involving IHC and ELISA readouts
• Experience in handling & maintenance of various human & murine Cancer Cell lines.
• Will work independently or in association with senior scientists and other associates in the design and execution of in-vivo efficacy experiments in the relevant therapeutic area.
• Experience in animals handling (rodents and non rodents) such as dosing by various routes, blood sampling by various routes, injections by various routes and surgical modalities which includes cannulation etc…
• Associate to provide technical, analysis and reporting outcomes of research for projects in relevant therapeutic area.
• Organizational skills and the ability to work in a highly collaborative environment are required.
Additional Information
Qualification :  M. Pharm / M.Sc
Experience : 2-3 years
Industry Type : Pharma / Healthcare / Clinical research
Job ID : 6162
End Date : 30th April, 2020
See All  Syngene Jobs M.Pharm Alerts    Ph.D Alerts   Bangalore Alerts
See All   Other Jobs in our Database
Subscribe to Pharmatutor Job Alerts by Email