Work as Director Clinical Portfolio Management Consultant at CDSA | Salary Upto Rs.3,00,000/-pm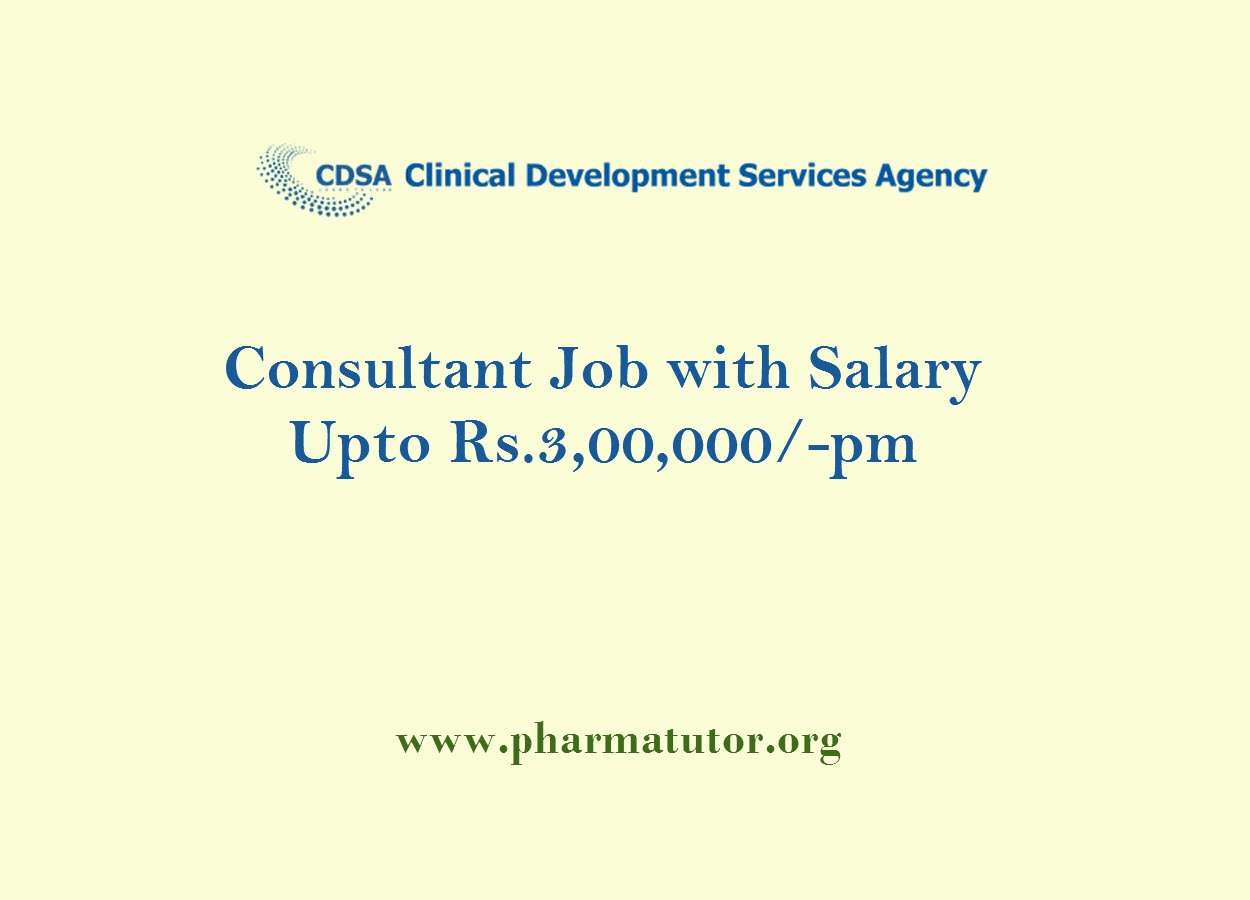 Clinical Development Services Agency (CDSA) is an extramural unit of Translational Health Science and Technology Institute (THSTI) and has been established as a not-for-profit society to provide cost affective, high quality preclinical and clinical product development support services to meet the country's growing healthcare needs. It will tend enterprises; particularly SMEs involved in new technology innovation and facilitate translation of scientific know-how into viable products.
Post : Director Clinical Portfolio Management (CPM)/ Consultant
This could be a full time position as Director CPM or a Consultancy to oversee the CPM portfolio.
Age Criteria : Up to 50 years
Emoluments : Up to Rs. 3,00,000/- per month consolidated and negotiable
Duration : Three years and likely to be continued
Location : CDSA, Faridabad
Essential Functions  :  Co-lead the clinical trial/studies conduct team with overall responsibility for project management including quality monitoring and clinical operations for clinical studies.
Responsibilities
A.  Support the CDSA Director in the development of overall strategy
• Lead on drafting relevant policies and standard operating procedures
• Contribute to developing the clinical trials/studies portfolio
• Lead on the development of systems/processes for conduct and reporting on clinical trials / studies and medical device portfolio (including mechanisms for prioritizing clinical trials/ studies and for ensuring full cost recovery and income generation).
• Analyze and formally report data and information on trends related to research sponsorship activities
• Ensure consistent application of core CDSA policies and operating procedures across the CDSA sponsored trials/ studies portfolio
• Act as the lead on behalf of CDSA for projects and committees, meeting with internal and external partners (academic and industry collaborations, vendors, sponsors and manufacturers and regulators)
• Continually review and respond to changes required to shape the infrastructure, functionality and standards of clinical trials/ studies management, including the development and implementation of systems, operating procedures and policies.
• Effect change and/or ensure dissemination of regulatory effective change management systems are implemented to facilitate the changing clinical trials environment in India and CDSA, in particular the operational implications of new clinical trials and CDSCO/ ICMR regulations and policies.
• Provide expert support to projects with regards to compliance, policy, sponsorship and high-risk studies
• Represent CDSA at regulatory inspections and meetings as required
• Act as a key advisor on regulatory matters, collating project reports and writing position papers as well as advising on "higher risk" studies
• With the Administrative Manager and Consultant Regulatory Affairs, oversee and draft Memorandum's of Understanding (MoU's) or other documents to outline the delegation of duties from the sponsor office to CDSA and other stakeholders of the projects
• Actively contribute to or lead on initiatives related to the development of CDSA including resourcing, skills and training, systems and aligned risk assessments and strategies
• Lead in trouble shooting and finding solutions when issues or concerns are raised by researchers with regards to trials and "higher" risk studies
• Ensure the dissemination of information for CDSA staff on the CDSCO/ ICMR Clinical Trials Regulation and its implications, regulatory requirements, research governance and Good Clinical Practice (GCP).
B. Operations Management
• Oversee the preparation of proposals
• Participate in business development activities.
• Participate in clinical review meetings (teleconferences live meeting and or face to face) and document preparation meetings as required
• Solicit expert advice, develop collaborative relationship with key experts and investigators
• Organize meeting with investigators to understand the scope of work
• Ensure that any relevant Master Services agreement in place for individual projects
• Review the Project contract with appropriate functional heads to identify staff necessary for the project team
• Develop project plan, including all elements listed in the project plan template as appropriate for project (Roles & Responsibilities, Communication Plan, Risk Analysis etc.)
• Oversee preparation of initial budget for the project
• Review and finalize responses to IEC and regulatory agencies
• Responsible for reviewing study protocols, investigator's brochure, clinical study reports, IND sections
• Revise SOPs or suggest process improvements for consideration.
• May draft new SOPs for review and act as reviewer for Clinical SOPs, as assigned and appropriate.
• Provide input as necessary to Feasibility Studies, Data Safety Monitoring Committee (DSMC) and other committees, clinical/ product development planning meetings
• Provide or arrange for project-related training as needed for team members
• Initiate the project following Best Practices in Project Management
• Ensure the project is progressing according to quality standards, SOPs, regulations, and guidelines
• Use project plan as a management tool to record and measure progress, updating as necessary
• Track resources and actual time spent on each project task for all team members to evaluate project progress and profitability
• Review metrics reports regularly and follow through on actions required
• Determine the cause of project overruns, recommend and institute corrective action, with input from functional Primaries
• Attend and represent project management/ contracted services at internal meetings and investigator meetings
• Ensure information entered into management system is accurate, and updated on a regular basis
• Ensure the project is completed within the budget, schedule, and according to contract specifications
• Take a leading role in preparing or contributing to the production of any type of clinical document, for either internal CDSA customers or external clients, for investigational drugs, biologicals, or medical devices
• Provide consulting services to assist in the development of new drugs or devices under the direction of the Head of Organization
C. Quality Monitoring
• Work with investigators prior to start of project on incorporation of quality management processes into the scientific and operational design of the trial
• Develop a monitoring plan with project investigators that is tailored to the specific human subject protection and data integrity risks of the trial
• Agree predefined quality tolerance limits to identify systematic issues that can impact subject safety or reliability of trial results
• Provide advice and support for site feasibility
• Perform the duties of Project Director for all contracted clinical studies
• Oversight for quality monitoring as per the approved plans.
• Visit sites and participating institutes as and when required
D. Communications
• Serve as primary contact for the project
• Communicate to team members the scope of work, timeline and project goals, technical information, and input from client throughout the project
• Inform team members of any new information or modification of project-related issues which may affect specific responsibilities of team members
• Work with appropriate Managers on any anticipated need for addition or re-assignment of resources
• Communicating with study investigators for evaluation of status of patient recruitment and progress to study timelines; supporting safety reporting and IEC submissions; maintaining and reporting metrics for clinical site performance
• Provide Line Manager with input regarding team members' performance as needed for employees' periodic Performance Review
• Prepare administrative reports and submit to clients as required by the contract exhibit, and other resource reports
• Communicate fiscal, contractual, resource, deliverable and client- related issues to HoD as appropriate
E. Training
• Develop project specific and protocol specific training
• Provide guidance and operational area training for project team members and staff as required
• Act as mentor for CPM staff and oversight for their training and development.
• Faculty for training programs conducted by CDSA
Educational Qualifications
Essential Qualifications :
• Biomedical professional qualification recognized by relevant regulatory authority in India or
• Post graduate degree in a science or health related discipline
Desirable:
• Postgraduate degree in Public Health
• MD recognized by relevant regulatory authority in India
• PhD in a science or health related discipline
Work experience
Essential :
• 8 or more years of experience in clinical project management and/or drug development
• Significant experience of clinical trial or public health project management in a recognized organization/institute (academic
clinical trials unit, CRO, pharmaceutical, biotechnology, or device company) leading/directing a clinical study / R&D team
Desirable :
• 12 or more years of years of clinical project management and/or drug development
• Demonstrated application of project management concepts
Demonstrated ability to understand, explain and communicate project concepts (project life cycle, scope planning, scheduling, implementation of project plan), and manage project conduct (schedule, quality, and cost control, risk and change management) using standard tools and templates
Skills
• Leadership skills that include the ability to build effective medical and project teams, ability to motivate others, delegation, drive and timely/quality decision making
• Personal qualities that include the ability to gain trust and confidence with a variety of clients, good learning ability, managerial courage, action oriented and resilience in a fast-paced and rapidly changing environment
• Business/ Operational skills that include customer focus, commitment to quality management and problem solving
• Influencing skills including negotiation and teamwork
• Effective communication skills that include the provision of timely and accurate information to stakeholders, proficient in English, strong written and oral communication skills
• Ability to develop and deliver presentations, prepare technical reports and contribute effectively in the manuscripts
• Ability to develop novel concept and techniques in clinical monitoring
• Ability to develop and implement monitoring plans and SOPs
• Ability to make evaluative judgments, remain flexible as projects and priorities change
• Demonstrated ability to prioritize workload in order to meet multiple deadlines
• Ability to work independently with minimal guidance as well as collaboratively within a team setting
• Knowledge of regulations and guidelines pertaining to the conduct of clinical trials on human subjects
• Knowledge of adverse medical event investigation, analysis, and reporting procedures and standards
• Familiarity with basic computer software: MS Word, E-mail, Excel, Internet
• Ability to travel for business purpose
Procedure for filling online application:
a. Before filling up the online application, keep the following documents handy:
i) A soft copy of your passport size photo and signature. (only jpeg/jpg format, file size 50 kb maximum)
ii) A comprehensive CV (PDF format only, file size 1 mb maximum) containing details of qualification, positions held, professional experience/distinctions etc.
iii) The documents in support of educational qualification and experience (PDF format only, file size 1 mb maximum) as mentioned below:
• Matriculation Mark sheet
• Intermediate Mark sheet
• Graduation Degree/Mark Sheet
• Post-Graduation Degree/Mark Sheet
• Ph.D degree
• Relevant experience certificates
• Caste certificate in the format prescribed by the Govt. of India, if applicable
• Disability certificate in the format prescribed by the Govt. of India, if applicable
• List of Publications (if any)
• List of patents (if any)
b. Candidates are requested to use Google Chrome internet browser for best results in submission of online application.
c. Once online application is submitted, no correction/ modification is possible.
d. In case of difficulty in filling up the online form, please send an e-mail to mahendersingh.cdsa@thsti.res.in
e. Those who have applied once need not to apply again.
f. Only technical queries will be resolved (if any), other than technical will not be entertained.
g. On successful submission of your application, an auto-generated email containing a reference number will be sent to the email address provided. Please keep a note of the reference number for future correspondence
Note : In case a suitable candidate is not found, the call for application will remain open till suitable candidate is found. As soon as suitable candidate is found, this recruitment notice will be closed on our website.
Last date of receipt of an application is 11th July 2020
See All   B.Pharm Alerts   M.Pharm Alerts    Ph.D Alerts   CDSA Alerts
See All   Other Jobs  in our Database
Subscribe to Pharmatutor Job Alerts by Email