Recruitment for Pharmacists at Chief Medical and Health Officer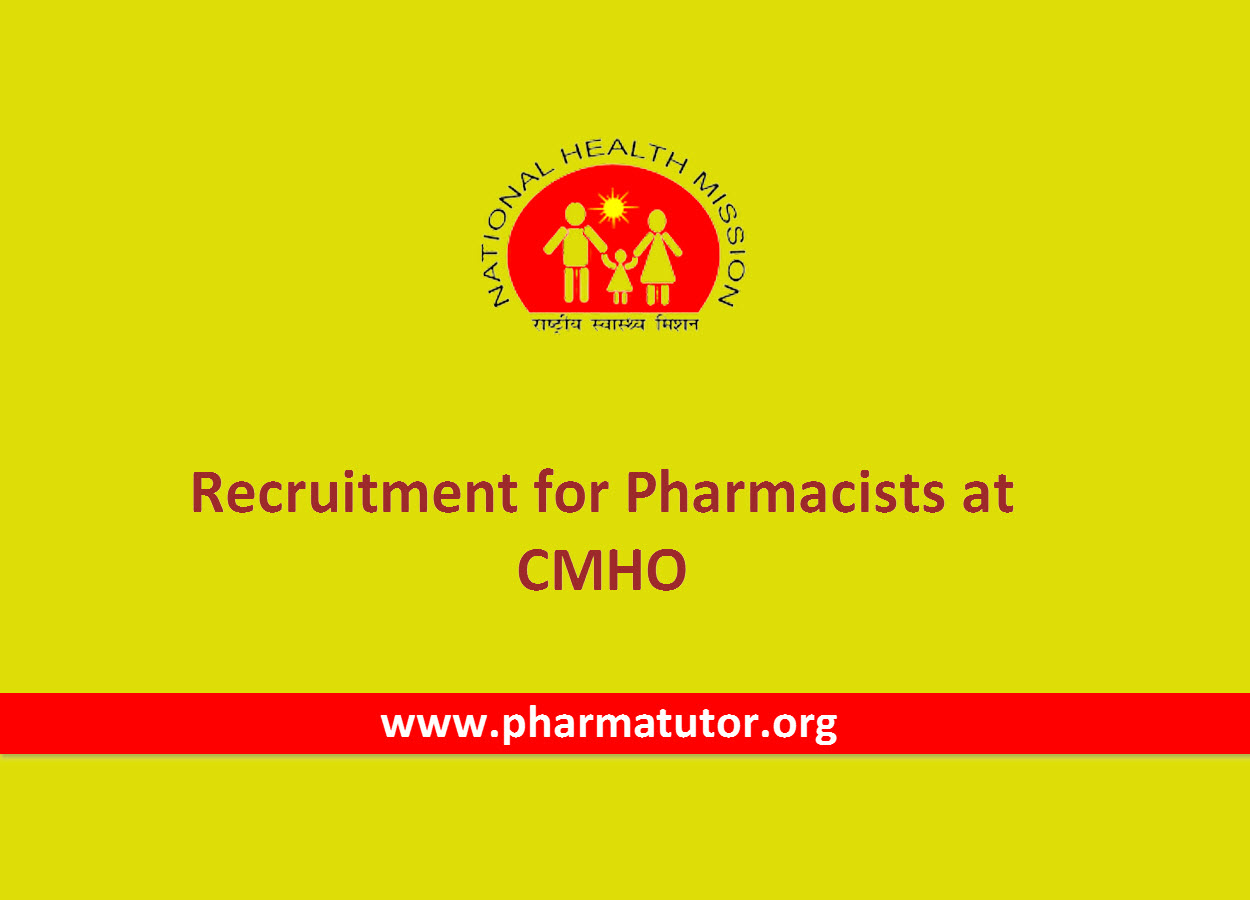 Application are invited for post of Pharmacists at Chief Medical and Health Officer. Temporary appointment is proposed for the next 01 year.  So for the contractual appointment of interested candidates vacant posts, showing their name, age, correspondence address, educational qualification, experience (certificate of qualification and experience, educational / technical qualification certificate, age certificate), all photo copies  , Attach with the prescribed application form.
Post : Pharmacist
No of posts : 02
Educational Qualification :
Degree or Diploma in Pharmacy & Registration in CG Pharmacy Council.
Salary (Per Month) : Salary Rs 16,500 Per month
Terms and Conditions :
1. The above post will be purely temporary. 
2. Posting will be done for the next 01 year and in the event of acceptance of the allotted amount for the next year, the service period will be increased otherwise the service will be considered self-destruct after 01 year. 
3. Recruitment will be done following the rules of district level roster.
4. Selected candidates cannot work in a private institution during their tenure, if any candidates are found working in a private institution after selection, then their service will be terminated immediately. 
5. For this, honorarium will be payable in a lump sum every month from the approved amount from the District Mineral Institute Trust item.  Apart from this, no other allowance will be payable. 
6. Age limit should not be more than 62 years as on 01 January 2020.
7. Candidates should get their latest passport size photo verified by themselves and pasted.
8. It is mandatory to attach a photocopy of the relevant educational qualification with the application and it will be mandatory to have a live registration in the Chhattisgarh Paramedical Council otherwise it will not be valid. 
9. The selection of the said appointment will be done by the Selection Committee constituted. 
10. Priority will be given to the candidates of District Balrampur for recruitment.  After that, the candidates of the division and other districts will be given a chance.
11. The amount of Rs.  100 / - through Demand Draft submitted by Nationalized Bank, RCH Flexipool, National Health Mission Balrampur.
Walk in Interview in the office of National Health Mission Balrampur between 9.00 am and 11.00 am on 02/07/2020 for the walk-in with the passport size photo.  Will be present for registration.  No registration and incomplete forms will be accepted after 11.00 am.  Please write the name and category of the applied post above the application form.  Applications received after incomplete and after deadline (11.00 am) will not be accepted.  Written / oral / skill test may be conducted as required for selection.  Applicant will be declared ineligible for personal contact or pressure from any level.
See All   M.Pharm Alerts   B.Sc Alerts   B.Pharm Alerts   Chhattisgarh Alerts
See All   Other Jobs  in our Database
Subscribe to Pharmatutor Job Alerts by Email